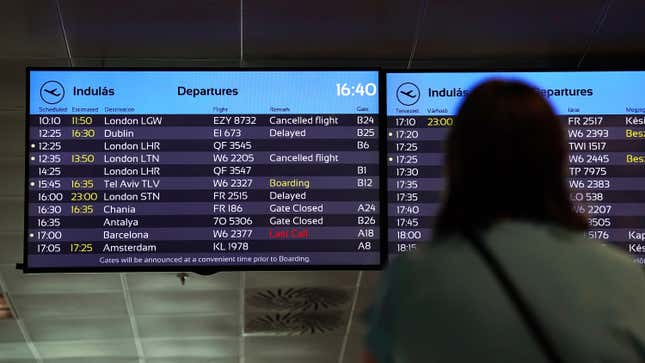 Flights in the UK were severely delayed or canceled on Monday following a "technical issue" impacting more than 500 flights. The technical problems have since been resolved, but passengers are still impacted by the delays and cancellations, prompting many airlines to try to rebook passengers on flights for later this week.
Taylor Lorenz Talks "Extremely Online"
Britain's National Air Traffic Services (NATS) said in a statement that it had fixed the problem and engineers are in place to continue to monitor any potential recurring issues.
NATS issued its first statement at 12:10 p.m. UK time, saying: "We are currently experiencing a technical issue and have applied traffic flow restrictions to maintain safety. Engineers are working to find and fix the fault."
UK airspace did not close while NATS worked to resolve the problem, but said traffic flow restrictions were put in place, which resulted in grounding hundreds of flights and leaving thousands of passengers scrambling.
Louise Haugh, the shadow transport secretary for the Labor Party criticized Transport Secretary Mark Harper on Monday morning for not immediately issuing a statement on the technical issues. "Extremely concerning for passengers traveling in and out of the UK on one of the busiest days of the year," Haugh wrote in a Twitter post. "UK airspace is not closed but significant delays are expected thanks to a technical fault. Surprised not to see our Transport Secretary make a statement yet."
Harper responded to the technical issues two hours later, addressing the traffic restrictions and advising passengers to contact their airlines for information regarding their flights.
The technical issue comes as Brits traveled home from a public holiday weekend, while NATS said in its statement that its "priority is ensuring every flight in the UK remains safe and doing everything we can to minimize the impact."
The issue was resolved at 3:15 p.m. UK time and is slowly returning to its normal operations, the UK's air traffic control said in an updated statement. NATS confirmed that the technical issue affected flight planning, saying in its statement that it "affected the system's ability to automatically process flight plans, meaning that flight plans had to be processed manually which cannot be done at the same volume, hence the requirement for traffic flow restrictions."
Inbound and outbound flights in the UK affected airports throughout England including its largest hub, Heathrow Airport in London, as well as Manchester Airport in Northern England and airports in both Scotland and Ireland.
The Liberal Democratic party called on UK Prime Minister Rishi Sunak to "get a grip on this issue urgently," the BBC reported. The outlet added Transport spokesperson Wera Hobhouse said in a statement: "Millions of holidaymakers could be facing huge disruption in the coming days due to this fault and we can't risk this government being missing in action yet again."