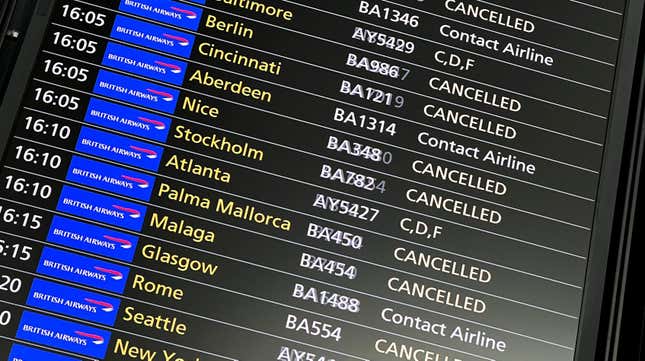 The UK Civil Aviation Authority (CAA) is investigating a technical issue that caused hundreds of flight delays and cancellations on August 28, marking the nation's worst air traffic outage in a decade. And now we have more details about what went wrong.
Taylor Lorenz Talks "Extremely Online"
The CAA said on Wednesday that a software system run by NATS (National Air Traffic Services) suffered a glitch that stopped processing flight plans, forcing air traffic personnel to manually input the flight plan information.
NATS reported that the issue was caused by an "anomaly that forced the system to stop processing flight plans," according to a CAA news release. Rob Bishton, the joint-interim chief executive at the CAA said: "If there is evidence that suggests NATS may have breached its statutory and licensing obligations the UK Civil Aviation Authority will take any appropriate steps."
The NATS system reportedly received duplicate identities of flight plan waypoints, showing two navigational patterns on a map that were listed under the same name. The backup computer took over, but after reporting the same navigational data, both systems shut down, forcing air traffic controllers to take over.
The outage stranded thousands of passengers, and in some cases, they were left waiting for several days to re-book alternative flights. Nearly 800 flights that were supposed to depart the UK were impacted by the NATS system outage, with roughly the same number of incoming flights canceled, according to Cirium, an aviation analytics company, CNBC reported.
Martin Rolfe, the the chief executive of NATS called the outage a "one in 15 million chance" occurrence in an interview with the BBC. "We have processed 15 million flight plans with this system," he said, adding NATS had "never seen this before."
The CAA said the disruption fell under "extraordinary circumstances" in a letter to the Consumers and Markets Group on August 30. The letter said because of this, stranded passengers are "unlikely to be entitled to compensation for cancellations and delays in these circumstances."
"Action has been taken to ensure such an incident does not recur," Mark Harper, Britain's secretary of state for transportation wrote on Twitter on Wednesday. The CAA said in its press release that the details of its independent investigation will be published by the end of September.
"Millions of passengers every year rely on air traffic control to work smoothly and safely," Bishton said in the CAA press release. "The initial report by NATS raises several important questions and as the regulator we want to make sure these are answered for passengers and industry."