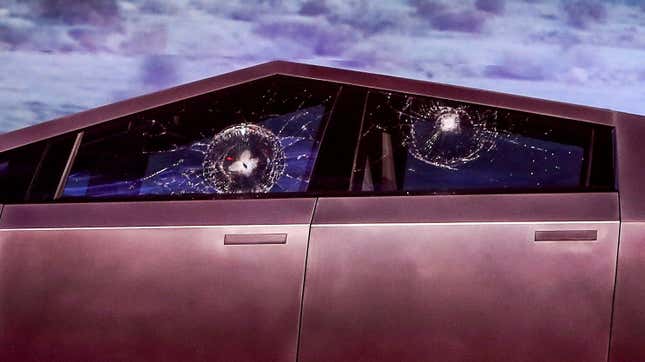 Cybertruck lovers longingly waiting to see Tesla CEO Elon Musk's futuristic tanks on the road may have to wait a little longer—yet again.
Tesla Investors Not Happy With Mr. Tweet's Tweets
The latest bump in the road for Cybertruck comes at the hand of Mustapha El Akkari, the Tesla group manager of raw materials who played a key role in supply chain management for the Cybertruck and other Tesla vehicles. According to a report in The Information, El Akkari quit to go to electric truck manufacturer Rivian, where he will become the senior director of structures and raw materials. Rivian's R1T pickup truck, which is already on the market, is a competitor to Tesla's Cybertruck. El Akkari had been at Tesla for four and a half years, according to his LinkedIn profile, and was responsible for managing $16 billion in spend on raw materials. Gizmodo reached out to Tesla for comment on Tuesday morning but did not receive a response by the time of publication.
As noted by The Information, El Akkari's move comes at a pivotal time for Cybertruck, which has been delayed for years by Musk, a master of missing deadlines. However, that's supposedly set to change in the third quarter of 2023, again, according to Musk, the unreliable narrator.
El Akkari isn't the only key Tesla executive who has ended up at Rivian. In recent years, Charly Mwangi, Tesla's former senior director of engineering, joined Rivian as well after spending more than six years at Tesla. Nick Kalayjian, Tesla's former vice president of engineering who was at the company for more than a decade, also moved on to Rivian. Mwangi is no longer at Rivian, but Kalayjian is still at the electric car manufacturer and currently serves at its chief product development officer.
Later this year, Tesla is aiming to host a delivery event for the Cybertruck and begin production of the vehicle this summer. Nonetheless, Musk stated in April that volume production of the Cybertruck won't begin until 2024.
"It takes time to get the manufacturing line going, and this is really a very radical product," Musk told investors in a call in April, as reported by The Verge. "It's not made in the way that other cars are made."
While Musk has long maintained that the Cybertruck is an "incredible product" and a "hall of famer," many of its actual capacities are still up in the air. For instance, back in September, Musk said that the Cybertruck would be "waterproof enough" to act as a boat and "cross rivers, lakes, and even seas that aren't too choppy."
We would strongly advise you against using your Cybertruck as a boat once you get your vehicle, though. Remember, that the assertion comes from the same man who said that Cybertruck would be bullet-proof—and we all know how that turned out. Spoiler: It was not. For proof, see photo above this story.
It's not yet clear whether El Akkari's departure will affect Tesla's planned delivery event in the third quarter. Given how many times Musk has delayed the Cybertruck, giving the impression that it's held together with string and tape, much like his other company, Twitter, another delay would surprise no one.