Have you heard the famous Winston Churchill quote that "the fascists of the future will call themselves anti-fascists"? Well, it's a fake quote. Churchill never said it. But that didn't stop Texas Governor Greg Abbott from tweeting the fake quote late last night. And while Abbott is rightly being taken to task, the responses to his tweet are pretty funny.
There's this one from Abraham Lincoln:
And this famous quote, also from Winston Churchill:
G/O Media may get a commission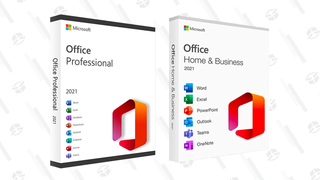 89% off
Microsoft Office Professional 2021 Lifetime License
And who can forget when Winston Churchill said this:
There's this one from Albert Einstein:
And another one from Abraham Lincoln:
There's this quote from William Shakespeare:
And another famous one from Winston Churchill:
Man that guy really had a lot of great quotes.
There's this famous and very real quote from Napoleon:
And this one from Thomas Jefferson:
There's this one from Maya Angelou:
And this famous quote from Teddy Roosevelt:
And this one from Eleanor Roosevelt:
And finally, my personal favorite, from Gizmodo's own Ed Cara, quoting Winston Churchill:
It has to be true. I saw it on the internet.
The first clue to Governor Abbott that it's a fake quote probably should've been the 9gag watermark on the side of the image, of course. But we can't let that get in the way of trying to call anti-fascists the real fascists. It's a popular thing to do in Republican and neo-Nazi circles these days.
As of now, Abbott's quote is still up. But we'll have to see if he takes it down out of embarrassment or doubles down with some version of "well, Winston Churchill probably would've said something like that." Given the trajectory of the Republican Party, my money is on the latter.
Update, 11:43am: Abbott has, in fact, deleted the tweet now. Good for him.
Update, 1:20pm: Texas politics reporter Lauren McGaughy from the Dallas News has tweeted that Governor Abbott was just asked about the fake quote. As I suspected he might, Abbott doubled down.
"What I tweeted was a sentiment that I had, and that is antifa is dangerous to society and antifa is the antithesis of safety and security and they are antagonists to law enforcement as well as to other people," Abbot said, according to McGaughy.
"It was irrelevant to me who may or may not have said that in the past. I didn't want to be accused of plagiarism for saying it," said Abbott. "If no one else said it, attribute the quote to me because it's what I believe in."