So you're heading to Frisco to experience the glorious splendor of Super Bowl City, but you waited too long to find a place to stay and now all the hotels are booked! Don't worry, we've got you covered, bro.
We scoured the internet to find the best the sharing economy has to offer. Rentals are listed here from most outrageous to still pretty outrageous. Price gouging? What price gouging?
---
80" 4K UHD TV for SB50 viewing pleasure, large family/living room with audiophile stereo system, and large kitchen.
Nope, no interior photos here, but why do you need them? You're spending $6000 a night to watch the game in the living room of a Santa Clara McMansion that's three miles away from the stadium—and the game isn't even being streamed in 4K.
---
(Personal Butler 24/7)
Urban Fabulous 4,000 sq ft warehouse loft featuring 4 Br, 2.5 Ba. Amazing space featuring 3 huge projectors, hot-tub, and a rooftop. 101 & 280 freeway access, 1 block walking distance to Caltrain station for Levi's Stadium.
G/O Media may get a commission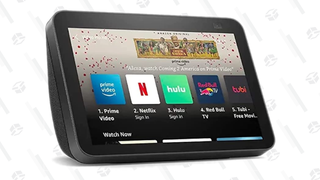 So—is this the hot tub?
Or is this the hot tub?
---
This is a luxury Yacht with 5 in suite cabins. You can reserve the Yacht as a Bed & Breakfast or request pricing to sail The Bay or the Sacramento river to Napa or Sacramento. Price includes a one hour Bay cruise. Day cruises are available. Inquire.
The boat was a brilliant idea—until you and your friends realized the game wasn't being played at AT&T Park.
---
No other apartment in San Francisco will you be provided with your own personal concierge on call 24 hrs during your stay I will take you wherever you need to go answer all your questions and needs, Pick up to and from airport and to and from game!
Let's see. A taxi from SFO to Alamo Square is about $55 each way. An Uber from Alamo Square to Levi's Stadium is about $85 each way, but let's assume there will be surge pricing and triple that. Total transportation costs for your weekend will be about $620.
But no other apartment in San Francisco offers all this:
---
BillysCrib is a creative offsite meeting space for entrepreneurs, executives and startups to conduct day-time business meetings for up to a maximum of 12 guests in the heart of SoMa San Francisco (no overnight stays!)
Okay, so you can't sleep here, but why are you wasting your time watching sports anyway when you could spend Sunday on this couch with 11 of your most trusted investors to brainstorm new anus-themed logos for your startup?
---
NO CLEANING FEE, "BRAND New Luxury" NESPRESSO Coffee & Espresso Machine straight from cafe! Best locationSF-SOMA. 1 block away from At&t park. The best restaurants/Wine bars/nightlife is in SOMA. AmazingArt, Eastern King Platform Bed,Apple&CableTV
& don't forget this:
---
It's 5 min from the stadium event no need to drive you are literally in front of the stadium! Want to see the biggest Superbowl event of history! That is the place to be! 2 bedrooms 3 full bathrooms a kitchen living-room enjoy the Superbowl with your family and friends. Do a BBQ in the backyard and walk to the biggest event of the year it's 5 min walking distance!
I am not sure if the name of this listing means that you or your house are going to be on TV. Regardless, it is booked every day this week but not on the night of the Super Bowl, so if you act now, you could check in Sunday and walk to the game walking distance 5 min!!! Or just watch the game here. For $1500. Update: THIS PAD HAS BEEN RENTED
---
Air mattress in safe living room as part of a spacious 3 BR shared apartment. Access to kitchen, shower, TV, & fridge. Free access to pool, hot tub, & 24hr gym. Close proximity to Levi's stadium (15 miles). Breakfast and snacks are offered.
Sure, you're sleeping on an air mattress 15 miles from the stadium. But if your bedroom is the living room then you get to control what you watch on the TV, right? No talking during commercials!
---
Rent your Superbowl suite by booking both rooms in our home close to Levis.

This listing is for one bedroom in our home.

Please note: We will only accept bookings from fans of the same team.
Except... they never say the team.
---
This place is a "Man Cave" it's very cozy but the kicker is that I am only .5 miles away from Levi Stadium.

Their is a walking trail that will get right to the stadium. It's a single room with a sofa bed or Futon if you will and it has a BBQ.
Only $300! Wow, that sounds too good to be—
Oh. Ok.
---
We have a pullout queen sized ikea couch and a couple of queen air mattresses available for rent for superbowl weekend. You're welcome to use the kitchen, bathroom, backyard, and whatever else we have available.
"Extra people: No Charge"
Top art by Adam Clark Estes