If you played a small part in the Manhattan Project and had a nightmare about the world destroying itself, what would you do?
You're looking at a detail from a painting called Ex. 4-Trinity's Trine, by an artist named Jess who fled the life of atomic science after working on the Manhattan Project. Now it's being exhibited at the MoMa in New York City.
Born Jess Collins, the artist was drafted by the military after studying science Long Beach Junior College and the California Institute of Technology. In the Army Core of Engineers, he was a radio-chemist who worked on the Manhattan Project. After being discharged in 1946, Collins completed his degree and worked at the Hanford Atomic Energy Project.
But two years later, in 1948, he had a apocalyptic nightmare and became disillusioned with science. He left his job for the California School of Fine Arts (now the San Francisco Art Institute). After a falling-out with his family, he began to paint under the name "Jess."
G/O Media may get a commission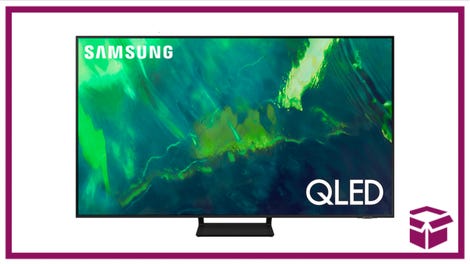 35% off
Samsung Q70A QLED 4K TV
Save big with this Samsung sale
If you're ready to drop some cash on a TV, now's a great time to do it. You can score the 75-inch Samsung Q70A QLED 4K TV for a whopping $800 off. That knocks the price down to $1,500 from $2,300, which is 35% off. This is a lot of TV for the money, and it also happens to be one of the best 4K TVs you can buy right now, according to Gizmodo.
This particular painting is part of the Museum of Modern Art's collection and is based on a sketch of a scientific apparatus from an 1887 issue of Scientific American. Jess attached a print of the engraving to the back of the canvas and put nine layers of paint over a pencil drawing. Despite the older origin of the image, the title probably comes from Jess's time in the Manhattan Project. The painting is called Ex. 4-Trinity's Trine, the first nuclear test in 1945 was code-named "Trinity."
This image is from MoMA. For more information about Jess, who died in 2004, visit his page at the San Francisco Art Institute.