After the release of Avengers: Infinity War, everything about the Marvel Cinematic Universe was suddenly in question, with an obvious problem: How in the hell will Marvel market movies released in the future starring characters who Thanos seemingly snapped into oblivion?
This weekend, io9 finally sat down with Marvel Studios president Kevin Feige and got to ask him about this. We asked, straight up, could a character like Black Panther (who disappeared in Avengers: Infinity War) show up in the trailers for Avengers 4?

"No," Feige told io9. "Because he's gone."
One can safely assume that goes for everyone who Thanos killed. So does that mean Marvel is going to release a movie that stars Chadwick Boseman, Chris Pratt, Benedict Cumberbatch, Paul Bettany, Sebastian Stan, Dave Bautista, and Tom Holland, but pretend they aren't in it? Sounds like it.
G/O Media may get a commission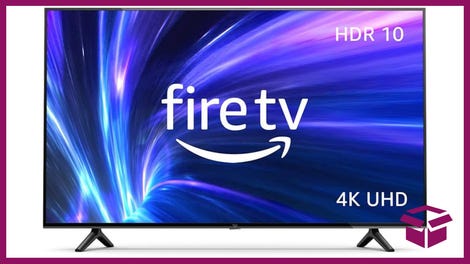 42% Off
Amazon Fire TV 50" 4K Smart TV
Speaking of Holland, we then asked Feige about Spider-Man: Far From Home, the sequel to Homecoming, which will be released two months after Avengers 4. It has the same tricky issue, because Spider-Man was also snapped away by Thanos.
"Well, when does that movie take place?" Feige asked. "We know it's the summer. I think it's summer vacation. I think he's going to Europe with his friends. I don't know what summer... I mean, I do know [but you don't]."
The suggestion that Far From Home could happen before Infinity War is a nice deflection, but ultimately is probably not true. What Feige forgot were his quotes from one year ago, when we spoke with him about Spider-Man: Homecoming:
"So much happens in [the third and fourth Avengers movies], as you can imagine, and so much is affected by it that we felt what better person to hold your hand and lead you into the next incarnation of the MCU, in a grounded, realistic manner, than Peter Parker?" Feige told io9 last year. "So, coming out two months after Untitled Avengers, [that's what] much of what the next Spider-Man film will be about."

"It was purposefully done like [that]," Feige continued last year. "Like how the events of Captain America: Civil War impacted Peter as he was dropped off by Tony and expected to go back to continue his sophomore year, how the hell are the events of Infinity War and Untitled [Avengers] going to affect him as he, yes, goes back to his junior year?"
So, though Feige joked this week that Far From Home may not take place after the events of Infinity War, it almost certainly does. And that means we still don't know how that film will be marketed. However, Tom Holland's tongue-in-cheek title reveal may offer a clue. In the video, he said "I'm a little confused [about Spider-Man 2] because I died so I don't really know how it comes into play." Maybe Marvel will just treat the whole thing with a great big shoulder shrug. Or, maybe Feige's suggestion of a different timeline is the answer—and nothing in the trailer will confirm when the movie takes place.
Before Far From Home, though, audiences will see Ant-Man and the Wasp next week, then Captain Marvel in March 2019, followed by Avengers 4 in May. Feige thinks marketing for Avengers 4 is likely to start sometime in the fall or winter--and when it happens, it seems like anyone who died in Infinity War will not be a part of it. Though, Feige did leave open the possibility that could change by saying he isn't sure of how it's all going down. "We are working with the greatest marketing team in the world with Disney so I'm anxious to see how they start to put [the marketing] together," Feige said.
You'll get your first clues of what's to come in Ant-Man and the Wasp, which opens July 6. More on that and from Feige soon.