Action cams have always sounded great. Just strap them to a bike, a surfboard, a car, or a helmet, and record a ride from the daredevil's POV. Now they're getting fancy, with full 1080p HD recording, Wi-Fi, Bluetooth, and GPS. So which is the right one to capture your classic runs and epic wipeouts?
Note: Watch the above video in 1080p.
Testing Methodology
We strapped all four cameras to the handlebars of a mountain bike and went zooming around Brooklyn. One street ride, one trail ride, and one night ride. We also did a few static shots. The cams were crammed tightly, so none of them were mounted optimally (especially the Hero 2). Because of this, they all shake worse than they normally would. Plus, for bike stuff you really want the camera on your helmet, because the handlebars add too much vibration, even under ideal circumstances. We wanted to strap them to a surfboard, but the Atlantic Ocean, she would not cooperate. Instead, those that are waterproof were given an 8 hour soak test in 3 feet of water, and those that weren't were given a quick dunk, too.. As far as weighting: we looked at ease of use, mounts, features, and accessories, but video quality is king.
---
4th Place: Drift HD
G/O Media may get a commission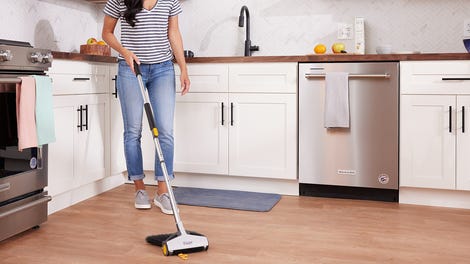 BOGO 50% Off
Flippr - BOGO 50% Off
There's a lot of really great stuff about the Drift HD. For starters, it's the only one with an integrated LCD screen, so you can see your shot before you start recording (or during). This also makes it adjustable on the fly. Switching between modes (1080p or 720p, frame-rates, stills, etc.) is easiest on the Drift. The lens is rotatable, so you can get a level shot even when the camera is mounted askew. Other features include modes for time-lapse and burst photos, and a remote that can start and stop recordings. Without a special housing, it's only billed as water-resistant, not water-proof, but a) it floats, and b) we submerged it under two feet of water for an hour and it came out just fine. Nice.
Unfortunately, video quality is where the Drift falls flat. It's easily the worst of the group. Images are not at all sharp, and there's noise all over everything (especially in the night shot, but really, everywhere). It also handles contrast very poorly. Colors are way off. Just very, very muddy. You see that skipping in the first video for the Drift? That's not your browser acting up, that's in the raw video file. It didn't do that all the time, but the fact that it did that at all is troubling. If you want to go surfing or diving with it, you've got to buy a waterproof case for an additional $50. It's also somewhat limited in terms of available mounts. Also, there was some weird, shrieking sound that persisted throughout the video, though that may be unique to our unit. For the price you can do way better. [$300]

Drift HD Specs
Video: 25/30fps in 1080p, 25/30/50/60fps in 720p
Angle: 170 degrees in 1080p
Waterproof: Water-resistant w/o case
Storage: MicroSD
Battery: 1100mAh
Price: $300
Gizrank: 2.5

---
3rd Place: Ion Air Pro
This is the baby of the bunch. The coolest thing about the Ion is that without any additional housing, it's waterproof to 30 feet, which should suffice for most non-scuba aquatic activities. All that in the same sleek form factor as the Contour, which gives it the lowest profile. It also has a unique and very versatile mounting kit. With the ball and socket setup, you don't have to detach and reattach anything in order to turn the camera around (which would be great for surfing). It's very intuitive to use for both shooting video and firing off stills. Possibly the best feature of all is that it vibrates when it starts and stops recording, so you know you're rolling even if the camera is mounted to your helmet. Really nice touch.
Again, video quality is where the Ion stumbles. It's not as bad as the Drift HD's, but it's not much better. There's just a ton of fuzz all over everything. Sharpness is a major problem (though colors are better than the Drift). Noise is very bad in low light. It also has a narrower angle in 1080 and 720 modes (127 and 150, respectively). The camera knows if it's upside down and will flip the video accordingly, but that's as far as it goes in terms of adjusting the angle. While the mount is easy to use and adjust on the fly, it's hard to crank it down hard enough so that it doesn't wobble when bumped or shaken. Also, like the Contour, you need another device (a computer or an iPhone) in order to change settings (frame-rates, etc.), which sucks. But this also allows you to control the camera with an iOS device or web browser. If you're committed to buying an Ion, skip the $350 Wi-Fi model, and the pared-down $230 Pro—go for the $290 Pro Plus kit with its included mounts for bikes and helmets.

Ion Pro HD Specs
Video: 30fps in 1080p, 30/60fps in 720p, 30fps in 960p (4:3)
Angle: 127 degrees in 1080, 150 degrees in 720
Waterproof: Waterproof w/o case to 30 feet
Storage: MicroSD
Battery: 1100mAh
Price: $290
Gizrank: 3.0

---
2nd Place: Contour+
The Contour+ offers really nice video quality—images are extremely sharp. It was the favorite in the low-light test. While it was darker than the others, it didn't artificially brighten images into horrible noise. Speaking of noise, sound quality on the Contour+ is easily the best. It has a nice, low profile, and it's generally very easy to mount securely on either of its sides. It has a simple on/off switch (like the Ion) so it's pretty easy to tell when you're recording, and it starts shooting quickly. The Plus is Contour's high-end solution with built-in Bluetooth, so you can use your iPhone or Android as a monitor while you record. There are tons of optional accessories, including some that let you broadcast live to USTREAM. Also, the rotatable lens will allow you to adjust to any angle, and it has built-in GPS for automatically geotagging your videos.
At $500, the Contour+ is by far the most expensive of the cameras we tested. For all that money, it's not even waterproof. At all. It says "water-resistant," so we gave it a quick dunk. It instantly filled with water. Oops. If you want to take this thing in the water (or anywhere near it) you need to drop an extra $50 on the waterproof case. There's a switch to flip between two settings (1080p @ 30fps or 720p at 60fps by default), but beyond that, settings can't be changed without attaching to a computer. Really, really annoying. Also, if you want the full 170-degree angle, you can only get that in 720p mode. Connecting to a phone via Bluetooth yielded mixed results—you had to stay pretty close to the camera, and most of the time it displayed choppy video. For the best value, go with the Contour ROAM. For only $200 (or $250 with the waterproof case and surf mount) it has the same optics/image sensor as the Plus, but it's actually waterproof for up to 3 feet—better than nothing. You don't need the Plus's GPS and Bluetooth. ($500)

Contour+ Specs
Video: 25/30fps in 1080p, 25/30/50/60fps in 720p, 25/30fps in 960p (4:3)
Angle: 170 degrees in 720 only
Waterproof: Not waterproof w/o case. W/ $50 case: 197 ft
Storage: MicroSD
Battery: 1050mAh
Price: $500
Gizrank: 3.5

---
BESTMODO: GoPro Hero 2
In terms of image quality, the Hero 2 simply won out. It's about on par with the Contour in terms of sharpness, but when it comes to colors, the Hero simply dominates. It also handles contrast better than the others. All of the kits come with a waterproof housing, which keeps the camera dry up to 197 feet deep. There are tons of mounting options and accessories—battery extenders, strap-on LCD screens, and a Wi-Fi BacPac that lets you control up to 50 GoPros at once from a distance of up to 600 feet. The built-in screen ain't much to look at, but you can adjust settings on the fly, like frame-rates, stills, and time-lapse, which is clutch when you're in the field. The LCD BacPac lets you instantly play back video. This is the only camera that uses ubiquitous, high-capacity, full-sized SD cards. The 170 degree angle in 1080p is great, and it easily produces the best daytime video. (If you want to see surf footage from the Hero 2, check out our lightning review.)
That said, it isn't without its flaws. The boxy design gives it an awkward profile. Sometimes it's harder to mount because of that, and it increases water resistance while swimming. Also, you can manually flip video 180 degrees, but there is no incremental adjustment. As you can see in the video, the Hero 2 was off-kilter (which wasn't its fault—it went on last and there wasn't enough room on the handlebars), so a twistable lens would have been great. Nighttime footage isn't amazing, but it finished a solid second behind the Contour. The most annoying thing about the Hero is that buttons are very hard to press, so adjusting the settings takes some work (and it's hard to do with gloves on). Despite that, if the camera gets mashed into the ground or another object, accidental button presses can occur. Also, the beeps aren't loud enough, so you don't always know if you're rolling or not, which could kill your perfect shot. It takes a while to scroll through the GoPro's menu, but it's certainly better than no onboard menu at all. Despite the gripes, the Hero 2 remains is the clear winner. ($300)

GoPro Hero 2 Specs
Video: 30fps in 1080p, 30/60fps in 720p, 48/30fps in 960p (4:3)
Angle: 170 degrees in 1080p
Waterproof: Waterproof to 197 feet w/ included case
Storage: Full-sized SD card
Battery: 1100mAh
Price: $300
Gizrank: 4.0

[Video edited by Michael Hession, shot by Brent Rose]