Looks like we'll have Android Pay to answer to Apple Pay, and the RadioShack name may wind up in the hands of some millionaire. Welcome to Bitstream, all the best news tidbits and rumors you missed in the last 24 hours. Goes down great with a cup of coffee.
---
Microsoft just made a bunch of experimental apps available for consumers to try. They were cooking in the company's hacker/maker incubator called "Garage," natch, and now are downloadable for Android, Windows phone and iOS (though mostly Android and Windows). Check. It. Out. You never know what weirdly wonderful things you can find in a garage. [Microsoft]
Android is getting all mixed up in your work, offering business level security so you can finally ditch that BlackBerry. [Google]
This is a neat little neat thing, a door lock that opens your front door with your own custom knock, reviving those old childhood days of secret knocks and pillow forts. [ Kickstarter]
G/O Media may get a commission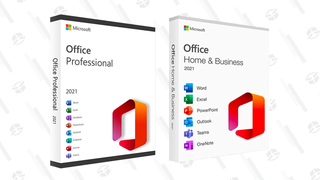 89% off
Microsoft Office Professional 2021 Lifetime License
RadioShack name is up for sale for around, oh, 20 million. If it happens to go on a 99.9999999 percent discount I'm all over it. [Bloomberg]
Google is telling towns to "make it easy" for Google Fiber or "enjoy your TWC," which kind of sounds like a threat but also the truth. :( [Engadget]
Apps and gadgets
Spotify's desktop client will turn you into a karaoke star—now offering real-time lyrics with Musixmatch. [VentureBeat]
Wordpress has a bazillion Tweet-related plugins, but finally Twitter goes legit with its own official one. [TechCrunch]
Rumors!
Android now has Softcard, so Android Pay is on the way. In fact, rumors say it'll be here within a couple months. (Think May). [Ars Technica]
The LG Watch Urbane sounds like the Swiss Army knife of smartwatches, including 4G LTE and NFC (among other things). [Android Community]
Small fry smartphone maker Kyocera may launch a crazy smartphone at MWC that can charge via solar power. Cooooool! [Tom's Hardware]
What you might have missed on Gizmodo
This Is the National Revenge Porn Law We Need
Motorola's Great Little Cheapo Phone Has a New Look and LTE
How Our Future Cities Will Look After Extreme Flooding
A Same-Day Delivery Startup Brought Me a Fish We Both Assumed Would Die