Smartphones are the new portable cameras—almost. With these apps, though, you can turn your iPhone or Android handset into a true pocket camera killer.
iOS
GOLD MEDAL: ProCamera


A little known camera app with all the standard trappings, like brightness, color tools, video recording, grids, anti-shake and a full-screen shutter, to name just a few. The killer feature, though, is distinct white balance, exposure and focus adjustment. With such fine control via touchscreen, this app can actually make your iPhone 4 more powerful than a low-end point and shoot. $3, iPhone.
SILVER MEDAL: Hipstamatic

G/O Media may get a commission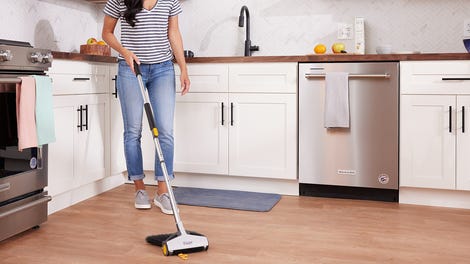 BOGO 50% Off
Flippr - BOGO 50% Off

You don't need to self-identify as a hipster to enjoy this camera filter app—you don't even need to be a hipster in denial. The faux nostalgic aesthetic can wear on you after a while, but the filters are generally top notch, and routinely return stunning and unexpected results. The "lens" and "film" and "flash" combinations are nearly endless. $2, iPhone.
BRONZE MEDAL: Camera Plus Pro


A reliable choice for the person who just wants to upgrade their standard camera app for something a bit more advanced. Though it's lost one of its most useful features—video zooming is no longer possible now that the app uses the official iOS video recording API—post-shot editing, intelligent anti-shake and metadata editing make the whole package worth the cost. $2, iPhone
OTHERS TESTED:

• Colorsplash: Adds color to specific patches of a photo, a la Sin City. $1.
• Instagram: Like a free Hipstamatic, with a social component. The dealbreaker is its oddly low 600x600 output resolution.
• Pano: Seamless, huge panoramas. Awesome. $3.
• Digital Focus: Its specialties are a simulated depth of field effect and a tilt-shift setting, which aren't totally convincing, but manage to look cool in their own ways. $1.
Android
GOLD MEDAL: Vignette


With Vignette you get those wonderful artsy effects your friends love and a ton of straight shooting options that'll make you leave your Point and Shoot at home. Snazz up photos with 68 different effects (yes, you can get vintage-style and toycamera-style options along with other awesome effects) and spice things up with 56 unique frames. Vignette's straight shooting options cover all the major bases too: fixed focus, fast shot, steady shot, self timer, etc., so if you want to create your own style, by all means. The only downside is that taking higher megapixel shots requires buying the Pro version and the app settings can get a little messy (though the camera UI is so excellently simple a 5 year old could handle it). Free, Android. $3.93 for Pro.
SILVER MEDAL: Camera 360


Complete with your usual slew of effects, Camera 360 throws in sillier options, like funny and scenery modes, to round out a ridiculously comprehensive feature set. Really, Camera 360 packs as much stuff as you can possibly think of: HDR-style pictures, image stabilization, multiple flash/focus, various manual modes, and TONS more. The camera UI is not as polished as Vignette's but adjusting settings is much easier. There's also a rather neat option to compare the original photo with the after effects photo when you tap a picture. Free, Android. $3.99 for Pro.
BRONZE MEDAL: FX Camera


It's a fairly basic lomo FX/hipstamatic style camera but it's REALLY easy to use and processes the pictures REALLY fast. There's not too many effects available (ToyCam, Polaroid, Fisheye, SymmetriCam, and Andy Warholizer), but all of them are stellar. Free, Android.
OTHERS TESTED:
• Camera Zoom FX: A lot of FX, ton of options and decently easy to use but costs $4.72 with no free option
• Retro Camera: "Ages" your shots really well but takes a little too long to process. Free & $2.99
• AndroPan: Combines side by side pictures into one nice panoramic shot. Free
• Fast Camera: It's a really fast camera. Costs $2.83 though.
• PicSay: Decent editing tools but star of the show is adding wacky comments to photos. Free
• PhotoFunia: Adds silly fun to the photos you take. Free