Over the two years we've reviewed coffee makers, we've brewed hundreds of cups of coffee in 12 different machines, sampling the results with a blind-tasting panel of coffee roasters and interviewing numerous coffee connoisseurs—from roasters to baristas—to find the best. Depending on your priorities, we found the best do-it-all option, a machine that prioritizes taste over features, and a budget-friendly pour-over setup with a dripper and kettle.

This post was done in partnership with Sweethome, a buyer's guide to the best homewares. This is a condensed version of The Best Coffee Maker; read the full review here.
Many coffee makers produce terrible-tasting coffee because they don't heat water to the right temperature, they over- or under-steep grounds, or they use an improper water-to-bean ratio. Because flavor was the top priority for the 1,354 Sweethome readers we polled (with ease-of-use and speed tying for second place), we looked for machines that could deliver great taste with minimal fuss. We excluded grind-and-brew machines because they require too much maintenance. We avoided single-cup brewing machines like Nespresso and Keurig because they are wasteful and overly expensive to operate (around $40 per pound of coffee).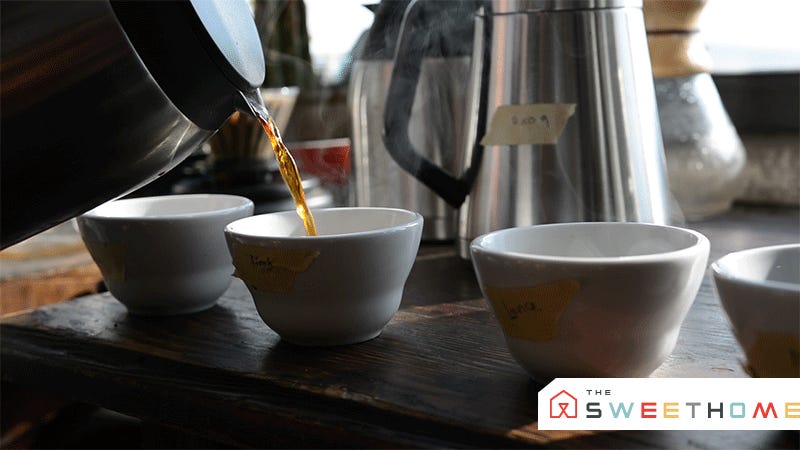 We then consulted the list of coffee makers certified by Specialty Coffee Association of America (SCAA) and read through reviews from publications like Consumer Reports and Cook's Illustrated. Once we'd selected the most-promising options, we assembled a blind-tasting panel made up of three roasters from Brooklyn-based roasting company Lofted and two Sweethome employees. We also ran each machine's coffee through a total-dissolved-solids (TDS) meter to get a more objective measure on how they performed. Afterward, we took the best-performing machines back to the Sweethome test kitchen to see how easy they were to set up and program a future cup of coffee, and to check for quirks in each machine's user interface. We then measured how well each carafe performed temperature-wise over the course of two and a half hours. After that, we analyzed how well each carafe poured and how easy each one was to clean, before choosing our favorites.
All-around performer: Great taste and features for most kitchens
OXO On 9-Cup Coffee
In the past, you had to choose between a coffee maker that makes good coffee and one that has all the features you might want. The OXO On 9-Cup Coffee Maker is the first machine that successfully combines the best of both worlds. If you grind your beans to the correct particle size and weigh the grounds so they extract just enough, the OXO On will brew a really good pot of coffee in about 6 minutes. Operation is dead simple: Just spin a dial to indicate the number of cups you'd like and hit the button. The digital display is large and easy to read and even shows how long it's been since the coffee finished brewing, so you won't accidentally serve stale coffee.
Though our tasters preferred the flavor and body of the coffee from our runner-up, the Bonavita BV1900TS, the OXO On was a close second or better in every other respect. It has a wide, five-port showerhead that disperses water evenly through the coffee-brewing basket, good temperature stability, and an automatic pre-infusion mode (a crucial step that heightens flavor clarity). Other machines, like our runner-up, require you to manually activate this feature or lack it entirely. The OXO also adjusts the water quantity, overall brewing time, and pre-infusion time when making smaller amounts of coffee. Every other machine we tested would behave the same whether brewing two cups or a full pot.

The OXO On's carafe is exceptional—it pours well and stays hot for hours on end. (You'd be surprised how many renowned brewers come with shoddy carafes.) And if you remove the carafe during the brewing process, the filter will spring up to stop the brew's flow—although the filter does dribble just a little bit when you do this. The entire machine, including the carafe, is easy to clean too. All of the connected plastic parts in the actual machine are safe for the top rack of your dishwasher, but you'll have to wash the carafe by hand.
Better taste, fewer features: A flavorful pick
Bonavita BV1900TS
The Bonavita BV1900TS, our former top pick, is still one of the best machines in its class. It brews coffee faster than any other machine with pre-infusion and consistently makes some of the best-tasting automatically dripped coffee you can find. Not only did tasters love the Bonavita's coffee, but according to our refractometer it also came the closest to the ideal range of 1.15 percent to 1.35 percent total dissolved solids as specified by the SCAA. The Bonavita's operation is among the easiest on the market: You plug it in, add beans and water, and press the on-off switch. Unfortunately, its pre-infusion setting is disabled by default, so you'll have to activate it by holding down the on-off switch for five seconds.
Another big difference between the Bonavita and the OXO is the filter shape. While the OXO uses cone-shaped filters, the Bonavita uses flat-bottomed ones. We are somewhat partial to flat filters because they tend to result in a more balanced cup of coffee—you can read why in our pour-over review. Our panel for the blind tasting backed this up, noting that coffee served from the Bonavita had a more balanced flavor profile.

The Bonavita's biggest flaws are the things it can't do. It isn't programmable, so you won't be able to schedule your coffee ahead of time. Its filter basket sits directly atop the carafe, which means you have to find somewhere to put the drippy filter when the coffee is done brewing. Plus, the carafe is designed in such a way that you can't pour from it without first putting the lid on, and even then pouring is less than perfect—the stream is slow and it's difficult to get the last drops out.
If you want to get started with pour-over brewing and don't mind spending extra time making your morning cup of coffee, you should consider the Kalita Wave 185-Series Glass Dripper (from our pour-over-coffee gear guide). In our testing, brewers appreciated how easily they could make an evenly extracted cup, and tasters were impressed with how easily they could distinguish the individual flavor notes in the finished product. And unlike the otherwise good AeroPress, the Wave can make two hearty servings in one go (or up to four smaller ones). The Wave's combination of consistency and quality has made it the darling of the high-end coffee world and the weapon of choice for multiple competitive brewers, including the 2013 US Brewers Cup champion. The Wave's only real downside is that it uses proprietary filters (sold here, here, and here) that can be difficult to find outside of the Internet and cost more than those used by competing systems.
This $60 electric Bonavita Kettle is the kettle we'd recommend to pair with the Kalita. (Prima Coffee recommends it, too.) It brings water to a boil in 4½ minutes; then it's just a matter of waiting about a minute while it cools down to a more optimal brewing temperature. It also pours much more precisely than other kettles in its price range. Liz Clayton, coffee expert at Serious Eats, liked it a lot, writing: "Insulated handle? Yep. Precise spout? Yep—just a hair's breadth narrower than the [Hario] Buono's [another popular kettle—Editor], comfortably ergonomic, cheaper, and oh yeah, it plugs in. Auto-shutoff and a 1-liter capacity make this easier and cheaper than anything else on the market, allowing us to turn a blind eye to its slightly flimsy base construction. Boils fast, too."

These picks may have been updated. To see the current recommendations, please read Sweethome's guides.