And you thought True Blood couldn't get any more insane. This weeks naked and bloodied episode, the gang returns home from Dallas, and let's just say the heart souffle has hit the fan.
So yeah, True Blood, wow. Anyone else feel like the needed a stiff drink after sitting through an hour of that? Last night, True Blood did what it usually does best, went rat shit insane and just upped all the characters to a new level of cray-cray.
I've usually praised TB for lovingly embracing all things cheesy and silly. Well, last night True Blood bent cheese over and made cheese its bitch. It felt like the writers were all trying to outdo one another at a pitch meeting, and this isn't even the big finale.
Jessica's eating Hoyt's mom, Maxine, after she punched Hoyt in the crotch, Lafayette is smacking around Tara, Maryann is building a giant meat cross and Jason — well, he's kind of the King of the idiots isn't he, so he's pretty much just ruling the show.
This was one of those episodes where you're either along for the ride, or puking up black vampire bile out the window. So I decided to give in, and let the black eyed insanity take over and try and have some fun. With that said, it's time for the pros and cons.
Con: A sexy dream with Eric and Sookie, again! Am I going to have to be subjected to the wussification of Eric every week now? Just because it's Sookie's fantasy to make out with a crying muscle man who used to be all sexy and mean, that doesn't not mean it is mine. Please stop ruining Eric — he was so close to garnering actual sex cred.
G/O Media may get a commission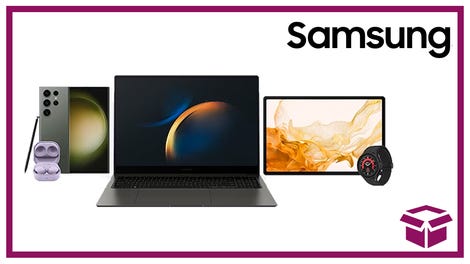 24 hour deals
Discover Samsung - Daily Deal
Pro: I was kind of surprised that this was a dream, mainly because I could actually see Sookie doing that with Eric, moments after she told Bill she never would. Just seems like it's in her wheelhouse. Glad it was actually a dream because I'm not 100% ready for the whole "let's fight over a self absorbed character" love triangle just yet. But we all know it's going to happen in a much bigger way, so start getting prepared for it.
Pro: Bill in a box. Anubis Air is pretty great, I would do this — seriously, today. If there was a ventilation system I'd sign up in an undead heartbeat.
Pro: The spray painted Bon Temps sign, yep that's about right. Didn't need to be clever, just obvious.
Pro: I, personally, love Maryann's meat cross because it reminds me of this giant immovable load of a plot line that is just sitting there, rotting. So yeah this works for her. Also I'm kind of in awe of the whole masterpiece and its little flowers. Lets hope this giant meat sacrifice will mark the end of the sex parties.
Con: It didn't, but at least they seem to be getting a bit more violent. So that's something...right?
Pro: Jason: "This is fuckin' fucked up" yes it is. Also gotta love the pause for the new waitress at Merlottes that he hasn't slept with. Let's hope this means our boy is back!
Pro: The whole odd-couple Andy-and-Sam moment is a great big pro. I smell a spin off. He's a drunk and he's sometimes a dog, but they gotta pay rent so they open up a private detective service together. They can call it Supernatural Surveillance or something, it's a work in progress. But the two of them make a great team. Probably because I actually believe that Andy is a real person now, and I loved Chris Bauer in The Wire but here, he's really mastered "smelly functionally funny drunk." Thank you for that.
Pro: Maxine playing Wii, it's the only thing that calms her down...me too.
Pro: Jason loading up for the warring zombie apocalypse style.
Pro: "Jesus and I agree to see other people but that don't mean we don't talk from time to time." Hey Lafayette, GET OUT OF MY HEAD. So glad he's back and being the "voice of the viewer" again.
Pro: Also, yes this is "the worst mother fucking intervention in history,"....there's no sign! Although dynamite line.
Con: Mom and Lafayette talking about how they both hurt Tara and how they let her down and should have been there for her, sorry she's a grown-ass woman. I would have left that mansion after the naked pool party. Granted, I'd miss the never ending table of fruit and towel slapping. But that would be the end there would be no more hang outs or slumber parties. And while I wouldn't mind a friend with never ending food and weed, if that meant I had to see my neighbors naked all the time, I'll pass.
Pro: Bill talking all professional like to Maryann, when they enter Sookie's completely mangled home. But of course they had to zoom in on the zombie photoshop picture of grams. I mean, forget totally soiling this place with body fluids, food, booze and possibly branches, and then building a rotting meat cross in her front yard — don't mess with Sookie's re-gifts to Tara. So yeah that whole thing, pro. Bill — you totally out-Dad Godric any day.
Con: Sookie's a Cocoon person. I knew this was coming... I can't shut out everything from the book, but I was really hoping we'd have more time before we had to deal with giving Sookie any more powers than she deserves.
Con: The line that went with Sookie's cocoon was not helping her case for having cool powers, it should have been..."FACED!!!!"
Pro: Bill vomiting out the car window hi-lar-i-ous. Vampires they're just like us! Everything Bill does that is remotely human is like a cartoon version of that scenario, like old people dressed up in trendy clothes.
Pro: Annie the Nanny, lord have mercy. WHY! It doesn't matter, it's Andy.
Con: True Blood is ruining group sex parties for me. If I see one more group sex scene I'm going to pass out from sheer boredom, which is something I never thought I would write...ever. I've been True Bloodered.
Pro: Terry calls a time out, Zach Morris style.
Pro: Just to fucking throw down that he is the wettest of the vampire blankets Bill yells at the college girl trying to buy vampire drugs. Drugs are bad! Glad we have time for this little intervention, Bill.
Pro: Terry in this entire episode, I mean I wish he was being a bit weirder. He's a little too together, but it's nice to see a smaller character get a bigger role than he usually does, especially since he's deserved it with all his strange side talk and war ticks.
Pro: Arlene yelling at Terry for shooting the good booze.
Pro: Tara chanting in her chair is the most tolerable she's ever been, for the entire season. Can we keep her like this? Please?
Pro: The God scene. What can I say? I watched this with a friend and he turned to me blankly and said, "really?" Meanwhile I was rolling around on the ground in silent I can't believe I'm watching this, when will I get to breathe again fit. Jiminy Crickets this scene was so ricockulous it needs it's own set of descriptive words. This is where I fell in love with True Blood all over again, because it just decides to go full force insane and leave the rest behind. And because Jason is standing in front of a bunch of characters I've become bored with and managed to make them interesting again, if only for one minute. And Andy stumbles around in the back holding up the god's horns, because of course God has horns. Yes, a thousands times yes, True Blood. It was just so stupid, and of course it worked, because apparently the black eyes means people are morons, which we found out just right now? They even added a special coke bottle filter to prove it the stupidity and everything, and sheesh writing a fluid plot is hard ok?
Pro: Jason can totally be a reoccurring character on Supernatural Surveillance, which now that I'm writing this name out for a second time probably needs a new title, I turn to you guys.
Pro: For me having to pause the television and stop laughing.
Pro: Samsquito returns and then transforms into naked Sam, apron boy. Andy and I had the same response, but I don't think either of us meant it.
Con: Tara's brain is just recaps from the last couple episodes, I was hoping for something more fellas, but then again, ugh, it's Tara.
Pro: No one wants Tara to go get more Eggs. Take the hint.
Con: So Bill and Sookie are all "how do we fight this terrible bull lady and neat-o I can make it light with my fingers." Well thank god, Bill read a book one time at his house, because where the hell would we be now? Oh, you don't remember him reading that book? Well, let's flash back to it to prove it — there, see? He totally read that book that one time a few episodes ago, which was why we included it in the first place, for reasons or something. Holy terrible plot hole filler in a flaming hand basket. Also his delivery for "I might know a vampire who miiiiiight [coy over the shoulder look] MIGHT [sassy head snap] be able to help or something was just make-a-sour-face bad.
Con: Sookie thinking that the whole town went to help because she left. I'm not surprised she thought this, but I like the need to remind everyone that she really is a terrible human being just one last time before the credits.
Pro: Jessica and Maxine going nuts and resorting to fang fisticuffs. I didn't think they were going to go there, and while it may have really been squeezed into this plot, I'm standing on the edge of my edge of my seat, which is basically just air. So clearly I'm excited for Jessica to kill Maxine and get this whole new drama under way.
Con: Bill runs off to see the Queen of Louisiana. Saywhatnow? The Queen? So there's a sheriff, a talking head, and a queen? You're serious with this True Blood? Not only are you totally screwing up my perception of Vampire hierarchy but I love how Bill's just like oh yeah the Queen, no bigs, Imma talk to her.
So they have a Queen, who was that bald guy that took the vampires fangs? The vice president? Bah, I'm sure you guys remember but I'm still a little ruffled from the OMG I just remembered I read a book once moment that I'm putting in as much effort as they did with this transition.
Pro: Another ending with yet another bloody foot. Methinks Ball has a bit of a foot fetish, still excited to meet the Queen, Evan Rachel Wood, even if I can't really understand this vampire royalty thing.
So that's that, and honestly I'm still processing it all. Bill's about to bust up this party because we can't be having any sort of fun while he about. Let's just hope the rest of this year, which isn't that much, and the new season aren't consistently this insane. Because like black-eyed sex parties, this kind of crazy is best consumed a bit at a time. And yet, my heart knows this is clearly going to get even more ridiculous, and the wii playing black eyed mumu wearing possessed racist in us all wants it to happen.