Someone has volunteered to battle Wonder Woman in the role of Cheetah! Jason Statham takes on history's greatest shark! People are upset with Scott Lang in Ant-Man and the Wasp!  And Gambit may be casting another supervillain! Plus, new images from Pacific Rim: Uprising, New Mutants, and more! All this and our first look at the Thirteenth Doctor, today, in Morning Spoilers!
---
Bumblebee: The Movie
We never thought we'd live to see this day. Empire has an image from the live-action Transformers spin-off movie Bumblebee, where the heroic(ish) Autobot is actually in his classic, original cartoon vehicle form of a yellow Volkswagen Beetle instead of the Camaro he's been in all the other films.


G/O Media may get a commission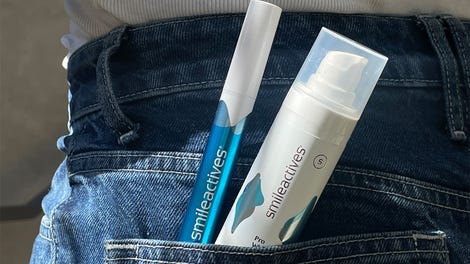 58% off
Whitening Powerhouse Pen & Gel Duo




Shazam!
The Walking Dead's Cooper Andrews, who plays Ezekiel's loyal and loable knight Jerry, has joined the cast as Billy Batson's currently unnamed foster parent.
[Deadline]
---
Gambit
That Hashtag Show has a casting call for a character named "Butler" that it speculates could be a placeholder name for Gambit's romantic rival, Donyell "Bandit" Taylor.
Butler: Supporting Character (30-40) Rosa's fiancé, villain with metrosexual charm. Should be physically imposing.
---
Wonder Woman 2
Sarah Paulson recently expressed interest in playing Dr. Barbara "Cheetah" Minerva on Twitter.
---
Meg
Empire has the first image from Meg, the long awaited film adaptation of Steve Alten's best-selling novel that's been stuck in development hell since 1997. In the film, Jason Statham is hired to rescue a group of scientists trapped in an undersea research lab by the dread Carcharocles megalodon.
---
Ant-Man & The Wasp
In another interview with Empire, (courtesy of Comic Book Movie) director Peyton Reed revealed Dr. Pym and the Wasp aren't exactly happy with Scott Lang following the infamous airport brawl in Civil War.
The events of Captain America: Civil War gave us something clear, which is: what was Hank Pym and Hope Van Dyne's reaction to Scott having taken this technology out into the world in Civil War? We had a lot of fun playing around with that. And we play with size and scale a lot. I love the idea of Giant-Man.
Reed also stated that the 30 years Janet Van Dyne spent trapped in the quantum realm may put a strain on her relationship with Hank Pym, which seems... pretty understandable.

It's fair to say if someone were to have spent 30-something years in the Quantum Realm and survived, it would have an effect. What did she eat? All she eats is cereal called Quantum Krispies.
---
Venom
Speaking with MTV, producer Matthew Tomach hyped Tom Hardy's performance as Eddie Brock, stating he "pushes it to a place us mere mortals would never expect it to go."
Eddie Brock is an incredible character — gritty, real, authentic, funny, but also an embittered character and a truth-teller who has made mistakes. Tom... it's like a masterclass watching him act every day. He's such a risk-taker.
---
New Mutants
Both Magick and Mirage get spooky motion posters on the film's official Twitter.
---
Black Panther
The latest issue of Empire sports a slick new collage promoting Black Panther.
Elsewhere, Killmonger threatens to "burn it all!" in a new TV spot.


---
Pacific Rim: Uprising
Gipsy Avenger the Jaeger gets its own poster courtesy of Coming Soon.
---
Godzilla vs Kong
Omega Underground reports Adam Wingard's Godzilla vs Kong expects to shoot in Atlanta, Georgia.
---
Goosebumps 2
Omega Underground also reports the Goosebumps sequel has officially changed its title to Goosebumps: Slappy's Revenge, after the series' cursed ventriloquist dummy.
---
Hellraiser: Judgement
Although planned as a theatrical release, the tenth installment of the Hellraiser franchise is heading directly to DVD/Blu-ray on February 13, 2018.
---
The Chilling Adventures of Sabrina
A new piece of concept art from Roberto Aguirre-Sacasa's Twitter looks as if was torn straight from the comic book.
---
Daredevil
Speaking with Collider, Vincent D'Onofrio stated Wilson Fisk is "evolving" under new showrunner Erik Oleson.
It's hard to top the first season, with Steven DeKnight's writing, but Erik Oleson is a very good writer. I've shot some pretty cool scenes, so far. It's different, but it's very Fisk. It's still very emotional. The character is evolving. His whole deal is based on emotion, so we're taking him down that role further.

There are new focuses and new goals. That's all I can say. If it was up to me, I would go on and on and on about it because it's so interesting, but it's so important to them, for us to keep our mouths shut.
---
The X-Files
Season 11 has wrapped filming, according to Gillian Anderson on Twitter.
---
The Librarians
Ghosts haunt a Civil War reenactment in the synopsis for episode 4x09, "...And the Town Called Feud."
When a Civil War reenactment in a town called Feud is plagued by ghosts, the Librarians have to uncover the truth of what really happened there over 100 years ago.
---
Arrow

Finally, Katie Cassidy sneakily stalks Paul Blackthorne in an unintentionally amusing set video.
---


---