The Coolest Tech of CES 2018
The world's biggest whirlwind of tech, startups, and wild fever dreams is finally over, at least for this year. But before we close the book on CES 2018, we wanted to call attention to some of the coolest, most exciting things we saw at the show. That's because even in a down year that saw less new laptops, and the hottest tech trend (for the second year in a row) was companies trying to shove Alexa or Google Assistant into every single device, there's still a lot to look forward to over the next 12 months.

Giving Optimus Prime a Proper Back Story | io9 Interview
Sennheiser's 3D Sound Bar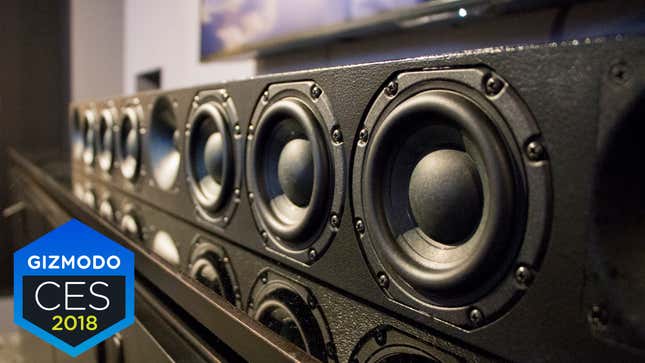 Long known for its excellent headphones, Sennheiser's still unnamed sound bar is the company's first foray into home audio. It packs everything you need to get an immersive spatial audio experience into a single 4.5-foot long box, while still sounding as good as more complicated 9-speaker setups. While we're still a bit skeptical, as this unit is an early prototype, hearing was definitely believing, and if the final model sounds as good as what we experienced at CES, we're all in for a treat.
Peloton Treadmill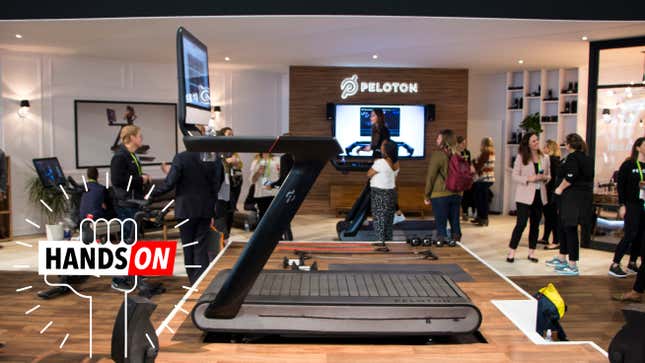 It might sound a little basic, but Peloton's $4,000 treadmill was actually one of the coolest things that debuted at CES 2018. Not only does it offer a running-based alternative to the company's popular internet-connected spinning machines, it also functions as a mini home workout studio. Sporting a 32-inch monitor, users can browse various workouts from running to interval training to yoga, and then be led through the routine by one of Peloton's expert fitness trainers located in one of the company's studios scattered across the globe. Yes, it's pricey, and Peloton is certainly preying on people's dreams of having a fitter, more chiseled physique. But as a tool to help you get in better shape, Peloton's new multipurpose treadmill almost feels like it might be worth the money.
Dynamic Wallet Card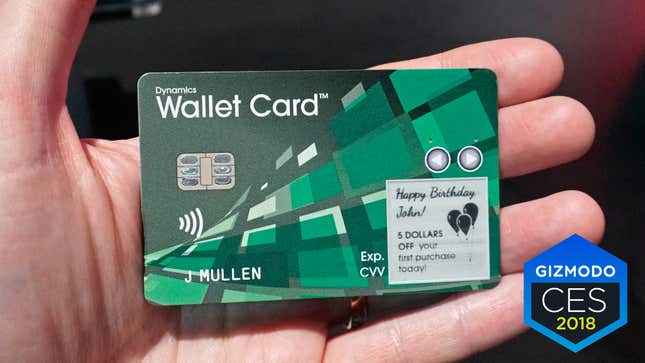 No one likes having a Costanza wallet, but with all the different loyalty cards, brand-specific cards, and all the other slabs of plastic cluttering up your life, it often feels like you don't have a choice. That's where Dynamic's connected Wallet Card comes in. By combining a rewritable magnetic strip, a 65,000 pixel e-ink screen and a GSM antenna into a single, standard-sized form factor, the Wallet Card has the potential to replace every other piece of plastic in your wallet. That cellular antenna also makes it possible for the Wallet Card to update you with hot new deals, and could mean that instead of waiting 10 business days to activate a new card that would normally arrive by mail, you could do it instantly on the Wallet Card. There's no word on when American banks might start using a solution like this, but it can't come soon enough.
Hyperkin Gameboy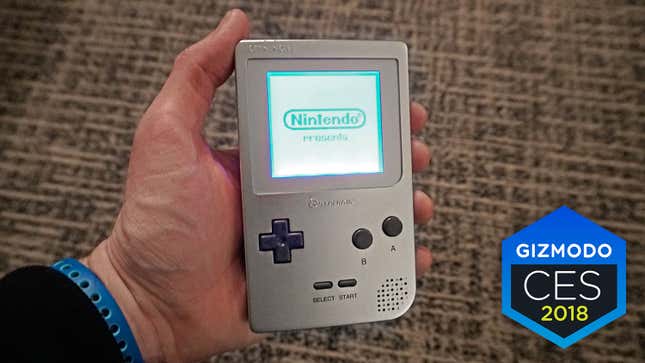 Even though the Switch is one of the hottest gadgets around, it was Hyperkin's remake of Nintendo's first handheld that had us getting all nostalgic and misty-eyed at this year's show. Dubbed the Ultra Game Boy, Hyperkin's take on the 1989 classic is a huge improvement over the original thanks to a new aluminum body, backlit RGB display, true stereo speakers, and a built-in battery that won't have you munching down on AAs like the real one did. And while Hyperkin is still trying to nail down a few final specs, the company promises the Ultra Game Boy (or whatever its real name ends up being) will be available this summer for under $100—way cheaper than $177 inflation-adjusted price an OG Gameboy would command today.
Vive Pro and Vive Wireless Adapter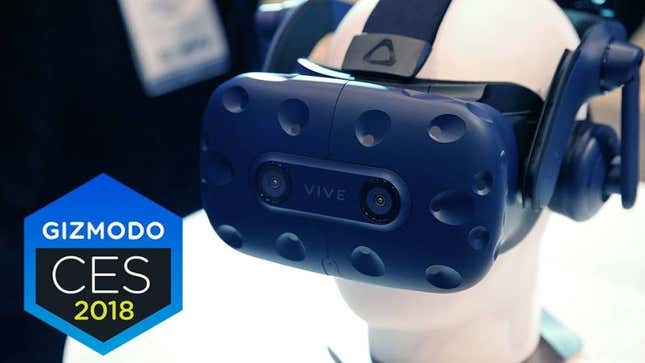 With the Vive Pro and Vive Wireless adapter, we are closing in on the third era for virtual reality. No longer will you have to worry about messy cords tripping you up while your mind is busy exploring other worlds, and the Vive Pro's increased resolution and new built-in headphones means images and audio look and sound better than ever before. And after trying all this out at CES 2018, we're confident in saying that if you're looking for the best experience VR can offer, we've got a feeling the wireless Vive Pro can't be beat.
Dell XPS 15 2-in-1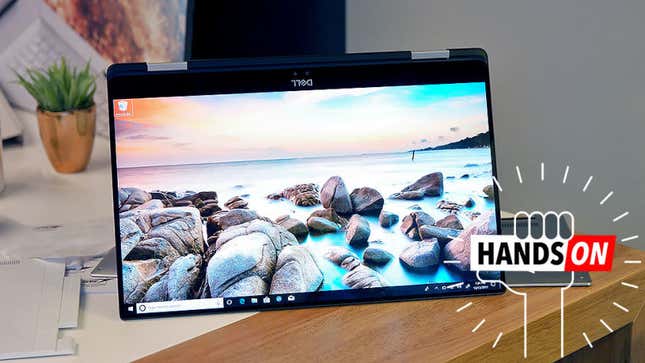 In my view, hybrid laptops are the future, and slick machines like the XPS 15 2-in-1 are a big reason why. Unlike most 13-inch convertibles, Dell's XPS 15 2-in-1 offers a significantly bigger screen, full active stylus support via Windows Ink, and an AMD RX Vega M GPU that won't buckle anytime you want to game or edit video, like integrated graphics solutions so often do. Dell also gave its premium 15-inch 2-in-1 a new maglev keyboard that feels even better than the ones on other XPS laptops and four USB-C ports—all while maintaining a super sleek profile that measures just 0.59-inches thick. And it's not just Dell that's giving us these options, because HP also announced its third-gen 15-inch Spectre X360, which is just as flexible and powerful, and even has webcam that's in the right place.
Intel Optane Memory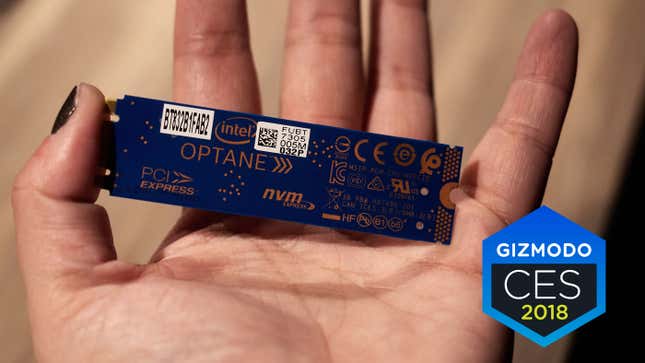 Intel has been teasing its new Optane memory units for a little while now, but at CES 2018, it seems like things have finally gotten to a point where average people might actually be able to get it. And that's a great thing, because with an architecture based on the first new type of memory created in the last 20 years, Intel's 3DXPoint storage offers speeds faster than traditional RAM with capacities big enough to let you use it as a boot drive. Available in 58GB or 118GB sizes, Intel's new 800P Optane drives should arrive sometime in February, and could rekindle those memories of what it was like the first time you switched from a hard disk to a solid-state drive.
Samsung 2018 QLED TVs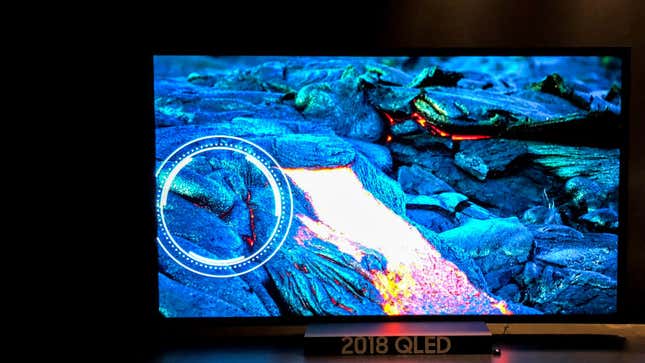 While LG's canyon of curvy OLED displays was easily one of the most impressive demos as CES 2018, as something that you might actually be able to buy this year, Samsung's revamped QLED TV set wasn't far off. By redoing its algorithm to address the blooming issues found on last year's edge-lit TVs and a coating that helps reduce reflections, Samsung has managed to deliver black levels that appear to be on par with OLED panels seen in high-end LG and Sony TVs.