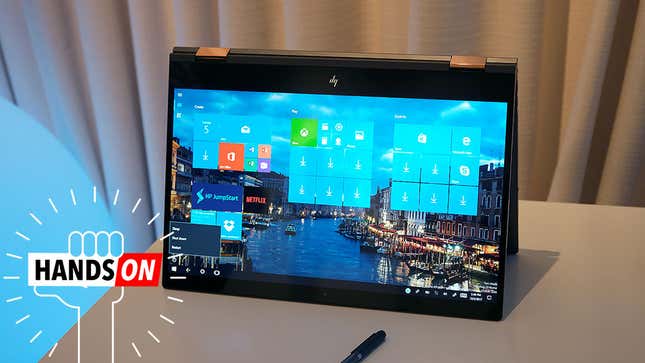 After the latest MacBook Pro refresh failed to deliver the kind of features buyers really wanted, Apple's competitors sensed weaknesss. Instead of an overabundance of USB-C ports and gimmicky touch screens above the keyboard, systems like the new Spectre x360 15 are hoping to entice users back to PC land by offering way better flexibility, faster performance and the ability to live life dongle-free.
Taylor Lorenz Talks "Extremely Online"
Starting at $1,370, HP's 15-inch 2-in-1 packs a 4K touchscreen with built-in stylus support, a 360-degree rotating hinge, Windows Hello certified webcam, both kinds of USB-C ports (including two with support for Thunderbolt 3), and even HDMI—so you won't need to carry around adapters to connect all your favorite peripherals.
On top of that, users will have the option of a config featuring an Intel Core i7-8705G CPU, which is important, because that "G" in the model number signifies that this is one of the new chips developed in collaboration with AMD. That means alongside the i7 chip, you'll also get a Radeon RX Vega M GPU with 4GB of dedicated high-bandwidth memory, which puts the Spectre a full generation ahead of the current MBP 15 for both its CPU and GPU. Not to mention that with the going price of a Radeon 555-equipped MacBook Pro 15 starting at $2,400, the x360 15 could offer some hefty savings as well.
The Spectre x360 15 sports a few other nifty bonuses including a side-mounted fingerprint reader, four speakers courtesy of Bang & Olfusen, and USB-C fast charging that HP says can take the system from zero to 50 percent in just 30 minutes. HP is even promising up to 13.5 hours of continuous use from its 84 WHr battery, though like all longevity claims, I'm going to have to wait until we get this thing in for review to confirm.
And unlike Dell's recently redesigned XPS 13, the webcam is in the right spot (above the display, not below). I'll just never get why HP continues to insist on calling the Spectre's coloring Dark Ash Silver. This shit is charcoal, stop playing around.
But back to Apple, which continues to find itself in an increasingly weird spot. To get the same range of features you'd get from a Spectre x360 15, you'd have to buy a new MacBook Pro to achieve similar performance and an iPad Pro to get the touch and stylus input that is vital for many creative professionals. Even then, you'll still be forced to juggle work between two different OSes.
Based on rumors saying Apple is already working to better integrate iOS and macOs apps, you can bet the folks over in Cupertino are already away for these issues. But if Apple waits too long, its going to a much more painful catch up process, especially with the Spectre x360 expected to be available this spring on March 18th.
We're live in Las Vegas at CES 2018! Click here to read our complete coverage.