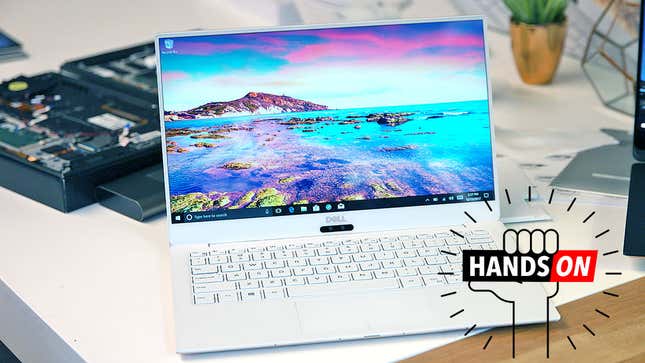 Dell's XPS 13 is one of the top ultraportables on the market. But after three years of spec refreshes without touching the design, things were beginning to feel a bit stale. That's why for 2018, Dell is overhauling its premium ultraportable with a revamped chassis in addition to 8th-gen Intel CPUs, and claims of even better battery life. Oh, and for the first time, the XPS 13 also comes in white.

Meet Microsoft's New Surface Laptops
At this point you might be wondering what Dell changed, because aside from the new rose gold and white color scheme, the new XPS 13 doesn't actually look that different. And you'd generally by correct. You still get a brushed aluminum lid, that familiar clamshell body, and the same chiclet-style keyboard, while cosmetically, the deck alternates between soft touch carbon fiber and Dell's new woven glass fiber deck depending on which color you choose.
But a closer look at the specs reveals a thinner and lighter body that Dell claims is 24 percent smaller by volume than last year's XPS 13. In fact, weighing in at 2.68 pounds and measuring 11.9 x 7.8 x 0.46-inches at its thickest, the new XPS 13 is closer in size to Apple's 12-inch MacBook (11.04 x 7.74 x 0.52 inches and 2.03 pounds) than the 13-inch MacBook Air (12.8 x 8.94 x 0.68 inches and 2.96 pounds)—which even though its getting kind of old at this point, the MacBook Air is still people's favorite yardstick when it comes to comparing super sleek ultraportables.
Even Dell's signature Infinity Edge display has been improved by reducing the bezels to just 4mm (23 percent thinner than previous models), which gives the new XPS 13 a screen-to-body ratio of 80.7 percent. For reference, the screen-to-body ratio on a Galaxy S8 is only slightly better at 83.6 percent.
Thankfully, Dell didn't have to compromise speed for this laptop's small body. You'll be able to choose between an 8th-Gen Intel Core i5-8250U CPU, or a Core i7-8550U chip, up to 16GB of RAM and even a 1TB PCIe SSD if you need a lot of on-board storage. Even the XPS 13's battery life has gotten a boost, with Dell saying the full HD model can last almost 20 full hours when streaming video. While that's surely much longer than what you'd get in the real world, if that translates into a noticeable improvement over the 12 hour battery life the current model we saw in our recent $1000 laptop roundup, that'll be quite impressive.
Now here comes the bad part. While the XPS 13's webcam now features two lenses that support Windows Hello facial recognition, the camera themselves are still located below the screen. That means anytime you make a video call, people on the other side are going to be constantly looking up your nose or at your double-chin. This is a compromise I'll never understand.
In the much appreciated but potentially problematic category, the new XPS 13 has also ditched all of its traditional boxy USB Type-A ports for three USB-C ports, two of which support Thunderbolt 3. Dell has also gotten rid out its proprietary charging port, and for people still using peripherals with old school USB ports, Dell includes an USB-C to USB-A dongle in the box.
Other improvements include new Gore thermal insulation for, what Dell claims, is better heat management (especially important in a system this thin), and a special UV and stain resistant coating for the white model which is supposed to keep that clean exterior looking fresh longer. While I'm going to wait for a full review to make any real judgements, aside from doubling down on that awful webcam location, Dell's new XPS 13 looks like it might prove, once again, why its flagship laptop is a perennial top pick.
The new XPS 13 is available today direct from Dell or in Microsoft stores starting at $1,000, or $950 if you opt for the Linux-based model which comes pre-installed with Ubuntu instead of Windows 10.