One of the most difficult forms of cancer to cure is a type of leukemia known as chronic myelogenous leukemia. While current treatments can keep it at bay, the cancer's drug-resistant stem cells mean a relapse is potentially always imminent.
To get rid of CML once and for all, we need a treatment that can break down the cancer's stem cells. The current therapy is only able to keep the total number of leukemia cells as low as possible. That stops the growth of the tumor and can greatly extend the patient's life, but the problem is that this therapy is unable to destroy the stem cells that can divide and create replacement cancer cells. As soon as a patient stops the therapy, the stem cells can get right back to work creating new cancer cells.
But researchers at Penn State have made a potentially huge breakthrough in an unexpected place: fish oil. Famous for their Omega-3 fatty acids, one particular type of acid found in fish oil contains a compound known as delta-12-protaglandin J3, or D12-PGJ3. You can see a model of the closely related compound D12-PGJ2 up above. It may not look like much (other than a particularly chaotic screensaver, maybe), but this compound has the ability to kill CML stem cells and thus cure that form of leukemia. Lead researcher Sandeep Prabhu explains:
"Research in the past on fatty acids has shown the health benefits of fatty acids on cardiovascular system and brain development, particularly in infants, but we have shown that some metabolites of Omega-3 have the ability to selectively kill the leukemia-causing stem cells in mice. The important thing is that the mice were completely cured of leukemia with no relapse."
The compound was able to kill cancer-causing stem cells found in the spleens and bone marrow of laboratory mice. The compound did this by activating a gene inside the leukemia stem cell known as p53, which effectively ordered the rest of the stem cell to destroy itself.
After just a week's treatment, all the mice were completely cured. Their blood count returned to normal, and their spleens returned to normal size. The D12-PGJ2 treatment had the fewest side effects of any potential leukemia cures. There's some hope the compound could cure other forms of leukemia. It might also be able to stop CML even once it's entered the terminal stage, also known as the Blast Crisis, which is pretty much always fatal and right now has no known treatments. The researchers are currently working to prepare D12-PGJ2 for human trials.
G/O Media may get a commission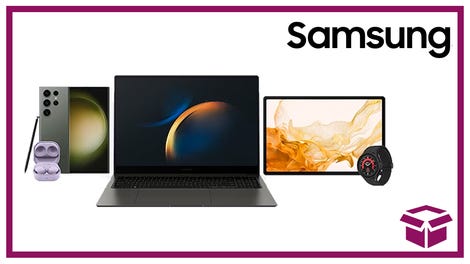 24 hour deals
Discover Samsung - Daily Deal
Via Penn State. Image via Sandeep Prabhu.