If Doctor Who's head writer Russell T. Davies had had his way, the next episode of the time-travel action-comedy would have starred Harry Potter author J.K. Rowling. Not only that, but Rowling would have dragged David Tennant's Doctor into the Potter universe. But that's not the only shocking revelation in Davies' newly released emails to a journalist working with him on a book about producing Who. There's also the identity of the man whom Davies thinks should be the next Doctor. Davies has been emailing writer Benjamin Cook about the process of producing Doctor Who's fourth season for the past year, to help generate material for a book they're going to collaborate on. Some of the emails have been published in the London Times, and they reveal a Davies who's just as manic-depressive and gleeful as you'd expect. And, by the sound of it, a bit of a recovering alcoholic. He talks about his writing process:
Everything - and I mean every story ever written anywhere - is underscored by the constant murmur of: this is rubbish, I am rubbish, and this is due in on Tuesday! The hardest part of writing is the writing.
At one point, Davies talks about his idea to bring J.K. Rowling to Doctor Who. At first, he wanted to have her write an episode of the series, but she ended up declining. (I would give a lot to see her write an episode, actually.) And then he was obsessing about the fact that he can't possibly get someone as famous as Kylie Minogue to star in the 2008 Christmas special, and it ocurred to him:
BAM! I thought, don't ask J.K. to write a Doctor Who, ask her to be in a Doctor Who! We've done Dickens, Shakespeare, Agatha Christie...why should kids think that all great authors are dead? Imagine it. A cold Edinburgh Christmas Eve. J.K.Rowling walking through the snow, pursued by a journalist. "What are you going to write after Harry Potter?" The diffcult second album...Later, J.K. sits down to write. At the same time, a Space Bug (maybe the same as Donna's time-psych creature in 4.11), probably put there by the Rita Skeeter-type journalist, leaps onto her back. ZAP! J.K.'s imagination becomes real! A world of Victorian magic replaces the present-day world. The Doctor arrives and has to battle through a world of witches and wizards, with wands and spells and CGI wonders, to reach J.K. Rowling at the heart of it all... That's either brilliant or more like a Blue Peter crossover.
But worth trying. It's different, certainly. So, Julie is trying to set up a meeting with J.K. ...Imagine those opening titles: DAVID TENNANT flying at you, then J.K.ROWLING!...Imagine the Doctor in a world of magic made real - that would be glorious. So, there we go. That's under way.
G/O Media may get a commission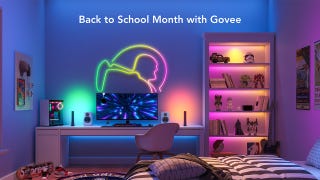 Back to School
Back to School Month with Govee Sale
Davies even had a meeting set up with Rowling to discuss her appearance in the show. So why did the J.K. Rowling star turn fall through? David Tennant (who actually appeared in a Potter movie as Barty Crouch Jr.) scuttled it, insisting that it would be too spoofy. Davies apparently bowed to Tennant's will because "we've got to keep him happy." And speaking of which, what happens if Tennant does decide to abandon the TARDIS in season five? Davies already has a replacement in mind - although he won't be in charge by then. Davies wants to see Russell Tovey, who appeared in The History Boys, take over as the Doctor. Davies cast Tovey as Midshipman Frame in the 2007 Christmas Special "Voyage Of The Damned," and wrote to Cook that Tovey will be huge and "I think I'd make him the eleventh Doctor."
[London Times and London Times