Humans have been putting technology on their wrists for a long time—and not just to tell the time. The Apple Watch and others are just the latest in a long line of wrist-borne devices, so here's a brief history of "watches" that were smart for their time, too.
An AK-39, a German pilot and navigator's wrist compass, from World War II.
Photo: Bonhams
---
The Steineck ABC wrist watch cam, which was used by German spies in the late 1940s and early 1950s.
G/O Media may get a commission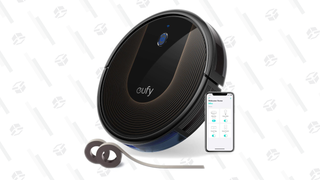 48% Off
Eufy BoostIQ RoboVac
Photo: International Spy Museum//Cristina Arias/Cover/Getty Images
---
Dick Tracy wrist radios from 1947-1990.
Photo: Heritage Auctions
Photo: Heritage Auctions
---
An invention by Fritz Harbach: a contact plate worn like a wrist watch gives an electric shock to any attacker, 1949.
Photo: Albert Riethausen/AP
---
1949: Cledo Brunetti, associate director of Stanford Research Institute, wearing his invention—a tiny radio broadcasting unit.
Photo: AP
---
Here's an awesome spy gadget: A field strength indicator for the Telefunken PE-484 direction finder from the late 1950s, intended for tracking down clandestine radio stations.
Photo: Crypto Museum
---
A Panasonic R-72S Toot-a-Loop Bracelet Radio, made in Japan circa 1972.
Photo: Attila Nagy/Gizmodo
---
1981: A small, battery-powered self-protection device, designed to drive off attackers with electric shock, developed by scientists from the Massachusetts Institute of Technology.
Photo: Franklin Howard/BIPs/Getty Images
---
1999: The Wristphone by NTT, unveiled at the Demo99 conference in Indian Wells, California.
Photo: Getty Images
---
2000: CASIO's WMP-1V Wrist Audio Player, the world's first wrist-worn MP3 player.
Photo: newsmakers/Getty Images
---
Another CASIO product from 2000: The PC-UNITE BZX-20 data viewer that can store and display contacts, calendar, and PIM (Personal Information Management) data downloaded from a computer using infrared.
Photo: newsmakers/Getty Images
---
2000: A wrist transmitter introduced by Hyland Hills Water World in Federal Heights, Colorado. The wireless tracking system lets parents pinpoint the location of their children to within ten feet—anywhere on the park's 64 acres.
Photo: Kevin Higley/AP
---
The Fossil Wrist PDA running Palm OS in 2003.
Photo: Danski14/Wikimedia Commons
---
2010s: The Zypad WR1100 and WL11XX rugged wrist-worn personal computers integrate GPS, Wi-Fi, Bluetooth/Zigbee, biometric sensor, and a digital compass.
Photo: Parvus/Market Wired
Photo: Eurotech
---
2010: TheSpecOps Systems WC2 wearable military computer system with iKey KYB-170-OEM keypad.
Photo: iKey
---
A Marine checks his Altimaster-2 MA2-30 altimeter during a jump exercise on February 18, 2014.
Photo: Cpl. Austin Long/Marine Corps
---
January 6, 2015: The launch of the Nixie wrist wearable quadcopter drone camera at International CES in 2015.
Photo: Ethan Miller/Getty Images
---
Here's an odd one: The "Snore stopper" wristband, which claims to help you stop snoring with a "natural Bio-feedback technique."
Photo: Amazon
---
Top image: Heritage Auctions