Aurora are beautiful, but the fire and smoke of Bárðarbunga step it up to gorgeous. The weekend kicked off with the Earth putting on a glorious display of green, blue, purple, and red, and countless photographers braved varied terrain to capture the ephemeral light for your viewing pleasure.
Top image: The soft glow of Bárðarbunga erupting on the horizon with northern lights flickering overhead. Credit: Mike Herbert of Dreki Adventures; more in this gallery.
Auroras on September 12, 2014 in Kvaløya, Tromsø, Norway. Credit: Harald Albrigtsen
Earlier this week, a sunspot produced an X-class solar flare, which led to a coronal mass ejection. Those solar particles have impacted the Earth's magnetic field, producing a geomagnetic storm. Our planet kicked off the weekend with dancing, nebulous, colourful auroras.
G/O Media may get a commission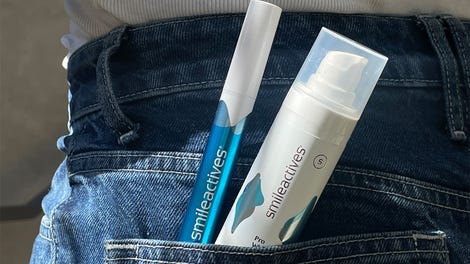 58% off
Whitening Powerhouse Pen & Gel Duo
Although the forecast predicted good visibility for the aurora in my beloved hometown, so far I've had to content myself with photographs collected by other insomniacs drawn to the flickering lights. My favourite is easy to pick — an outstanding photograph from Deki Adventures in Iceland with the soft glow of lava on the horizon and northern lights dancing overhead — but I had a hard time limiting my selections to a reasonable number after that!
Image credit: Mount Washington Observatory
Abisko National Park, Sweden.. Image credit: Mat Richardson
Aurora, full moon, and the Holuhraun eruption from outside the sulfur dioxide exclusion zone. Svartárkot, Iceland. Image credit: Sean Michael Scully
Fairbanks, Alaska. Image credit: JN Hall
Aurora Australis at Papanui Inlet, Otago Peninsula, Otago, New Zealand. Image credit: Ian Griffin
Muonio, Finland. Image credit: Mika Wist
Brensholmen, Kvaløya, Troms, Norway. Image credit: Bernt Olsen
Almelund, Minnesota, USA. Image credit: Michael Aguirre
Muonio, Finland. Image credit: Mika Wist
Cape Sable island Nova Scotia, Canada. Image credit: Stefan Messenger
Salla, Finnish-Lapland. Image credit: B.Art Braafhart
Vieremä, Savo, Finland. Image credit: Katja Moisio
Kattfjord, Tromsø, Norway. Image credit: Erling Sverre Nordøy
Winnowing down my selection to a reasonable number was a far more difficult task than anyone should undertake after 5pm on Friday. If you like any particular aurora here, use the photographer's name-link to see other photos they took.If you want yet more aurora gorgeousness, I recommend checking out this spaceweather gallery.
Did any of you see the aurora? Share your stories (and better yet, your photographs!)