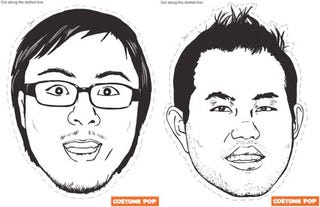 Since I'm feeling festive evening, I thought I would leave you with some of our Halloween posts. OK, really I just can't pass up a chance to put up these masks of Chen and Blam again. Happy Halloween everyone!
• This Is Why You Shouldn't Put Drunk Ewoks On Live TV
• Next Year, I'm Time Travel Trick or Treating
• Scientifically Haunted Room Shows That Ghosts Are Only In Your Head
• Twelve Beautiful Jack-o'-Lanterns
• Ghostbuster Proton Pack Uses Real Lasers, Can Probably Hunt Real Ghosts
• 10 Of Your Geekiest Halloween Costumes
• A Spider-Bot Pumpkin Is the Scariest Way To Dispense Candy On Halloween
• Build The Spirit Radio That Creeped Out Tesla Himself
• The iMac Cylon Mask Is Both Trick and Treat
• "Working" Apple iPhone Costumes Just Plain Win
• Craigslist Ad By A Horrid Excuse for a Human Being
• Sword Illuminates a Pumpkin by Impaling It
• Ideas for Tech-Themed Halloween Pumpkins
• 10 Robot Halloween Pumpkins Provide Artistic Inspiration
• Scare the Crap Out of Trick-or-Treaters With a Rovin' Pumpkin
• Ruin Halloween For Everyone by Going as Brian Lam or Jason Chen
And please, be safe!