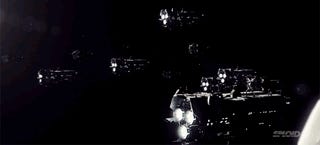 Not only is Titanfall, the video game that everyone can't stop talking about, an incredibly fun game that surpasses the hype, it also has this fantastic cinematic intro sequence that makes me almost wish I could watch the movie version of Titanfall instead of playing the video game.
The sequence was made by Spov Design + Moving Image with a mix of CG, VFX and archive ofotage. Here's some background about what's going on:
This cinematic sequence details humankind's escape to the stars, using footage of space travel, before utilising Spov's CG and animation skills to visualise Titanfall's game world - one where ships and people have travelled to the farthest reaches of the universe.

Influenced by footage from NASA's Cassini mission to Saturn, and particularly an edit by Chris Abbas , the sequence blends the stark and minimal realism of space with the preparation of the massive Titan mechs for their planet fall.
---
SPLOID is a new blog about awesome stuff. Join us on Facebook