Sure, you can be a regular Joe and set up a couch and chairs around a crappy projection TV with a tiny grill on the deck, but who wants to look like a loser? If you really want to impress your friends and family, simply follow some steps and become the Unofficial Lord of the Party. The latest technology and gadgets are key to an awesome Super Bowl party this Sunday.
Step One: TV
There is a lot more that goes into selecting a TV for the Super Bowl than you may think. If you are thinking about going low-def, then close the browser now, because you have lost all of my respect and I would prefer you not reading my guide.
Fortunately, this year CBS has the honors of broadcasting the Super Bowl. It will, of course, be in HD. I like to call this the first year the Super Bowl will truly be in HD. Last year FOX had the rights to the Super Bowl broadcast, and even though they did air it in HD, many markets at the time did not have FOX in HD. Hell, I still don't have FOX in HD on my cable service one year later (Cox, you listening?).
G/O Media may get a commission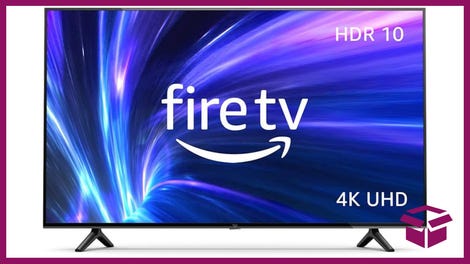 42% Off
Amazon Fire TV 50" 4K Smart TV
Now, on to the HDTV choices. There are a handful of things to shop for in an HDTV for the Super Bowl and more. If you are watching the Super Bowl I would like to also assume you are a sports fan and if you have never experienced sports in HD, it is one hell of a treat. Picture quality is key—specifically accurate colors, ability to produce deep blacks and adjust primary colors. If money isn't a concern then the Pioneer Elite Pro-FHD1 may be for you. This 1080p 50-inch plasma is the top of the line for picture quality. You will pay for it, though. This plasma carries a list price of $8,000, but in all reality will cost you closer to $6,000 at most places.
Don't worry, there are cheaper options out there. For a party environment you can't go wrong with the Sony XBR2. This is the little brother of the XBR3 that we reviewed back in December, but it is able to get the job done and impress your friends with the nice silver bezel that just makes this 40-inch LCD just plain beautiful. One feature that makes this LCD stand out is that the picture quality is always the same when viewing from off-angles. So at a Super Bowl party not everyone will be able to view the HDTV from a direct angle, but with the XBR2 from Sony, they will not be screwed with poor picture quality. This TV is a little more manageable with a price around $3,000.
Still too expensive? Okay, how about the Panasonic TH-42PX60U. This is a 42-inch plasma from Panasonic that still has pretty good colors with a price of $2,000 so (it was seen as low as $1,350 at some online retailers).
You aren't limited to the choices above, I just tried to help narrow it down to some superb TVs in specific price ranges. Just remember, it is key to find an HDTV with the best picture quality. Often you get what you pay for with HDTVs, so that $800 off-brand may seem appealing but it won't look as good.
Step Two: HD Content

This is an easy one. HD channels don't magically appear on your brand new HDTV—you have to buy (or rent) more gear. First step is to call up your cable provider. Whether it is Time Warner, Comcast, Cox, whatever—they will have HD digital cable tuner boxes that can be rented on a month-to-month basis. Be sure and call now to make sure you get one because Time Warner has supposedly run out of HD DVR boxes for rent, but that may not be true in your area or with a different provider. If your provider is out of HD DVR boxes, there is still another option. and it is the Series 3 TiVo, but that badboy runs a solid $800 or so.
You can always go the audiophile way and pick up a nice, high-end receiver and a handful of high-end speakers and try to wire it all together, but we only have a few days left to prepare so the best bet right now is a HTIB, or home theatre in a box. These are surround sound systems that come with everything you need from the speakers to a receiver, etc. The audiophiles out there may be cursing my name, but the HTIB is the best bet for the home entertainment center amateur who needs decent surround sound, quick.
For top of the line with sound quality, and ease of setup the Sony DAV-X1V is where it is at. This is a 2.1 channel system that creates a virtual surround sound environment. It is easy to set up and can provide sound for those bone-rattling hits from Brian Urlacher. It does carry a high-end price at $1,000 list price from Sony.
If style is the name of the game, the Pioneer HTS-560DV is one of the best looking HTIBs for your party. The four tower speakers can make your system look damn good, just watch out for knocking them over in a drunken rage after your team loses. These carry a more reasonable price of $550.
If you are looking for a more cheap solution, the Samsung HT-DB600 is it. For a budget HTIB, this is the only option with superb midranges and powerful bass. This HTIB lists for $350, but you may be able to find it cheaper than $300.
Step Four: Be Prepared for the Worst

Power and cable outages are always a potential problem and there is only one solid way to save your Super Bowl party if outages were to happen. First, invest in an HD antenna. If that cable goes out you can still receive HD goodness over the air with this basic HD antenna that can be found at any radio shack. And to prevent power outages from stopping your Super Bowl party, a back-up power generator is the only way to go.
Step Five: Food and Drink
Grilling and food is essential for any Super Bowl party. Unfortunately, I can't help much when choosing a grill. If you happen to be a chef, you probably already have a grill or know what kind you like. Some people swear by charcoal, personally I am a gas grill guy (for ease) or hell, you may even want to bust out a hibachi, smoker, PS3 or USB grill. Regardless of how you do it, here are some accessories that can help.
Wireless thermometers are becoming all of the rage. The best one out there is the AW131 from Oregon Scientific. Stab the meat on the grill and set the wireless monitor with what kind of meat it is and how you like it looked. Go back, enjoy the game and wait for the receiver to give you word that the meat is done.
If going wireless is a bit too high-tech for you, this spatula with built-in meat thermometer may be a bit better. Don't forget about the classic beer-can chicken.
Grilling at night is only inevitable, so a cordless electric knife with LED lights and lighted salt-and-pepper mill could definitely help out.
Whether it is beer, wine, water, soda or juice, there isn't much that can be done to improve drinking. Sure, there are tons of beer drinking gadgets out there, but you have teched the hell out of this Super Bowl party already, and sitting back and cracking open a cold one may be the perfect remedy to wind down and forget about all of the technology involved in making this party happen.
Step Six: Have Fun
Regardless of how much you want to show off the latest and greatest tech at your party, it is important to have fun. The Super Bowl is more than just a football game, it is a time where you can gather with people and have one hell of a time while watching football, entertaining commercials and a half-time show featuring Prince. So gather up the friends, fire up the grill and enjoy yourself—you have earned it. Super Bowl Party image via Roger Mommaerts Jr