Sam Jackson confirms when he'll return to the Marvel movieverse. Will Smith teases an encounter with the Dark Knight in Suicide Squad. A familiar face is confirmed for The Defenders. Arrow's producers promise better flashbacks. Plus, teases for an 'explosive' opening to the next season of The Walking Dead. To me, my Spoilers!
Transformers 5
Location scouting has begun, with director Michael Bay seemingly setting his sights on Stonehenge in England as a potential target.
---
Justice League
J.K. Simmons discusses his approach to preparing for playing Commissioner Gordon:
Well, to read the comics, yes, absolutely. I'm still a couple of months out from doing that and I have two other films before then, so I haven't gotten started on that. Obviously, a lot of really wonderful actors have played that character previously, and most of them I saw at the time the movies came out, never imagining that I would be doing the same thing. So, I can't say that I don't have some impression of that character in my head that's based on what I saw, but I'm not planning on going back and watching any of the other films. I'm just planning on learning as much as I can about him through the comics and getting my feet wet in the first movie, and then hopefully continuing on from there.
G/O Media may get a commission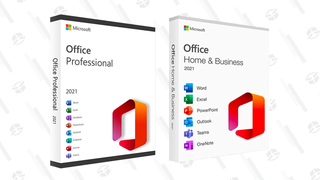 89% off
Microsoft Office Professional 2021 Lifetime License
[Collider]
---
Avengers: Infinity War Parts 1 and 2
While confirming that he is not in Civil War, Samuel L. Jackson adds that he is (unsurprisingly) probably going to be in the next Avengers films:
I think I'm in Avengers 3 and 4, but I'm not in Civil War.
[Fandango]
---
Suicide Squad
Speaking at Cinemacon, Will Smith teases that at some point during the movie, Deadshot will go up against Batman:
I don't know what I'm allowed to say, I don't know if I'm allowed to give that out but you know, the bat does cross my path, and you know, it's not completely pleasant.
---
The Mummy
Courtney B. Vance has joined the film in an undisclosed role. [Deadline]
---
Guardians of the Galaxy Volume 2
James Gunn discusses the challenges of the film's scope and tone:
It's been a lot of hard work, honestly. It's a much bigger film. Also at the same time, a much more intimate film, more character-driven in certain ways, so it's just a lot of work. And everybody has been on their game.
---
Nine Lives
Here's the prerequisite "explain the whole story" trailer for the movie in which Kevin Spacey is magically turned into a cat by Christopher Walken.
---
Game of Thrones
The news page for the Vivienne Clore acting agency has let slip that Paul Kaye will return for the show's sixth season. Kaye played Thoros of Myr, the member of the Brotherhood without Banners who raised Beric Dondarrion from the dead in season three.
Naturally, this has led to renewed (and wild) speculation that Michelle Fairley could be returning as the resurrected Catelyn Stark, aka Lady Stoneheart. In the books, Brienne and Podrick encounter Thoros and the Brotherhood on their quest, and discover that Beric gave his revived life to raise Catelyn to vengeful undeath as Lady Stoneheart, the new leader of the Brotherhood without Banners. None of that is confirmed though, beyond Kaye's apparent return. [Watchers on the Wall]
Meanwhile, in the wake of the recent news about the show's impending end, HBO programming president Michael Lombardo tells Entertainment Weekly that there are no plans (yet) for any spinoffs or prequels after the show comes to a close:
No. If that were to happen it would have to come from [Benioff and Weiss] really feeling something, or [author George R.R. Martin] really feeling that it was the right thing to do. Not knowing how this particular story ends, I don't know. There are plenty of characters, secondary characters, [that] you could build a world around. We're always going to be drawn to a strong creative vision. But we are not going to do that unless we feel their passion.
---
The Walking Dead
Lauren Cohan says the next season starts off with a bang, in terms of delivering answers the show should've arguably delivered in the closing moments of the last season:
I think there will be some answers right off the bat, and it will be very, very intense. And then we'll be exploring avenues and relationships that we haven't yet, but you'll definitely be taken on the roller coaster ride. I mean, the season comes back with a pretty intense, explosive start. That much I know.
[E Online]
---
The Defenders

Eka Darville has confirmed that he'll return as Jessica Jones' Malcolm Ducasse in the series:
Yes. I will be in it. I'm not sure how much yet but I will be in it.
---
Arrow
While acknowledging that the show's recent flashbacks haven't been great, Producer Wendy Mericle promises more exciting flashbacks in season five:
I don't want to tip too much, but it's a very good possibility that we'll finally find out how Oliver got that Bratva tattoo and how he learned to speak Russian.
[TV Line]
---
Fear The Walking Dead
Good news: The show has already been renewed for a third season. [Spoiler TV]
---
Limitless
A gallery of images from the second part of the season finale has been released—click through to see more. [Spoiler TV]
---
The Vampire Diaries
A couple of images from "Kill 'Em All" have been released—more at the link. [Spoiler TV]
---
Gotham
And finally, Azrael lands in Gotham in new pictures from the aptly-titled "Azrael"—you can find more at the link. [Coming Soon]
---
Additional reporting by Gordon Jackson and Charlie Jane Anders. Banner Art by Jim Cooke.

Image: Game of Thrones.