A lot of things look good about The Lego Batman Movie—whether it's the film itself or the Lego sets. But I think my favorite thing about it is this new Bane "mini" figure that's actually hulking, and it's spine-tinglingly brilliant.

Lego has unveiled a new batch of toy sets based on next month's Batman movie, and they're just as fun the first wave of sets that came out at the start of the year. Up top is the "Bane Toxic Truck Attack" one, which is $50. It comes with a big ol' truck for Bane and, amazingly, the mutant leader from The Dark Knight Returns, some toxic waste to play with, and, also amazingly, Batman and a "Whirly-Bat" vehicle that's sort of a cross between a tiny helicopter and a Batman-themed Segway.
But seriously though, look at that Bane figure. Lego's done other plus-sized figures like this, such as the Hulk—or even larger things like Star Wars' rancor—but this is absolutely the best way to capture a Venomed-up, bulky Bane that's ready to do unpleasant chiropractic acts to anyone near him. I love it.
The other sets include the $15 "Scarecrow Fearful Faceoff," which gives Scarecrow a suitably spooky helicopter to drop fear bombs on top of Batman:
G/O Media may get a commission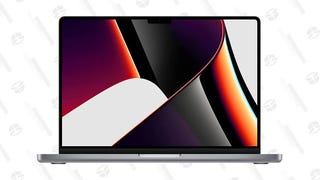 Save $300
2021 14" 1TB MacBook Pro
Then there's the $60 "Two Face Double Demolition" set, about which I need to tell you absolutely nothing, other than the fact it contains an official Billy Dee Williams Two-Face minifigure, which a) is only the second best Billy Dee Williams Lego minifigure released so far this year because this exists, and b), makes this set totally worth buying at any cost:
And finally, the Batwing, which comes in at $90 and gets you Batman, Robin, Harley (complete with Harley Quinn-themed anti-aircraft emplacement), and of course, the Batwing itself:
Basically, please begin forming an orderly queue between now and the end of time itself as Lego decides to suck all of your pocket change out of your wallets. These new Lego Batman sets are due to hit shelves later this year.