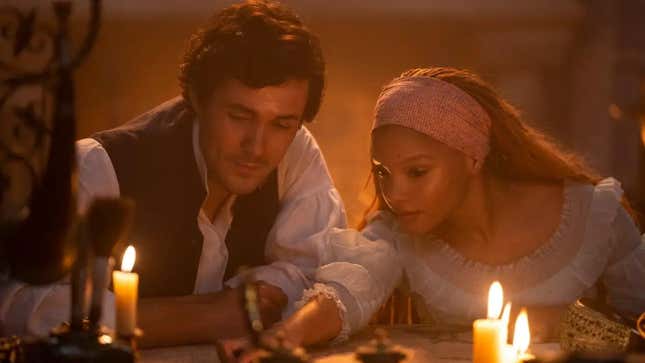 Whatever you might actually think about the film, The Little Mermaid has been the target of a mass of racist online vitriol over the decision to headline Halle Bailey as the human-thirsting mermaid Ariel. Review aggregating sites like IMDb are now trying to dampen the impact of 1-star user reviews by weighting those grades.
Little Mermaid Director Rob Marshall on Handling the Music of a Disney Legend | io9 Interview
The Disney live action remake saw wide release on May 26, and since then it's received over 32,000 ratings on IMDb where it currently sits at a 7 out of 10. Out of those, more than 13,000 gave the flick 1 star. A small notice at the top of the ratings page reads: "Our rating mechanism has detected unusual voting activity on this title. To preserve the reliability of our rating system, an alternate weighting calculation has been applied."
According to IMDb's FAQ, the site publishes "weighted vote averages," and notifies that "When unusual voting activity is detected, an alternate weighting calculation may be applied in order to preserve the reliability of our system." The site does not say what kind of mechanism it uses to rate movies.
Gizmodo reached out to IMDb for comment, but we did not immediately hear back. IMDb has posted this notice in the past for online film vote stuffing, such as with the Bollywood film The Kasmir Files which released in March. In that case, the film was garnering a heap of positive reviews and the mean user rating was weighted lower. Director Vivek Agnihotri complained the site's review manipulation was "unusual and unethical."
Other review sites have been hit with mass waves of anti-Little Mermaid sentiment. Deadline reported that the IMDb notice appears on the U.S., Canadian, UK, Brazil, and Mexican versions of the site.
The campaign is likely being driven by bots. As UK-based gossip columnist Rob Shuter told Fox 5, there's a rash of negative The Little Mermaid reviews specifically targeting European sites.
The German site Moviepilot showed The Little Mermaid sitting at a .7 out of 10, though that's since increased to 5 out of 10 over the weekend. Reddit users on the r/boxoffice subreddit noticed the french site AlloCiné also put out a statement similar to IMDb's. The notice reads: "Currently, we observe an unusual distribution of ratings on this film, which should encourage caution. We encourage you to form your own opinion on the film."
Review bombing is nothing new, and bigots are not squeamish about bombarding user review sites such as episode three of HBO's The Last of Us which centered around a gay couple. There have been similar campaigns against Other sites try to excise this kind of rating manipulation by maintaining a pool of "verified" users to post scores. The Little Mermaid currently sits at a 95% audience score on Rotten Tomatoes, but that score is based on the "Verified Audience."
IMDb Changes Rating System After Little Mermaid Review-Bombed | Future Tech
IMDb Changes Rating System After Little Mermaid Review-Bombed | Future Tech