"I don't like horror comics," new kid in town Sam says in The Lost Boys when the weirdos he's just met, the Frog Brothers, try to give him a book about vampires. The theme has come full circle now that The Lost Boys are getting a sequel in comic book form—featuring Sam and both Frogs—courtesy of Vertigo.

The book takes place immediately following the events of the 1987 film (unlike the not-so-great 2008 straight-to-video cinematic sequel, Lost Boys: The Tribe), and it will be written and illustrated by people who are well-versed in the horror genre, as Vertigo's press release reports:
Featuring the surviving characters from the film, "The Lost Boys" comic is being crafted by horror veterans, writer Tim Seeley (an alum of DC's "Grayson" and "Nightwing," and creator of "Hack/Slash") and artists Scott Godlewski ("The Dark & Bloody," "Copperhead") and Patricia Mulvihill ("The Dark & Bloody," "Hellblazer"), with covers by Tony Harris. The team promises to deliver a gruesome and stylish return to the bloody boardwalks and big hair of 1987.

In the new miniseries, Santa Carla, California, is on edge. The eccentric coastal town and haven for the undead was finally returning to "normal" after its last supernatural scuffle left the local vampire coven's leader dead and gave newcomers Michael and Sam Emerson a housewarming both violent and bizarre. Now the brothers must once again team up with militant vampire hunters Edgar and Allan Frog as a new gang of ruthless, stunning, life-sucking nightcrawlers known as the Blood Belles emerges from the aftermath to collect Michael's love interest and their lost sister, Star.
Here's some sample artwork, shared by Vertigo on behalf of Warner Bros. Consumer Products:
G/O Media may get a commission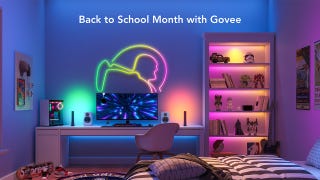 Back to School
Back to School Month with Govee Sale
Since these panels suggest that the boardwalk comic store—where Edgar and Allan Frog work, and where they meet Sam for the first time—will again be part of the action, we can only hope against hope that our favorite character from The Lost Boys will also return.

We'll find out October 12, when the first issue drops, if Sweaty Sax "I Still Believe" Beefcake Man (that's his name) made the cut. Since the sequel is being made by people who love the original film, it's not a totally insane thing to wish for, is it?