Until recently, Patrick Hamilton was a mainstay of "forgotten novelists" lists. Thanks to clamorous support by a distinguished group including J.B. Priestly, Doris Lessing, and Nick Hornby, many of his best books have slipped back into print over the last few years. Thankfully, this includes Hangover Square, perhaps the perfect antidote for the Christmas season.
The fact that Hangover Square opens on Christmas Day is purely coincidental; there is nothing "seasonal" here. Set in a grim London neighborhood of dank rooming houses, cheap hotels, greasy coffee shops and, above all, seedy pubs on the very eve of World War Two, Hangover Square is delightfully devoid of any semblance of holiday cheer. It oozes with dark atmosphere. Patrick Hamilton was a lifelong alcoholic (one of his bios was entitled Through a Glass Darkly) who was unsurpassed at capturing the boredom, loneliness and above all, the hopelessness of the habitual public drinker. For the characters of Hangover Square, Christmas is just a day when the pubs open later than usual.
The action begins with George Harvey Bone, a large, weak, and amiable man in his mid-30s, returning to London from a lackluster holiday spent with a well-meaning maiden aunt. He's not a bad sort, but he's fallen in with what even he recognizes to be a "Drunken, lazy, impecunious, neurotic, arrogant pub crawling cheap lot of swine" from whom he can't tear himself free. For at the center of this crowd is one Netta Longdon with whom George is desperately in love. Unfortunately, Netta is a femme fatale of a sort that gives the rest of the subspecies a bad name. Vicious, cruel, and utterly self-absorbed, she is described as looking "...like a Byron beauty, but inside, she was a fish." Despite the endless stream of humiliations she inflicts upon him, George can't tear himself away for the hope that maybe somehow, someday, she would care. Not that she ever will. She only tosses George an occasional bone of civil treatment because he does have his uses as an ever-handy stooge, a reliable source of small loans, and the possessor of tenuous connections that may further her "acting" career.
There is no shortage of darkness and desperation in George's plight, and doom is just around the corner. But Hangover Square is more than a beer-sodden take on Of Human Bondage. George suffers from an unusual mental disorder. Periodically and without warning, a loud "Crack!" sounds in George's head. He snaps into a "dead mood," a fugue-like state (that is not schizophrenia) where he continues to act more or less normally. But when he snaps out of it, he has no idea what he's been up to. And during these "dead moods," he's planning to kill Netta. In the true noir tradition, every time things are looking up for George—he's cutting down on the drink, he's not hanging around with Netta, he's breaking free of his dead-end life—Crack!
G/O Media may get a commission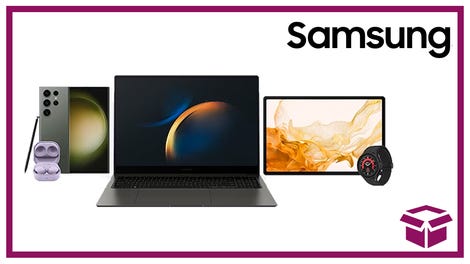 24 hour deals
Discover Samsung - Daily Deal
George and Netta's fate may be gratifyingly inevitable, but the dark pun Hamilton uses for an epitaph should even satisfy the jaded. Because, as we all know, it really isn't a wonderful life.