10 years after he made his début, the Ninth Doctor is back in a new comic miniseries. But that's not all for this week's hottest new comics: DC's reality-altering Convergence event begins, the origins of Star Wars: Rebels' Kanan Jarrus are revealed, and an intriguing new series from Boom! Studios begins. Comics!
Dark Horse
Single Issues
Witcher: Fox Children #1 - The dark fantasy world of the Polish novel series/video game The Witcher comes to comics, as monster hunter Geralt finds himself on a ship with mysterious passengers hiding deadly secrets. Written By:Paul Tobin Artist: Joe Querio
Trade Paperbacks
Demo - Demo tells the story of a group of Teenagers, already ostracised in the world, who find themselves discovering that they have superpowers. Written By: Brian Wood Artist: Becky Cloonan
Girlfriend - A human and his vampire girlfriend hunt the criminal underworld in search of a way to rekindle their love. Written By: Arnold Pander, Jacob Pander Artists: Arnold Pander, Jacob Pander
Pop - In a world where celebrities are grown and manipulated by the ultra rich, one star discovers the truth, and tries to escape. Written By: Curt Pires Artist: Jason Copland
G/O Media may get a commission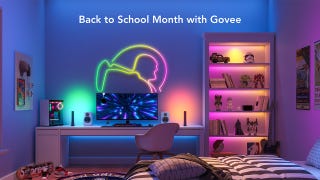 Back to School
Back to School Month with Govee Sale
Collections
Empowered Unchained Volume One - Adam Warren's satirical take on superheroic comics is gathered in this collection of superhero pastiches. Written By: Adam Warren Artists: Adam Warren, Various
DC Comics
Single Issues
Arkham Manor Endgame #1 - As the Joker virus ravages Gotham, what happens to Batman's greatest villains, locked inside Arkham? Written By: Frank Tieri Artist: Felix Ruiz
Convergence #0 - DC's universe-changing event begins! As the multiverse quakes, former realities once thought lost are found and reconnected into the fabric of existence by a mad god. Written By: Dan Jurgens, Jeff King Artists: Ethan Van
Gotham Academy Endgame #1 - The students of Gotham Academy are being kept locked inside for their own safety following the release of the Joker virus, so they decide to tell the Gotham version of ghost stories: spooky tales about the clown prince of crime. Written By: Becky Cloonan, Brendan Fletcher Artist: Karl Kerschl
Collections
Absolute Green Arrow - Green Arrow is back from the dead, and Batman tries to investigate the origins of his mysterious return. But the heroes also have to contend with a killer who is targeting costumed superheroes Written By: Kevin Smith Artists: Phil Hester, Ande Parks
Zero Year - Gotham weathers the storm of a city-wide shutdown by the Riddler, as the Batman emerges for the first time in this retelling of the New 52's origins. Written By: Scott Snyder, Various Artists: Greg Capullo, Various
The Flash: A Celebration Of 75 Years - The scarlet speedster's finest stories are gathered in one hardback to celebrate The Flash's 75th birthday. Written By: Gardner Fox, Various Artists: Carmine Infantino, Various
Image
Single Issues
No Mercy #1 - A group of teenagers on a school trip find themselves cut of from society and in danger after a tragic accident leaves them trapped in the dangerous wilderness. Written By: Alex De Campi Artist: Carla Speed McNeil
Marvel
Single Issues
Avengers Millenium #1 - Just in time for Age of Ultron, the Avengers team shown in the movie (plus Spider-Man) are gathered together to hunt down a secret Hydra installation, that houses a shocking secret: a time-travel portal that the villains don't use. Written By: Mike Costa Artist: Carmine DiGiandomenico
Avengers: Ultron Forever #1 - 500 years in the future, Ultron has defeated humanity. 7 Avengers are brought from across time to try and stop the maniacal robot once and for all. Written By: Al Ewing Artist: Alan Davis
Guardians of the Galaxy: Best Story Ever #1 - Peter Quill and Rocket Raccoon are in jail, again. What better way to distract the guards while their fellow Guardians break them out, than to tell the greatest story ever told? Written By: Tim Seeley Artists: Jacopo Camagni, Iban Coello
Kanan: The Last Padawan #1 - Learn more about how Star Wars: Rebels' Kanan Jarrus survived Order 66 before he became part of the Rebel Alliance. Written By: Greg Weisman Artist: Pepe Larraz
Uncanny Inhumans #0 - The mighty king of the Inhumans, Black Bolt, finds himself assaulted by the same men who killed Wolverine, bringing out a new side of the Inhuman leader. Written By: Charles Soule Artist: Steve McNiven
Trade Paperbacks
Avengers: Rage of Ultron - Thought defeated for good when he was shot into space, Ultron has returned, having taken over the home planet of Thanos. Can Hank Pym stop the return of his planet-sized son? Written By: Rick Remender Artists: Jerome Opena, Pepe Larraz
Others
Single Issues
Doctor Who: The Ninth Doctor #1 (Titan) - The Doctor, Rose Tyler and recent addition to Team TARDIS Jack Harkness discover that ancient Time Lord Technology is being sold on the intergalactic black market. Written By: Cavan Scott Artist: Blair Shedd
Space Riders #1 (Black Mask Comics) - Evildoers across the stars fear the crew of the Skullship Santa Muerte, who travel through space enacting justice while searching for the hidden mysteries of the universe . Written By: Fabian Rangel Artist: Alexis Ziritt
UFOlogy #1 (Boom! Studios) - A young girl who wants nothing more than to be normal finds herself embroiled in an alien mystery that leaves her branded by a strange mark. Written By: James Tynion IV, Noah J Yuenkel Artist: Matt Fox
Graphic Novels And Collections
Graphic Novels
Crimson Society (Danger Zone) - Jack Crimson, a werewolf in a world where supernatural creatures live among humans in relative peace, finds himself on a dark path in an attempt to find a cure for his Lycanthropy. Written By: Mike Hunau Artist: Carlos Trigo
Shinobi: Ninja Princess (Action Lab) - Shianndrea Toshigawa, on the run from a rival Ninja clan, balances her training as a legendary ninja while trying to live the life of a normal teenage girl. Written By: Martheus Wade Artist: Martheus Wade, Various
A Wrinkle In Time (Square Fish) - Hope Larson adapts the classic sci-fi story by Madeleine L'Engle for comics. Written By: Madeleine L'Engle Artist: Hope Larson
Collections
Deep State Volume One (Boom! Studios) - John Harrow doesn't exist, and that's his job, as he tries to keep the darkest secrets of the government from ever being revealed to the Public. Written By: Justin Jordan Artist: Ariela Kristantina
Lumberjanes Volume One (Boom! Studios) - Five butt-kicking pals go on supernatural adventures at their summer camp, Miss Qiunzella Thiskwin Penniquiqul Thistle Crumpet's Camp for Hardcore Lady Types in this seminal series from Nimona's Noelle Stevenson. Written By: Noelle Stevenson, Grace Ellis Artist: Brooke A. Allen
Sanctuary Volume One: Fresh Meat (Amaze Ink) - A research station on a secluded island houses a game reserve and sanctuary, where the animals seem to be just a tad smarter than the human researchers observing them. Written By: Stephen Coughlin Artist: Stephen Coughlin
---
Want to see what else is out this week? You can see the full list here - and find out where your nearest Comic Book Store is here!