Hundreds of thousands of demonstrators have churned out across the country on Saturday to support the March for Our Lives movement demanding action on gun control and that politicians begin standing up to the National Rifle Association. That movement is spearheaded by student survivors of mass shootings, particularly those who attended the Parkland, Florida high school where a gunman killed at least 17 people in February, and the NRA hasn't been quiet about how it feels about all this (incoherent rage).

But it's apparently been preparing for this moment by trying to dominate the digital airwaves over the past few weeks. Per an investigation by the Chicago Tribune, while the NRA may have initially fallen back of its familiar strategy of taking a long social media weekend after the massacre, four days later it returned with a weeks-long digital advertising campaign that saw average spending spike to nearly $50,000 a day.
The Tribune reported that in the 24-day period preceding the mass killing at Parkland, digital ad data company Pathmatics estimates the NRA spent about $11,300 a day—and that daily total more than quadrupled to $47,300 during the 24-day period following its obligatory period of mourning. The NRA didn't change its rhetoric or avenue of approach, the paper reported, but it did spend so much money that its ads began flooding the web, particularly Facebook and YouTube:
Nearly all of the increase was on social media, primarily Facebook, where the NRA took its spending from an average of $4,400 a day in the three weeks prior to Parkland to $34,000 a day in the three weeks after the silence. Florida was heavily targeted in the post-tragedy ad burst. The state went from ninth most targeted in January to third between mid-February and mid-March.

... For the past year, the NRA had been ranked No. 706 by Pathmatics on its list of top YouTube video advertisers. In the period since Feb. 21, the gun-rights group jumped into the top 100 at No. 92.
According to the Tribune, the NRA spent "rather carelessly" (or perhaps rather callously), with its membership-drive ads appearing on YouTube channels like "Kids' Toys," including a video of a "young girl unboxing a doll from Disney's popular Doc McStuffins show." As the paper noted, if the NRA ran such ads targeting children on television, they might come into conflict with Federal Trade Commission rules—but most of those rules are not in effect for online ads.
Though the NRA has increased its efforts to appeal to young people as its primary demographic of white males continues to age, Bowdoin College professor Michael Franz told the Tribune it looked more like sloppiness:
Franz said he finds it bizarre that the NRA would advertise to kids on toy video channels – but it could be as simple as the organization aiming its spending at the most popular YouTube channels to spread its message about membership. "It suggests that they're buying ad time based off of presumed reach as opposed to audience," he said. "We shouldn't infer too much sophistication on the part of their outreach strategy."
G/O Media may get a commission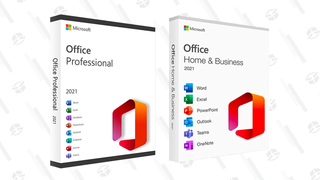 89% off
Microsoft Office Professional 2021 Lifetime License
In any case, the NRA took Parkland as a signal to turn on the money spigot and didn't pay too much attention to where the cash was flowing. This is completely in accordance with their make a lot of noise now, think later strategy—which has recently seen them do everything from record videos seemingly threatening their critics to launching a far-right media outlet and smearing mass shooting survivors—but it's also a sign of an organization threatened by the scale of the movement assembling to fight them. It's an indication that the NRA knows public concern about increasingly deadly mass shootings is a long-term existential threat to its existence.
In any case, if you've been seeing a lot of NRA propaganda flood your Facebook timeline or YouTube pre-roll ads lately, this is why. But it's possible the NRA could face more consequences on some of these sites soon. While the two sites are apparently willing to take the NRA's money for now, YouTube did announce this week it would be restricting more firearm-related content. It and other tech giants like Apple and Amazon are also increasingly under pressure to boot the NRA's TV channel.