Police in the US run active shooter drills all the time. But yesterday the Department of Homeland Security (DHS) and the New York Police made sure they'd be ready for anything—by including a fake drone attack against a high school in Brooklyn.

Sunday's drill simulated an attack by multiple active shooters (a rarity) using improvised explosive devices (even more rare) and included a drone strike against the school (unheard of in the US, though the same can't be said of Pakistan).
It was conducted at Leon M. Goldstein High School in Brooklyn and was notable for the amount of technology involved to simulate the terrorist plot. The "drone strike," involved a computer simulation using the latest DHS technology for measuring an incoming barrage.
The simulation began with the sounds of bullets and explosions, leading NYPD officers, DHS counterterrorism teams, and FDNY crews to deal with the mock hostage situation. Near the end of the simulation, the people who were playing victims informed police that they overheard the terrorist shooters talking about drones.
G/O Media may get a commission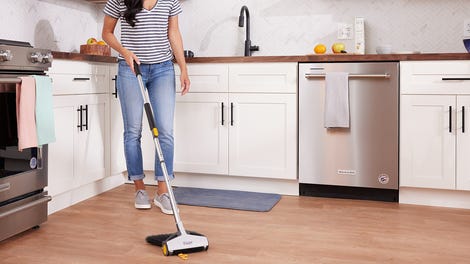 BOGO 50% Off
Flippr - BOGO 50% Off
"Hey, they said something about a drone! I heard them talking upstairs about a drone!" the simulated victims told responders, according to a CBS New York video of the event.
But these weren't exactly Predator drones. The simulation included a hobby drone that was supposed to be neutralized. It wasn't clear if the drone was supposed to represent a weaponized threat or merely a surveillance tool for the mock terrorists.
[Update 7:40pm: A Department of Homeland Security spokesperson that I reached out to earlier got back to me and said that the drone was meant to simulate a "chemical release against responders on the ground" to measure the medical team's efficiency in responding.]
The staged events also included crowd evacuation simulation software, secure voice and image communications via a company called Mutualink, and SOCET GXP technology for satellite views and building navigation.

"[Our] role in this exercise is to see if new tools and equipment that have been designed to help responders in an active shooter situation perform as they should," said Dr. Reginald Brothers, the DHS Under Secretary for Science and Technology, in a statement.
"Analyzing video footage from the exercise, combined with gaining responders' feedback to determine what worked—and what needs work—informs our efforts to better equip responders like the NYPD and FDNY so they may be as prepared as possible when they are facing high-pressure, challenging situations," he continued.
We have yet to see an active shooter situation in the US involving unmanned aerial tech, but I guess it's better to be safe than sorry.
Other police departments, like the LAPD, have expressed interest to the Department of Homeland Security in using drones as a defensive weapon against terrorist attacks and active shooter situations. Police already use remote controlled robots for everything from bomb disposal to communicating with holed-up gunmen.
I guess the addition of drones is practically inevitable for the active shooter situations of the future—situations that Americans are already all-too-familiar with.