This week DC Comics launched Trinity, a new series focusing on the relationship between Wonder Woman, Batman, and Superman—and it shines a humanizing light on the World's Finest in a way other series really can't. It also reminds us that a) Batman's history is filled with hilarious moments, and b) Bruce Wayne is a terrible, miserable dinner guest.

The whole premise of Trinity #1—written and drawn by Francis Manapul—is Lois inviting Diana and Bruce over to the White (née Kent) family farm for dinner. In the wake of the New 52 Superman's death, and the old Superman taking on the mantle of this world's Man of Steel, they have to open themselves to the people the old Clark Kent surrounded themselves with... including his closest allies.
Diana is perfectly fine with dinner—she even brings a wild boar for the meal—but Bruce? Bruce is grumpy as hell.
G/O Media may get a commission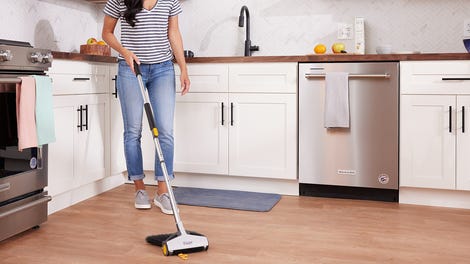 BOGO 50% Off
Flippr - BOGO 50% Off
When Bruce bemoans that Super-son Jon is too young to be trusted to use his powers properly, Clark tries to lighten the mood with a recollection about Bruce putting his own faith in kid heroes... and it's a great throwback:
Yes, that is indeed the Rainbow Batman suit, from the infamous Detective Comics #241, a garish technicolor dream-suit Batman donned to distract villains from cottoning on about Robin's true identity. It's a shame Superman is only remembering his Batman—the Batman of the New 52 universe grumpily states he doesn't remember doing that at all—but it's still a great throwback and gets Bruce hilariously grumpy.
Hopefully Trinity keeps humanizing these three heroes like this, because it's lovely to see.