What is the second Star Wars spinoff about? Two female writers join the new Transformers creative team. Get a load of some new Ant-Man footage. Michael Dorn reveals details from his proposed Star Trek spin-off show. Plus, Robert Buckley talks iZombie, and casting news for Outlander. To me, my Spoilers!
Suicide Squad
Heroic Hollywood is claiming that Batman will be involved in the movie beyond the already-seen scenes of him pursuing the Joker in a car chase. Two extra scenes include an undetailed one featuring Bruce Wayne, and another where Batman infiltrates Belle Reve prison to deliver a warning to Amanda Waller:
You see Batman is totally against the concept behind the Suicide Squad, in fact he warns Waller that he will hold her personally responsible for any innocents The Joker & the rest of the Suicide Squad kill. A warning so stern that he has to visit Waller personally to deliver the message.
As ever, take these anonymously-sourced rumors with a pinch of salt. [via Batman-News]
---
Star Wars Anthology 2
Schmoes Know reports that the second spin-off movie will be set between Episodes III and IV just as Rogue One is, but instead revolves around a feud between a young Han Solo and Boba Fett. Characters due to appear in the movie include Chewbacca, Lando Calrissian and the bounty hunter Bossk.
G/O Media may get a commission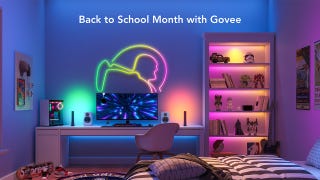 Back to School
Back to School Month with Govee Sale
---
Terminator Genisys
Actor Wayne Bastrup has revealed that he will play a younger version of J.K Simmon's Detective O'Brien in the 1984 segments of the film:
My recent role is as the 'young Detective O'Brien', the 1984 version of the Academy award-winning actor JK Simmons's (Whiplash), character, in Terminator Genisys. Many of my scenes were with Jai Courtney and filmed in the Lower Ninth Ward, previously devastated by Hurricane Katrina. During one of our more extreme scenes Jai's hand was badly injured which delayed production. It was a bit of an intense moment for everyone. But Alan Taylor is such an amazing actor's director. He quickly got everyone back to being focused and relaxed. And Jai ended up fine, but with a battle scar to remember.
---
Rupture
Peter Stormare, Kerry Bishé, Lesley Manville, and Ari Millen have all joined the cast of this scifi thriller, where a single mother (played by Noomi Rapace) is subjected to her greatest fears in an attempt to force her to reveal mysterious alien origins. [Coming Soon]
---
Spider-Man
Marvel and Sony have narrowed down their potential list of directors to four possibilities: Ted Melfi, Jonathan Levine, writer-director team John Francis Daley & Jonathan M. Goldstein, and relative newcomer Jon Watts. [Deadline]
---
Transformers
Christina Hodson and Lindsey Beer have joined the creative team exploring spin-off projects within the Transformers universe. [Deadline]
---
James Bond
Sony's license for the Bond films is allegedly set to expire after the release of SPECTRE, with rumors circulating that Warner Bros intend to bid on the rights to distribute future Bond movies once the film is released. [Variety]
---
The Dark Tower
Nikolaj Arcel is allegedly entering talks to direct the long-developed adaptation. [Deadline]
---
Ant-Man
Here's a TV spot with some new footage. [CBR]
Marvel has also released some new promo pictures — find more here.
---
Star Trek Spin-off
Michael Dorn has been discussing his proposed "Captain Worf" spin-off, saying that Paramount and CBS have expressed an interest in the idea, but not enough to back a pilot. Speaking to Cinema Source, he revealed a few details saying that the series would see Worf with no real allegiance to either the Klingons or the Federation, and would feature a Klingon homeworld where humans and Starfleet personnel have integrated into Klingon society. [via Blastr]
---
iZombie
Robert Buckley teases what's in store for Major:
At this point, are things going to get better for him or worse for him? Astronaut brains are worth a lot of money.

[Laughs] Judging by Blaine's reaction to those brains going missing and how he's dealt with his thugs, I think it's going to put Major in serious hot water. Blaine's a businessman, he's a criminal and he's ruthless. He's going to want to get what's his and punish the people responsible for it. In this case, unfortunately, Major.

Should fans worry about whether Major will make it out of the season alive?

Yes. Blaine's shown that he is a serious threat to be reckoned with. And the fact that Major's not only potentially exposing the whole zombie thing but he stole money from Blaine and he's made him angry. Blaine's kind of tolerated him, but it's come to a head. There's definitely danger and Major is in some serious hot water.
[Buddy TV]
---
Stitchers
The series's 11th episode will be called "When Darkness Falls." [Spoiler TV]
---
Wynonna Earp
An adaptation of the supernatural western graphic novel by Beau Smith has been ordered to series by Syfy. [Spoiler TV]
---
The Shannara Chronicles
James Trevena-Brown and Emilia Burns have joined the cast as Crispin Edensong, a Guard Captain who "swears to protect Wil and Amberle on their perilous journey," and Commander Tilton, "the Captain of the Black Watch, the legendary protectors of the Ellcrys and the Gardens of Life," respectively.
---
Penny Dreadful
Here's a synopsis for "Little Scorpion":
Vanessa and Ethan flee to the Cut-Wife's cottage on the lonely moors where they draw closer together, until a figure from her dark past resurfaces. Meanwhile, Lyle and Frankenstein uncover disturbing information from the Verbis Diablo relics; and its learned that Lily isn't what she appears to be.
---
The Whispers
A press release for the third episode, "Collision", has been released:
JOHN DOE HOLDS DR. MARIA BENAVIDEZ HOSTAGE AS A MYSTERIOUS ENTITY CONTINUES TO LEAD HIM TO AN UNDISCLOSED LOCATION, AND CLAIRE AND WES BEGIN TO

UNCOVER WHAT JOHN DOE'S NEXT TARGET IS, ON ABC'S "THE WHISPERS"

"Collision" – John Doe holds Dr. Maria Benavidez hostage as an unknown entity continues to blindly lead him to an undisclosed location, and Claire and Wes further their investigation into John Doe's past whereabouts and begin to uncover what his next target is, on "The Whispers".
---
Outlander
The show has cast some new characters. Robert Cavanah will play a cousin of Jamie, Jared Fraser, a "successful wine merchant" whose mansion Claire and Jamie stay in while they're in Paris. [Access Hollywood]
Stanley Weber will play the villainous Le Comte St. Germain, a member of the French Court "with a reputation for ruthlessness, as well as dabbling in the occult." [E Online]
---
Additional reporting by Diana Biller and Charlie Jane Anders. Top image: Batman v. Superman: Dawn of Justice.