We love Sony, even if its products are sometimes outrageously overpriced, impractical or downright unnecessary. The company experiments with ideas and has some of the best engineers to make them reality. But as Businessweek's profile of the company points out, that's not always great for the long term health of a business.
Bryan Gruley and Cliff Edwards' piece is mostly a well-encapsulated summary of Sony's engineer-driven history, its fall from grace and Sir Howard Stringer's mostly failed attempt to turn the company around. Stringer was supposed to be a savior for the troubled electronics giant when he took over as CEO in 2005. Instead, as the piece shows, he was faced with nothing but resistance and apathy, realizing he didn't have as much control over the electronics division—Sony's most consumer facing division—as he would have liked.
There are three passages which really highlight the stupid little organizational problems that have done nothing but offset their hardware achievements. First and foremost, that Sony is too big for its own good:
Sony has been trying to adapt to the Internet Age for at least a decade, yet remains a gargantuan and unwieldy manufacturer, with 168,200 employees, 41 factories, and more than 2,000 products from headphones to medical printers to Hollywood-grade 3D movie production equipment. Jeff Loff, a senior analyst with Macquarie Capital Securities in Tokyo, points out that Sony sells nine different 46-inch TV models in the U.S. and its mobile-phone joint venture with Ericsson offers more than 40 handsets. "Can you imagine how dilutive that is to your R&D?" he says. A Sony spokesman says the number of phones is being reduced, and notes that Samsung has 15 different 46-inch TVs.
G/O Media may get a commission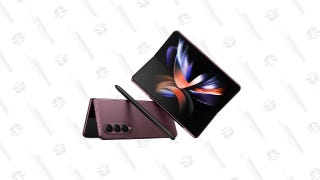 Save Up to $300
Galaxy Z Fold4
The second problem is fed by the first; Sony's employees and bosses don't particularly care about company products that fall outside their own divisions:
No product haunts Sony more than Apple's (AAPL) iPod. Before Apple introduced it in 2001, followed by the iTunes Music Store in 2003, Sony was working with other companies on devices that would download music, Stringer says. "Steve Jobs figured it out, we figured it out, we didn't execute. The music guys didn't want to see the CD go away." In his biography of Jobs, Walter Isaacson writes that Sony had "all of the assets," including a record company, to create its own iPod. "Why did it fail?" he writes. "Partly because it was a company … organized into divisions (that word itself was ominous) with their own bottom lines; the goal of achieving synergy in such companies by prodding the divisions to work together was usually elusive."
And the third issue is that Sony's legions of engineers haven't fully accepted the reality that software and content now matter as much as—if not more than—the hardware itself.
Stringer also encountered a hardware-worshipping culture that mistrusted him because he wasn't an engineer. He was a "content guy" who supposedly cared less about making devices than pushing movies and music. "Whenever I mentioned content," he says, "people would roll their eyes because, 'This is an electronics company, and content is secondary.' " That resulted partly from longtime rivalries between engineers in Japan and generally better-paid movie and music people in California. Sony's consumer electronics unit sometimes declined to send products for use in Sony movies even as Samsung was generating buzz with placements of its phones in blockbusters like The Matrix.
The rest of the feature is well worth the read, full of company background and insight from Howard Stringer. But what does this incoherence all amount to? A company whose most profitable endeavor is selling life insurance. Seriously. [Businessweek]