Please take a Channing Tatum-sized grain of salt with this news, but a new rumor says the third G.I.Joe movie will bring in the evil twins Xamot and Tomax as the film's antagonists, but that the Joe team will bring Matt Trakker and the Mobile Armored Strike Kommand to fight Cobra in this installment.
First, if you don't remember M.A.S.K., it was another Hasbro property that basically combined G.I.Joe and Transformers, in the sense that a secret organization of people in weirdly superpowered masks drove vehicles that transformed into other vehicles and fought an evil organization of people with masks and transforming vehicles. The cartoon ran for 75 episodes, which would qualify it for a mega-hit nowadays, but back in the '80s meant it was but a pale, less profitable shadow of Hasbro's other franchises.
Film Divider has the rumor that the D.J. Caruso-directed film will include at least Trakker:
According to the studio's current plans, Matt Trakker will be stepping up onto the big screen. he was the lead character of MASK, or Mobile Armoured Strike Kommand, a Kenner toy line and cartoon from the '80s.

...

Trakker joining GI Joe suggests that MASK will be introduced either in this film, set up for a sequel, or possibly be established for their own spin-off. It's easy to see why Hasbro and Paramount would like this idea.
G/O Media may get a commission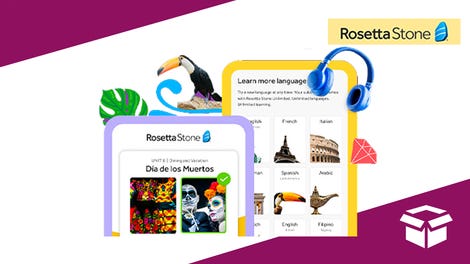 Extra 20% off
Rosetta Stone Lifetime Subscription - All Languages
Hmm. As proof, they mention how a Matt Trakker figure was included in a recent G.I.Joe action figure toyline, but I'm not sure a single, stand-alone toy really proves anything about how invested Hasbro is in M.A.S.K. Certainly they've never released any other updated figures or collector's editions of the classic toys or tried to relaunch the cartoon over the last 30 years — indicating to me that Hasbro doesn't believe the franchise is worth bringing back.
Still, it's not like the G.I. Joe movies are a bastion of continuity, or somehow couldn't handle the idea of a van that turns into...well, a flying van. But there's a lot of more G.I.Joe characters, vehicles, plots and other stuff I would think Hasbro would be far more interested in getting onscreen before they're desperate enough to try putting T-Bob in movie theaters.
[Via Uproxx]