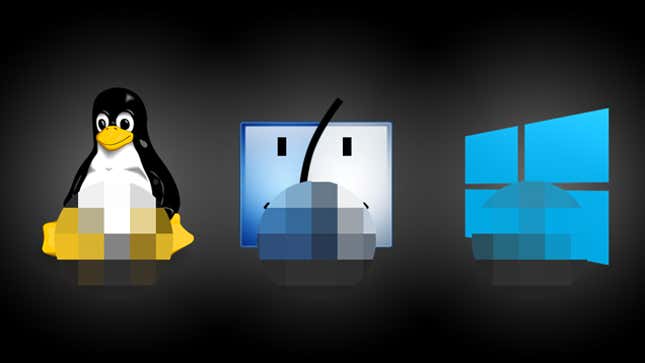 If there are any two things that define the tech-minded modern millennial, they are his operating system and his porn preferences. Fortunately for our inquiring minds, our data-crunching friends over at Pornhub have to access to both.
As with the browser battle that came before, we asked the Pornhub Insights team how each operating system's loyal user base prefers to spends its special internet alone time. Because be it desktop, mobile, or gaming device—each OS-loyal certainly has his quirks. And we have a fresh load of data to prove it.
The Desktop
Lets start with porn's more traditional domain—the desktop. 11 percent of users come in from Macs, which doesn't seem like all that many until you realize that only six percent of all desktops are currently running OS X. Way to punch above your weight, guys!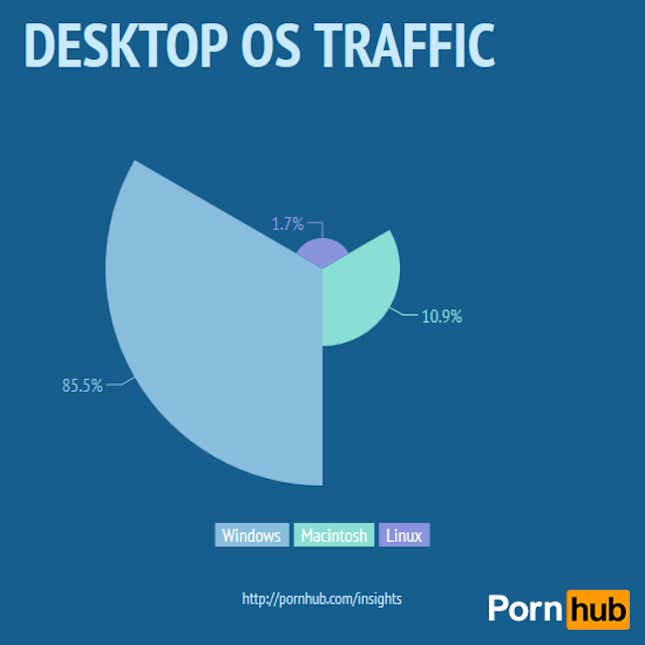 Even more impressive, according to Pornhub, "several thousand monthly visitors [are] still looking for a porn fix with their Windows 95 and 98 based systems." Now that is loyalty.
G/O Media may get a commission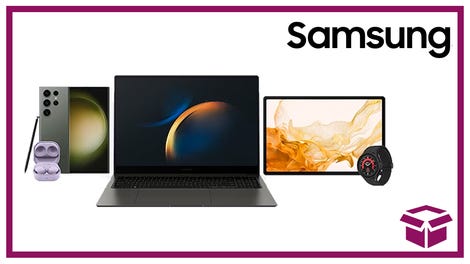 24 hour deals
Discover Samsung - Daily Deal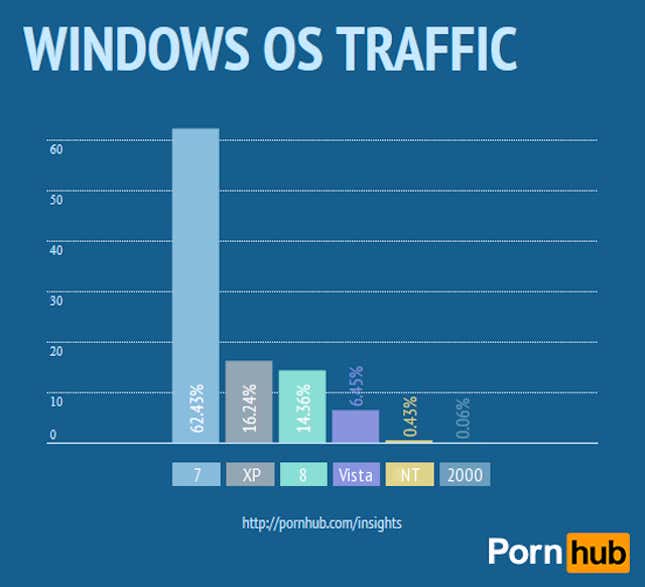 If we're to believe that Mac users are of a younger ilk, those damned kids just can't seem to make up their mind.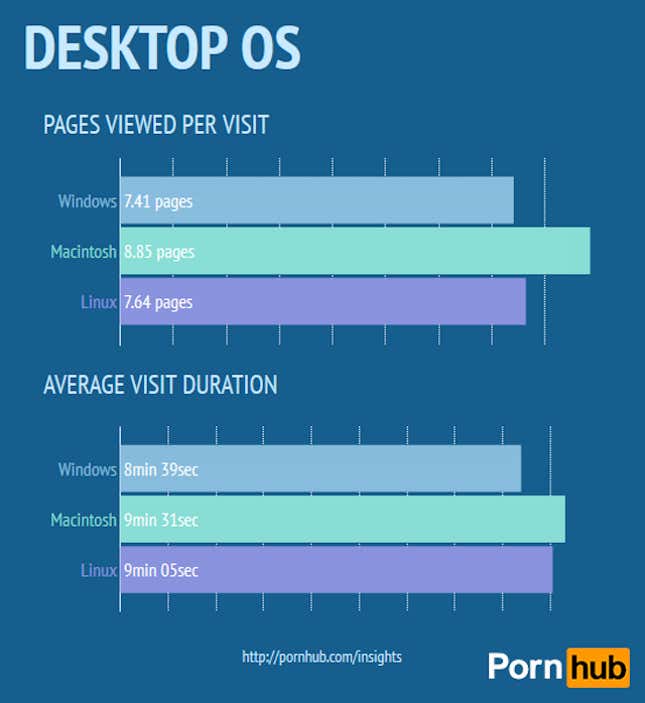 Although, it appears that when Mac users do know what they want, there's no beating around the bush. They will demand their solo sexytime mistresses by name.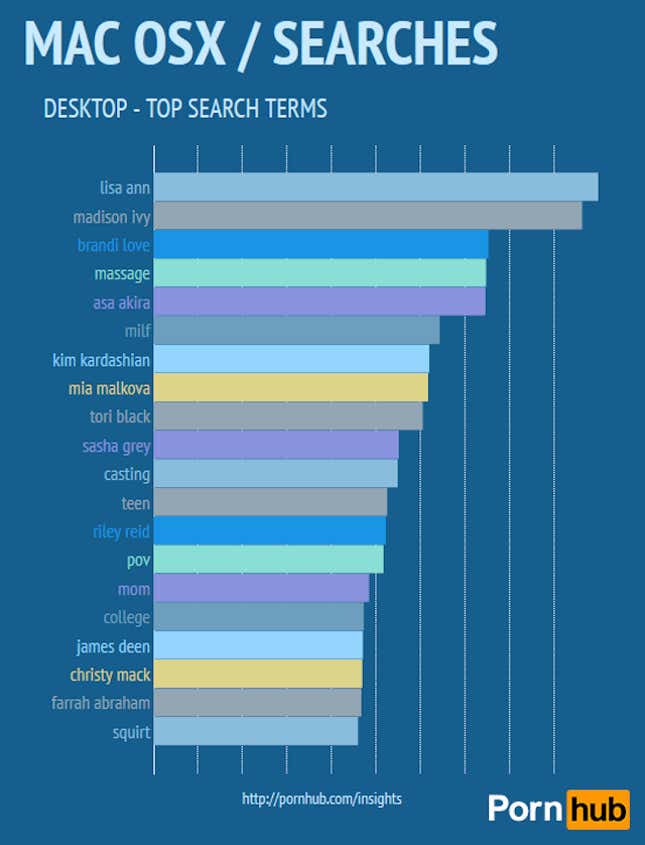 Unlike Linux users, that is, who tend to be a bit more general (and multicultural!) in their smutty searches. General and, well, a little sad; Kim Kardashian may have the goods, but no one will love you like mom can.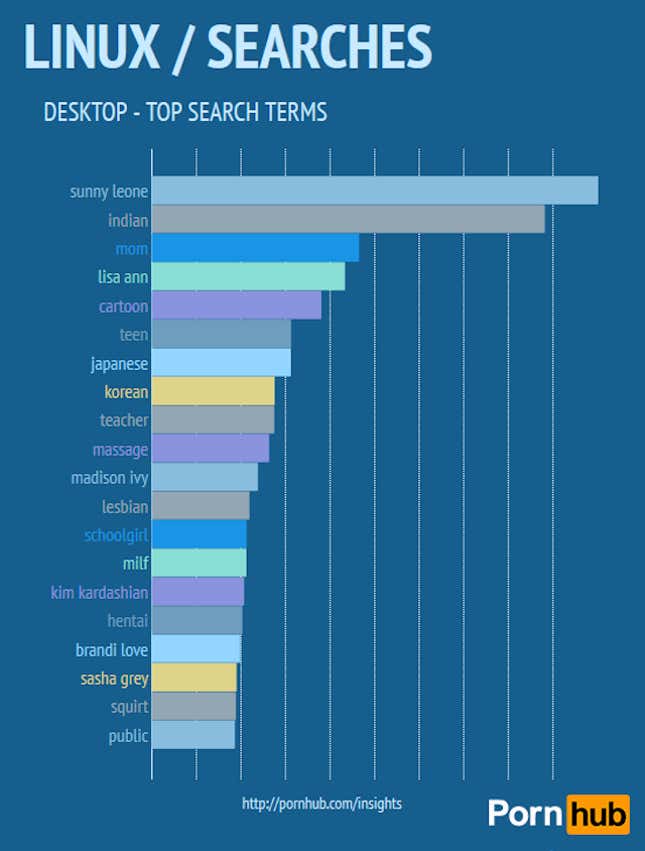 Windows users, however, come in at a nice middle ground between harboring affections for specific stars and a soft spot for mommy dearest. Good balance here.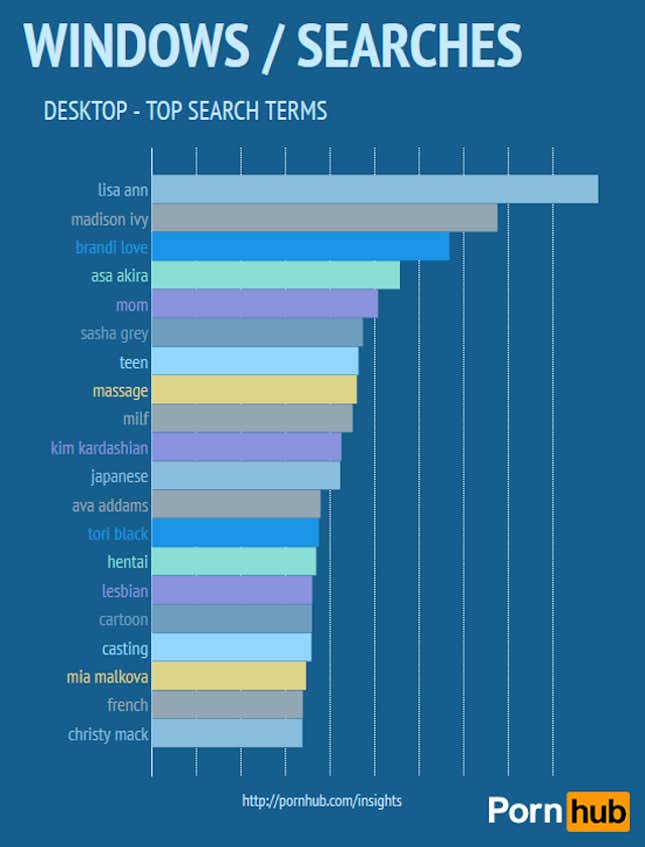 The Mobile Device
We live in a busy world, and a busy world demands mobility (aka getting our filthy movie fix on-the-go). The big four are all pretty even on pages viewed, but BlackBerry users stand out for their durability.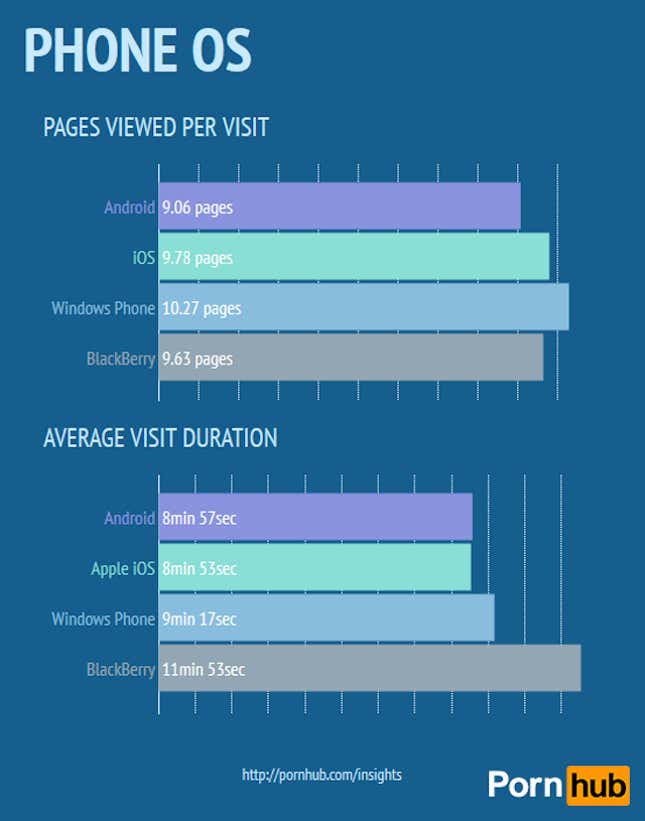 Let's just take another look at that real quick.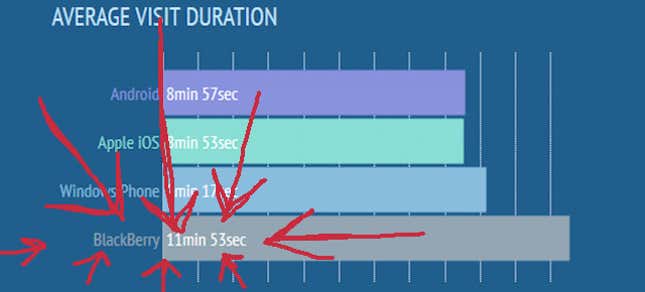 Ah, yes. Indeed.
Now, moving right along, it seems that Android tablet users are really, really into animated erotica—and equal rights, which, good for them!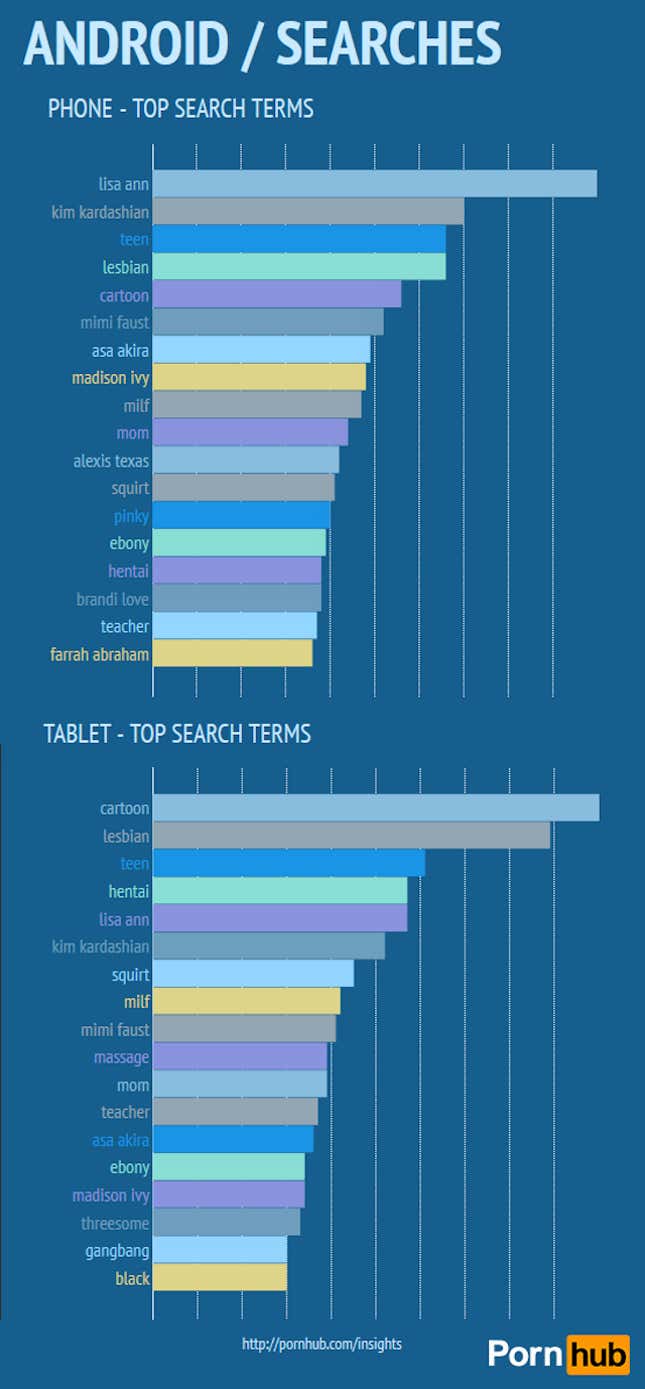 As Ponrnhub points out, nearly five percent of Windows phone users hail from India, so its certainly no surprise that Indian pornstar Sunny Leone makes an appearance on the list. Slightly more surprising, though, is the fact that Miley Cyrus pops up just above crowd favorite Sunny. Babysitter sneaks in to round out the list, which, hey, to each his own.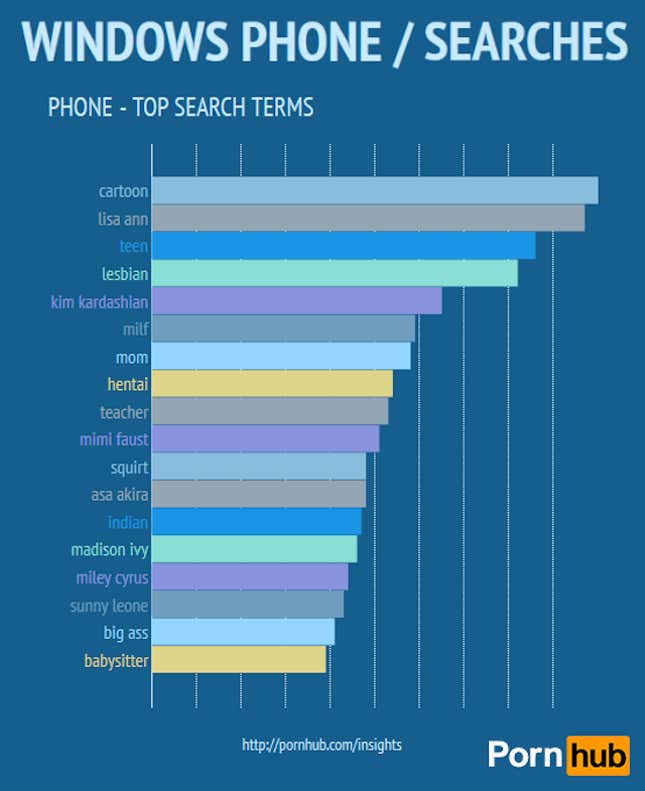 The Game Console
PlayStation users can teach us a thing or two about efficiency, whether they're firmly grounded or free to roam. Both PlayStation 3 and Vita users clocked in as the speediest gamers, although Vita users really go above and beyond the call of duty. Averaging in at around 10 pages per visit, they still manage to finish the job in just under eight minutes—a full minute and a half faster than any other gamer out there.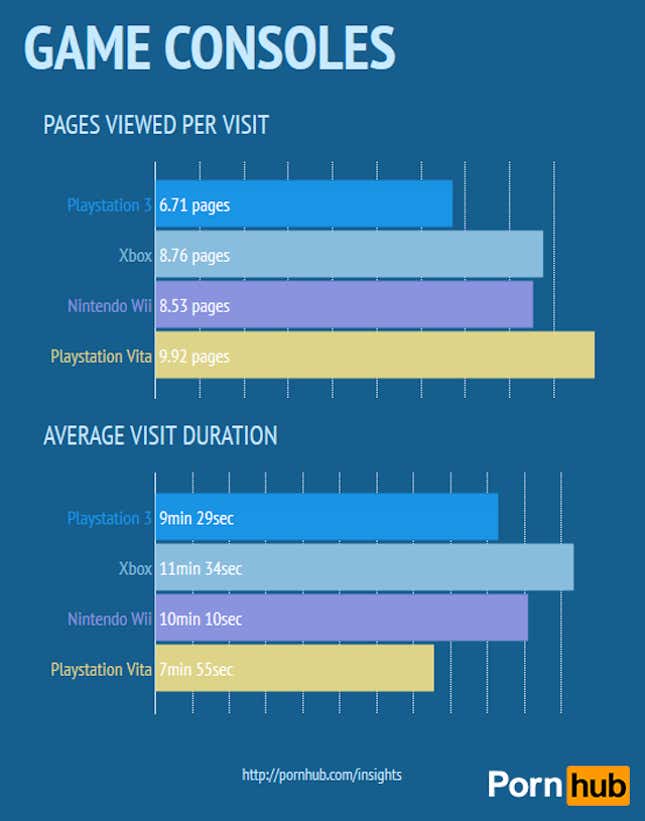 As far as Xbox users go, their special sexy alone time is a marathon, not a sprint. And, yes, people are looking at porn on their Nintendo 3DS.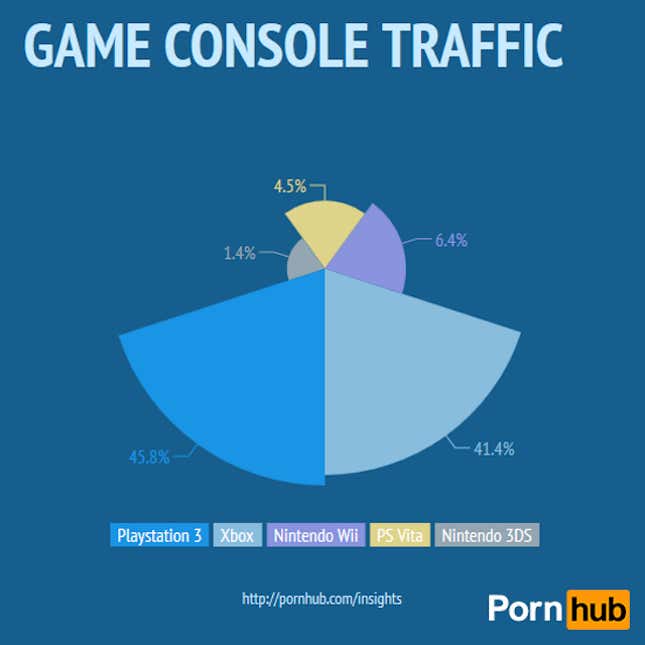 You can head on over over to Pornhub here to see the rest of the charts, or argue about some of the finer points below. Either way, happy browsing! [Pornhub]
Art by Jim Cooke