The American Lung Association has an annual report out today on the troubling state of US air quality. While you might think of smog-shrouded cities as the biggest offenders when it comes to air pollution, in the United States the most dangerous air to breathe is actually found far outside of its biggest metropolises. Which is actually far more troubling.
The type of air pollution that is most damaging to humans is caused by "fine particulate matter," where particles from smoke or soot less than 2.5 micrometers in diameter are present in high numbers (you'll see this referred to as PM 2.5). This is the same kind of air pollution that kills about 5.5 million people globally every year. In the 17 years that the American Lung Association has been putting together this report, long-term particle pollution has generally gone down across the country. Ozone, another pollutant the report measures, has also gone dramatically down, mostly due to more fuel-efficient vehicles.
But there's a very disturbing anomaly. Since 2015, there have been more short-term spikes in particle pollution—in fact, seven of the 25 most polluted cities had their highest number of unhealthy short-term particle pollution days on average ever reported. These can be caused by the processing and burning of fossil fuels, like coal-fired power plants and diesel vehicles. But these spikes are exacerbated by and directly correlated to climate change-related events like extreme heat, drought, and wildfires. So it's no surprise that most of the cities seeing the worst spikes in particle pollution are in California, which has experienced heavy doses of all three of these things.
Top 10 U.S. Cities Most Polluted by Short-Term Particle Pollution
Bakersfield, California

Fresno-Madera, California
Visalia-Porterville-Hanford, California
Modesto-Merced, California
Fairbanks, Alaska

Salt Lake City-Provo-Orem, Utah

Logan, Utah-Idaho

San Jose-San Francisco-Oakland, California
Los Angeles-Long Beach, California
Missoula, Montana

The top four cities that have the most dangerous air in the country—Bakersfield, Fresno, Visalia, and Modesto—are all located in California's Central Valley. These are not big cities, nor are they necessarily large industrial centers. These are agricultural regions. Farming is actually a huge source of pollution, thanks to emissions from fertilizers and animal waste. And because of the geography of the Central Valley, it ends up catching and trapping everything else that drifts over from those larger cities, including the emissions from power plants and vehicles. The increased oil and gas production in the Central Valley isn't making things any better.
G/O Media may get a commission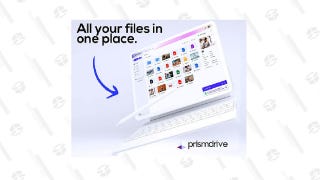 Save 97%
Prism Drive Secure Cloud Storage: Lifetime Subscription
What's messed up is that these cities—housed in some of the lowest-income counties in the state—are now shouldering both the economic and environmental burden for the rest of the country. The drought has been hard enough on those who are working to grow our food. Now the people who live there are being subjected to poisoned air and shortened lives thanks to the country's fossil fuel addiction.
[ALA]