When the Zoomer interactive dog was first introduced a few years ago, Spin Master officially took up the robotic pet torch that was slowly burning out after Sony abandoned the Aibo. The Zoomer Dog was followed by the award-winning Zoomer Dino, but neither are as remarkably capable as the latest addition to the Zoomer line.
Combining the best parts of the original Zoomer Dog and the Zoomer Dino (aka Boomer), the Zoomer Chimp features impressive articulation, incredibly lifelike movements, a library of over 100 tricks including flips and standing, fun sound effects, and the ability to respond to voice commands.
It's hard not to crack a smile when the Zoomer Chimp suddenly falls onto its back and starts laughing hysterically for no apparent reason. That's exactly why you look forward to visiting the monkeys in the zoo, right? Except there's no risk of the Zoomer Chimp flinging poop at you.
G/O Media may get a commission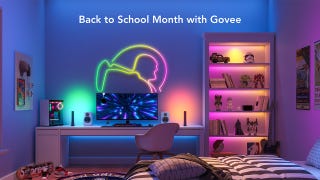 Back to School
Back to School Month with Govee Sale
And for its latest robotic pet, Spin Master went the extra mile to create both an articulated moving mouth, and a set of independent moving teeth inside that really help bring the monkey to life—especially when it's laughing or making chimpanzee screams.
The Zoomer Chimp's best feature, however, is its ability to transition from sitting, to crawling around on all four limbs, to standing and balancing itself like it's rolling around on a hoverboard. It's essentially the same technology that allowed the Zoomer Dino to balance on two legs, but without the long tail and neck to help keep it steady. As a result, the Zoomer Chimp doesn't seem like just another addition to the Zoomer line, it's definitely the next generation of it.

When available in the fall later this year, the Zoomer Chimp will sell for $120 which is an impressive price point given what the robo-primate is capable of. The Chimp's predecessor, the Zoomer Dino, won the 2015 Toy of the Year award, and it's safe to assume that the Zoomer Chimp will easily be a contender for that award in 2016. Besides, how many other toys at Toy Fair will playfully shake their bum in the air at you?

---
Toyland: We love toys. Join us on Facebook or follow us on Twitter.