It's not unlike camping, according to visitors. Except for the fact that you're hanging from a sheer rock cliff 400 feet above the ground. Oh, and the bathroom. The bathroom is... different.
These are the Skylodges, a set of three steel capsules that hang off of a cliff that leads down into Peru's Sacred Valley—the heart of ancient Incan civilization and, today, home to a bustling tourism industry fed by nearby Machu Picchu. Part of that industry is focused on "adventure" tourism in the surrounding valley, like a network of rock climbing routes and zip lines set up by the company that maintains the Skylodges called Natura Vive.
G/O Media may get a commission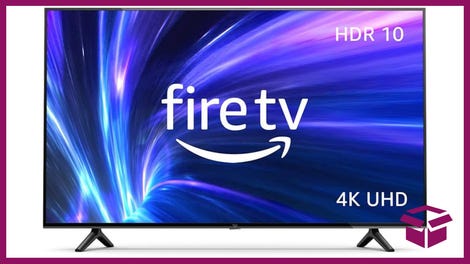 42% Off
Amazon Fire TV 50" 4K Smart TV
The pods are anchored deep into the rock wall, roughly 400 feet above the floor of the valley, and are designed around three steel cages that look almost as though they were inspired by Buckminster Fuller. Faced with sturdy transparent panels, the idea is to give visitors a full view of the night sky above them (curtains block "the curious gaze of passing condors, your sky neighbors," the company says).
You enter the pods through a top hatch, accessed through a wooden platform above the structure—which also doubles as your eating area. But because you reach the pods through either a long climb or a series of ziplines, it seems as though you don't spend a ton of time in them—you arrive at the end of a long day of scrambling around cliff faces.
One of the most mesmerizing things about images of climbers scaling El Capitan and other monumental climbs is how they sleep, suspended from a sheer rock wall, and the company's Skylodges do replicate that experience, in a way—except with far safer and more luxurious trappings. A quick perusal of Trip Advisor gives us a glimpse: Solar power! Down pillows! A personal chef!
Also, your choice of beer:
Your guide comes with beer or bottle of wine (included), and later cooks dinner for you which is delicious. - Brett K
A "variety of hams:"
This is without a doubt the best meal under the stars I have ever had. The rooms are well equipped, with super confortable beds, cotton linen suited for any fancy hotel. The next morning you have a very nice breakfast, freshly cooked eggs, granola, cheese, variety of hams, etc. - Nicholas G.
Oh, and the "interesting bathroom," which sounds like a pretty standard dry toilet:
They also provided a nice dinner and breakfast. Pretty nice meal for a pod! Bathroom was very interesting and clean! Gotta separate the liquids and solids but after trekking, this was quite luxurious. - Linda C
Anyone can reserve a spot in one of the pods, which together have room for eight—a night will run you around $290, and includes dinner, breakfast, and booze. The reviews are outstanding, which would seem to SUGGEST that this set-up is pretty safe. Still: Would you sleep here?
All images used with permission of Natura Vive.
---
Contact the author at kelsey@Gizmodo.com.