It's a sobering thought that distracted driving is estimated to kill 8 people and injure over 1,000 every day in the United States. Many of those incidents have been caused by smartphones, one of the most prominent distractions there is while driving. Avoid adding to the problem by setting your mobile up for safe operation when you're on the road—here are some basic tips.
---
Setting up an iPhone
If you're an iPhone user, Siri is your best friend as a driver. It lets you tell your phone what you need instead of having to peck at the screen with your fingers and take your eyes off the road while you're doing it.
To get "hey Siri" to work at any time in any app on iOS devices, open Settings then tap Siri and toggle the Allow "Hey Siri" switch to on. On anything older than an iPhone 6s, the phone has to be plugged into a power supply before the voice shortcut is going to work, so you might need a car charger.
G/O Media may get a commission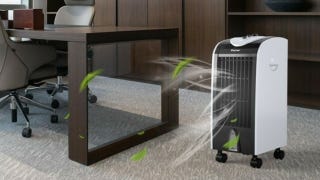 Save $10
Evaporative Portable Air Conditioner Cooler with Filter Knob
Siri can come in handy in all kinds of ways while you're driving: "hey Siri, read out my messages" for example. You can make calls, send messages, get navigation directions and more besides—ask Siri "what can you do?" to see a full list (while you're parked).
You should also think about whether you really need alerts to be on while you're driving. Before you set off, swipe up on the home screen to bring up the Control Center, and you can enable either airplane mode (no incoming alerts at all) or the Do Not Disturb mode (muted alerts).
Head to the Do Not Disturb section in the iOS Settings app and you can allow calls from certain contacts to break through this wall of silence.
There are a select number of third-party apps that can make your drive safer too. LifeSaver, for example, locks up the display while you're on the move and rewards you for resisting the temptation to tamper with it, and SafeDrive takes a similar gamified approach.
Another option is AT&T DriveMode, which can limit outside communications, gives you one-touch access to key apps, and can even reply to your incoming texts for you.
---
Setting up an Android phone
The big tip for drivers using Google-powered handsets is to get Android Auto installed. The app is now available for any Android 5.0+ phone, no head unit required, and brings with it oversized widgets, simplified icons, a streamlined interface and a focus on voice control for all of the key interactions you need.
There are smart touches throughout, like the option to send an "I'm driving at the moment" text reply at the push of a button, and support for launching the Android Auto interface automatically when certain Bluetooth devices (like your car stereo) are detected.
It makes Android even more pro-active too, automatically showing navigation buttons for places you've recently looked up on Google Maps, while music and podcast apps (including Spotify and Google Play Music) get stripped-down, chunky interfaces as well.
There are other tweaks you can apply, with or without Android Auto.
For example, you can enable the "OK Google" voice command so it works at any time in any app. Choose Settings, Voice and then "OK Google" detection from the menu inside the Google app.
Commands you can try while you're driving cover everything from "call Mom" to "directions to 1299 Colusa Avenue, Berkeley, California".
As on the iPhone, Android includes airplane mode and a Do Not Disturb function (under Sound in Settings), so you can choose to mute your handset or switch off connectivity altogether—remember that Google Maps can cache directions and maps in advance, so you can still find your way somewhere.
Finally, there are third-party apps you can consider installing too. Drive Safe can respond to texts automatically, while SafeDrive blocks all of your phone's alerts until your speed drops back down under 10 miles-an-hour.
Drivemode, like Android Auto, is based around a simplified, "no look" interface that you can operate using your voice or some basic on-screen swipes, and then there's OneTap, which aims to be a smart, personal driving assistant. Not only can it launch itself automatically when you start driving, it also logs all the notifications it's suppressed on your behalf, and can be configured to let alerts through from 'emergency' contacts.