Check out Manatee — a concept personal submersible vehicle designed by Eduardo Galvani. Designed for safe and comfortable subaquatic explorations, the sub can be controlled by anyone who knows how to operate a joystick and a touch screen control panel. Jacques Cousteau — eat your heart out.
The joystick commands the thrusters and helms for navigation, while the touch screen runs the sub's IOS (Integrated Operational System), which monitors and controls surface communication, infrared and camera visualizations and recordings, battery status, and other basic controls like compass, velocity, water alerts, hydrogen, temperature, pressure, humidity, depth, pitch, roll, heading, altitude, vertical speed and more.
Manatee has up to 12 hours of oxygen supply and CO2 removal, an over 100 hours in reserve. It has up to 12 hours of battery endurance, while its pressurized cabin allows for deep explorations reaching more than 30 feet (9.1 meters). So this thing isn't going down into the Mariana Trench any time soon.
G/O Media may get a commission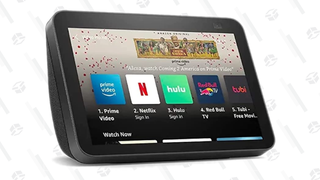 Operators can use full HD cameras to capture the scenery. It even features a navigation system that allows explorers to add point marks, and notes and labels with instant photos or videos over the explored hot spots. It also detect animal life.
Basic specs:
Capacity 4 persons
Max Depth 9.140 meters (30.000 ft)
Max. Operational Endurance 12 hours (+ 100 hours battery reserve for communication and instruments)
Thrusters 2×10 hp
Maximum underwater speed 14 knots (25 km/h)
Payload 1 320 lb / 600 kg
Controls Joystick and Touch Screen Control Panel (running Manatee™ IOS)
Illumination High Intensity LED (Internal/External)
Surface Communication VHF/UHF
SONAR 400 meters range
Main Oxygen duration 12 hours
Reserve Oxygen duration 100 hours
Battery Recharge 8/10 hours
More here at Hemisferio Criativo.
[ h/t Yanko Design ]
All images HemisferioCriativo.