In a world that cherishes gadgets that keep getting smaller and lighter, the Fluance Fi70 is a big hulking WTF. The $500 Bluetooth speaker is as big as your parent's oldest television set and weighs in at a hulking 81 pounds. It's so ridiculous, so surprisingly handsome, and so cheap that I almost want to buy it. Almost.
When Fluance first offered to send Gizmodo a Fi70 for a review, we laughed. (See above.) Sure, the retro wood cabinet design looked slick. But who on Earth would want a massive cabinet of speakers, we wondered, when you can buy a truly fantastic Bluetooth speaker that's the size of a tallboy?
Reluctantly, I raised my hand.
I'm in the market for some new furniture. Specifically, I'm looking for something more compact than the endless array of media centers that will fit a 55-inch 4K TV—which I've yet to buy—and a set top box and maybe an NES. I'm also in the market for a sound system that could provide a little more boom than the shitty speakers in slim TVs, and also play bad disco music from my phone. The Fluance Fi70 is actually the perfect size for that! And the six-speaker set up seemed like could sound pretty good. So I tried it out for a couple weeks.
The consensus: I'm a bit torn. The Fi70 is actually larger and heavier than I expected. It also comes with a sort of rickety stand that I might want to throw away so that I just put the whole thing on the floor. The top of the speaker features a row of touch sensitive buttons (that are very sensitive!), and the back is littered with input options. There is also a remote that you will probably lose.
G/O Media may get a commission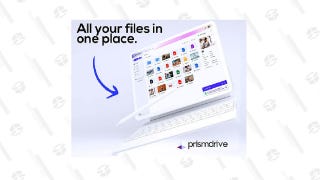 Save 97%
Prism Drive Secure Cloud Storage: Lifetime Subscription
The extent to which the Fluance Fi70 resembles an actual hi-fi system is a real perk, though. It has a standard 3.5mm auxiliary audio input as well as an optical audio input and a USB port for charging. There's also an AM/FM radio, if that's your thing. Unfortunately, the Bluetooth chip is 2.1. It's reliable, but it's also older than the current 4.0 standard and it seemed like the audio quality suffered as a result. It also doesn't come with a battery. But why would it? The Fi70 is not portable.
Now about the audio quality. It's resoundingly decent when listening to music via Bluetooth. At lower volume, the speakers deliver clean, balanced sound, but if you're trying to throw a loud house party, the dual 8-inch woofers get shaky at top volume. (There are also dual 5-inch midrange drivers and dual 1-inch tweeters.) The 280-watt output made me believe that the Fi70 would blow my eardrums, but in reality, I wanted more out of this 81-pound box. It sounds fantastic for classical music like soothing Yo-Yo Ma cello pieces, but the Fi70 struggling with bass heavy bangers from the likes of Major Lazer. I will admit that the speaker does perform consistently well at the volume I'd typically want when watching a movie, and the Captain America: Civil War trailer sounded simply terrific.
Many audiophiles insist that Bluetooth audio simply can't compare to good old fashioned cables and I did notice a difference when I connected to the speaker from a headphone jack instead of via wireless. Unfortunately, I didn't have the right equipment to test them, or the optical audio, but I'd imagine a marginal improvement using that method. The wired method cleaned up some of that muddiness when I cranked it up.
So I'm frankly a bit torn. The design is undeniably appealing, the sound quality is decent, and I really do like the idea of using the Fi70 as a TV stand that also acts as a soundbar (sans remote). But it's definitely not the best Bluetooth speaker you could buy for that price. At $500, you could buy two UE Booms and have a great portable stereo speaker system—though that's hardly ideal for your home audio set up either. The Fi70s offers optical audio input as well as a standard headphone jack that would probably be more convenient for your home theater set up.
Suffice it to say, I love the Fluance Fi70 despite the quirks. It's cheaper than a Sonos Playbar, and it's a nice piece of furniture—a conversation piece for your living room. If you want a wireless speaker that can inspire noise complaints, however, this isn't it. (Try the louder Devialet Phantom which is a whopping $2,000.) If you want a decent all-in-one system that can handle Bluetooth, the Fi70 is a solid option.
But consider yourself warned: it is big and heavy. You're not taking this Bluetooth speaker to the beach—ever.
README
The Fluance Fi70 is beautifully design and looks great with or without the screen on the front.
The speaker sounds about as decent as a $500 all-in-one Bluetooth speaker should but doesn't excel at top volume, though it's slightly better when connected by a wire.
The whole thing is pretty bulky, weighing in at over 80 pounds.
The remote is handy but small enough to disappear into your couch cushions forever.
It's only $500!