Hawaii is a tropical island of picturesque eruptions. While usually the eruptions are mostly harmless, an offshoot of a new lava flow has been inching towards suburb since June. Now the residents of Puna are settling in to watch the slowly creeping doom.
Top image: A peek through a skylight into the lava tube on September 24, 2014. Image credit: USGS/HVO
False-colour image highlighting the active lava flow (red), bare rock and burned areas (brown and black) in a forest of healthy vegetation (bright green) on September 24, 2014. Image credit & read more: NASA/Earth Observatory
G/O Media may get a commission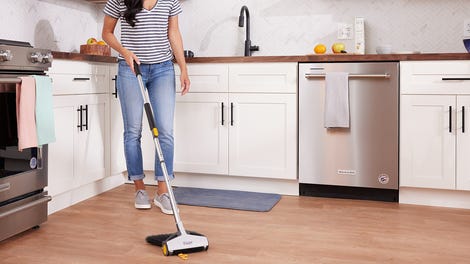 BOGO 50% Off
Flippr - BOGO 50% Off
The Pu'u 'O'o crater on Kilauea usually spills lava south, down the volcano and out into the ocean. Early in 2013, a new flow, Kahauale'a 2, started pushing northeast, burning a new path through the forest.
Infrared image of Pu'u 'O'o crater in June 2014. Image credit: USGS/HVO
The flow progressed in fits and starts as the front cooled and hardened, and fresh hot lava erupted from the crater. But last summer, just over a year after the Kahauale'a 2 flow started, it was abruptly beheaded by vigorous new flows.
Channel of lava on June 27, 2014. Image credit: USGS/HVO
The June 27th flow, named for the date it started, grew into a long lava tube.
Lava flowing past a skylight in the lava tube earlier this month. Image credit: USGS/HVO
The tube allows hot, fresh lava to spill all the way down to the flow front, instead of sputtering in fits and starts like the now-dead Kahauale'a 2. It's a slow flow, advancing meters to tens of meters per day through the Kahauale'a Natural Area Reserve. But as it keeps advancing downhill, it may reach a residential area and roads as early as November.
Lava flow advancing on a subdivision of Puna on October 15, 2014. Image credit: USGS/HVO
While technically a lava flow could potentially be diverted, it not only wouldn't be a guaranteed success, diversion would go against local customs.
Position of lava flow, hot spots, and endangered infrastructure as of October 5, 2014. Image credit: USGS/HVO
Instead, residents of Kaohe Homesteads, a subdivision of Puna with potential to be impacted by the lava packed up their stuff, sent it off to storage, and waiting to find out what happens next. As for what happens next, at least one of the residents is teasing about hosting a barbecue over a lava flow if it creeps into his back yard.
Pāhoehoe flow consisting of slow-moving, scattered lobes. Image credit: USGS/HVO