Astronauts aboard the International Space Station have a new crew member—an adorable robotic ball capable of recording video while moving in zero gravity. Dubbed "Int-Ball," the device will free astronauts to do more important work, while providing ground controllers with their own set of eyes.
Int-Ball is short for Internal Ball Camera, and it was developed by Japan's Aerospace Exploration Agency (JAXA). The unit was delivered to the ISS aboard a SpaceX Dragon spacecraft on June 4th, and it's currently going through initial testing. The camera, which can move autonomously or be guided by controllers on the ground, is the first drone capable of recording still images and video while moving in space, according to JAXA.
The device, which measures nearly six inches in diameter (15 cm), will allow mission controllers to closely monitor conditions inside the space station, freeing the crew to focus on more important tasks, such as conducting experiments and making repairs. According to JAXA, ISS astronauts currently spend around 10 percent of their working hours taking photos and video.
Int-Ball (which is an awful name for something so cute) is currently active in Japan's "Kibo" experiment module aboard the ISS. Flight controllers and researchers at JAXA's Tsukuba Space Center can monitor the images taken by the device in real time, and feed them back to the onboard crew.
Many of the components used to to manufacture Int-Ball were produced by 3D-printing, and its design was adopted from pre-existing drone technology. The device can move virtually anywhere inside the module, and record images from any angle. Controllers on the ground can thus use Int-Ball to see things from a crew member's perspective, which could help when overseeing complicated work.
G/O Media may get a commission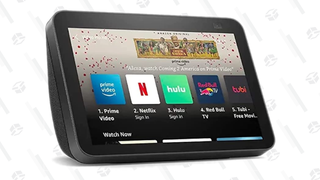 The floating bot is equipped with a three-axis control unit, which it uses to trigger the 12 fans located along its surface. This allows it to move or orient itself in zero gravity. A series of pink "3D Target Markers" have been attached to the module's walls, allowing Int-Ball's navigation camera to establish reference points and enable its autonomous mode.
This bot is a great idea, and surely a sign of things to come. Space is a dangerous and unhealthy place for humans, so the more work that robots can do, the better.