Yesterday, a non-profit group in Washington, D.C. started a crowdfunding campaign on IndieGoGo with the hopes of building a new science fiction museum. Or at least a preview of one.
According to a press release, the museum's executive director, Greg Viggiano, explained that Washington, D.C. seemed to be a natural place for a sci-fi museum. "We believe Washington, DC is an ideal location for a museum dedicated to science fiction, based in part on the remarkable draw the District's museums have for people from all over the world."
The group wants to build a 3,000 square foot preview space in Washington to test out their concept with items like old Star Trek props and sci-fi art. Should the preview space prove successful, the plan is to have a fully fleshed out museum in just a few short years.
"If the project stays on schedule, a full-scale facility could open by 2017," Viggiano says in the release. "In the meantime, we are planning to launch a small preview facility in late 2014. This 'pop-up' site will be the place to test exhibit concepts and share an insider's look into the process of building the museum itself."
G/O Media may get a commission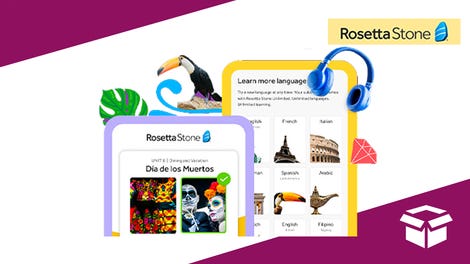 Extra 20% off
Rosetta Stone Lifetime Subscription - All Languages
The group's IndieGoGo campaign hopes to raise $160,000 by December 11th. But even if it doesn't, it's keeping the money, as is noted in their campaign's "flexible funding" disclosure.
The group calls the plans for a sci-fi museum the "first of its kind," even if "kind" isn't defined. Not for nothing, America already has a science fiction museum in Seattle. Though there's certainly nothing wrong with opening another in our nation's capital.
Normally, if a bunch of people with no discernible museum experience were trying to build something like this, I'd be pretty skeptical. But it seems like they're really going about it in the smartest way possible. Building a preview exhibit and proving the concept with a relatively modest amount of money and donated items makes a lot of sense.
It'll be exciting to see if they can actually pull it off. And if not, we'll always have our sci-fi museum standing in the shadow of the Space Needle.
[Update: The Washington Post just published an interesting column about the proposed museum and has some brief bios of the people involved.]
Excerpted from the Post:
Phil Smith, the museum's chief curator, is a senior analyst with a Northern Virginia consulting firm that does work in the aerospace and telecom fields. He's also an accomplished sci-fi artist and a volunteer docent at the National Air and Space Museum. His dream is to have a full-size Millennium Falcon in the Museum of Science Fiction.