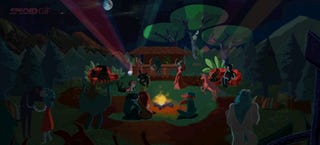 Monday mornings are tough. I had my shower, my coffee, I went through my morning work routine, and just when I thought I was recovering from my monday blues I bumped into this: A surreal and hypnotic animated music video that made me go into full weekend mode again.
The video—directed by Melanie Tourneur and Eve Deroeck—features Témé Tan's song Looper.
Témé Tan, aka Tanguy Haesevoets, was born in Kinshasa, Democratic Republic of the Congo, but grew up in Belgium, where he lives now.
You can follow Témé on Facebook and buy Looper here.
---
This is part of a series in which we are featuring really cool music videoclips. If you are a musician or a director with high quality work, please drop me a line here.
---