You can say a lot of bad things about Battle of the Five Armies, but its glorious shots of the Dwarven Kingdom of Erebor in the Misty Mountains were definitely a treat. It looks just as amazing when remade in Lego, on a truly massive scale — something that took Michał Kaźmierczak 7 months of building to do!
The beautiful structure is made out of 55,000 bricks, depicting a limited version of the interior of the Dwarven city but an exquisitely detailed exterior that Thorin and his company gaze out from to receive Bard's offer. There's an incredible attention to detail: the rocky cliff faces, the excellent giant statutes of Dwarven Warriors on either sides of the entrances, right down to the rubble-fortifications the dwarves build to bar the entrance in the movie.
The huge diorama even stretches out to the wildlands in front of Erebor's gates, which are filled with little forests and vignettes of orcs looking upon the city (and Legolas and Tauriel fighting a few of them).
G/O Media may get a commission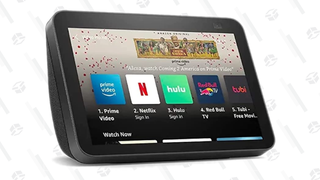 But to really appreciate it you have to see Kaźmierczak standing next to his creation to show how massive it is:
Bloody hell, that is a lot of Lego. You can see many more pictures of the remarkable build on Kaźmierczak's Flickr page.
[via The Brothers Brick]
---
You're reading Leg Godt, the blog with the latest Lego news and the best sets in the web. Follow us on Twitter or Facebook.