In this week's leapfrogged iPhone app roundup: Tweetie, set free! Bodies, sculpted! Copyright laws, not quite circumvented! The trucker life, lived! Football, called soccer! And much more...
If you'd like to view this gallery as a single page, click here.
Twitter: Twitter's official iPhone app is finally here. The company had purchased Atebits, maker of Tweetie 2, so most were expecting their refresh of the app to feel somewhat familiar. Turns out, they barely changed anything. Full review here, but the instant take on this is that it is Tweetie 2, which means it's still one of the, if not the best Twitter apps available. Free.

G/O Media may get a commission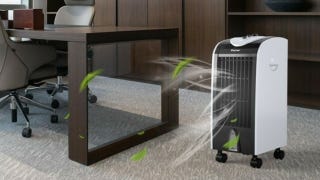 Save $10
Evaporative Portable Air Conditioner Cooler with Filter Knob
Seesmic: For those of us who'd rather consolidate our social apps, though, Seesmic does more that Tweet—it works with Facebook, and others:
Seing as how Seesmic aquired Ping.fm a few months back, it's not surprising Seesmic's iPhone app also includes Ping.fm support for multi-account updating (MySpace, Tumblr, LinkedIn, Flickr, Blogger and so on are included). Evernote, much loved file-syncing desktop and phone/iPad app, has been worked into Seesmic too, for saving messages or tweets and storing them on your cloud-based Evernote account.

Free.
BBC Listener: The UK's BBC produces a nearly endless flood of radio content, much of which is available in podcast form, but even more of which isn't. BBC Listener is an extensive catalog of radio shows, old and new, which can be streamed or cached offline. It's $1 right now, which includes a 30-day trial. After that, it's $13 a quarter—about $4 a month—which may be a little high for most. That said, it's absolutely worth a try at the introductory price, especially if you're a fan of radio documentaries. (Think NPR and American PRI productions, except with classier inflection.)

Slacker 2.0: Slacker Radio will soon skip up to version two, which brings offline listening. Here's how it works: Radio stations, each containing up to 500 songs, are cached within the app. You can keep 25 of these stations on a device at a given time.
The catch, of course, is that you need to be a Slacker subscriber to use the offline feature. The free app still streams to non-members, but serves up audio ads, limits the number of song skips and a few other restrictions. Slacker 2 is due in the App Store any day now.

BlueBeat: Oh man, these guys again! BlueBeat is a website that streams music—popular music—for free. How? Well, they claim that all of their songs are "simulated live musical performances," which is to say, original to them. Listen to them, though, and you wouldn't be able to tell: Every note of the Beatles' catalog sounds eerily familiar.
So, is this justification (we ran it through a filter, see!?) for streaming all this music for free complete and utter bullshit? Almost definitely. I include this app only to salute the sheer ballsiness of its existence, and to celebrate the fact that Apple's approval team somehow missed this.

1000+ Exercises: Committing to a regimen is the easiest way to get started exercising, be it a daily run or a complicated gym routine. 1000+ exercises, by Men's Health magazine, provides an easy way to design more complex workouts, as well as an inexhaustible catalog of exercises to choose from, and recommended routines. $6.

Uniformity: Helps Navy sailors figure out exactly how to configure their (surprisingly complex) uniforms for a given occasion, in specific circumstances. It's got a narrow audience, sure, but I love apps like this—some dude saw a problem, created an app with a singular focus, and solved it. $6.

Trucker's Delight: A gloriously crude 16-bit-style game. It's a simple tilt-to-steer pursuit game which curiously includes not just cartoon violence, but pixel-y boobs. Boobs! It's a fun (if short) little game, and will continue to be so until Apple inevitably ejects it from the App Store, for being enjoyable in a way that is not appropriate or acceptable to 100% of the human population. $3

X2 Soccer: By far the most polished soccer game on the iPhone, X2 2010—like X2 2009—wins for its novel control scheme, comprised of a set of buttons which invite you to slide your finger, rather than always tap it. The flow and level of play reminds me more of Pro Evolution console titles than the cartoonier, arcade-like FIFA franchise games, so know what you're getting into with this one: A soccer game for devotees, that will take some time to master. $7

This list is in no way definitive. If you've spotted a great app that hit the store this week, give us a heads up or, better yet, your firsthand impressions in the comments. And for even more apps: see our previous weekly roundups here, and check out our Favorite iPhone Apps Directory. Have a great weekend, everybody!