This week, we say farewell to Being Human while Bitten and Lost Girl have their season finales. Plus, the ending of Captain America: The Winter Soldier means big changes for Agents of S.H.I.E.L.D. And what's ahead for Joffrey and Margaery on Game of Thrones? Get all the details below.
Tonight
Bitten (8 PM, Syfy)
Tonight's first season finale finds Elena and the Pack in a final showdown against the Mutts. The episode will end on a cliffhanger, but we know not everyone survives.

Star-Crossed (8 PM, The CW)What's more awkward than inviting your lady friend home for alien Thanksgiving? Inviting home the lady friend whose father killed your father:
Roman (Matt Lanter) invites Emery (Aimee Teegarden) inside the sector to celebrate Dinaskyu, an Atrian holiday that celebrates the family. Emery asks Sophia (Brina Palencia) for tips on how to impress her mother (guest star Susan Walters Ashby). Vega (guest star Merle Dandridge) tells Drake (Greg Finley) that with Zoe missing, they've tapped him to be their new undercover operative, which means he'll be leaving town and getting his markings removed. When Roman goes to Vega and asks her to reconsider sending Drake away, she offers him a way out. Meanwhile, Eva (guest star Stephanie Jacobson) approaches Julia (Malese Jow) with an offer. When Julia refuses, Eva takes her mission to a dangerous place. Finally, Grayson (Gray Damon) confronts Emery about her feelings for Roman.
Being Human (9 PM, Syfy)
We say farewell to the American contingent of supernatural roommates in the Being Human series finale. Sally makes a major sacrifice to keep two of the roommates from killing each other—and will change all of their lives forever. So long and thanks for all the gore. Werewolf Monday won't be the same without you guys.

Archer (10 PM, FX)
Archer tries to keep his fling with a dictator's wife secret (good luck with that) while Krieger bonds with his clone-brothers.

Lost Girl (10 PM, Syfy)
In the fourth season finale, an unthinkable sacrifice is the only thing that can stop a supreme evil from entering the world, forcing Bo to make the hardest choice of her life.
G/O Media may get a commission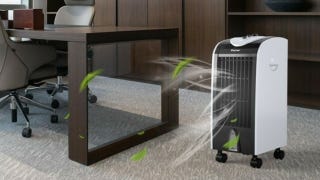 Save $10
Evaporative Portable Air Conditioner Cooler with Filter Knob
Tuesday
Agents of S.H.I.E.L.D. (8 PM, ABC)
S.H.I.E.L.D. is undergoing some big changes in the wake of Captain America: The Winter Soldier. Folks who have seen the movie should check out this piece from USA Today on the "re-tooling" of Agents of S.H.I.E.L.D. As for this week's episode: Coulson and the team find themselves trapped without anyone they can trust—and then discover a traitor in their midst. Things aren't looking good for May at the moment.

From Dusk Till Dawn (8 PM, El Rey)
After a daring escape from the motel, Seth leads the Fuller's RV to the border crossing. As an irrational fear takes hold of Richie, Jacob fuller takes control of a volatile situation, determined to get his children safely across the border.

Jim Hensons' Creature Shop Challenge (10 PM, Syfy)
This week, the contestants have to create a caged creature desperate for escape from unconventional junkyard materials.
Wednesday

Johnny Test (6 PM, Cartoon Network)
The annual easter-egg hunt is ruined by Dark Vegan; Johnny tries to teach the grounded Bling Bling how to be a regular kid.
Teen Titans Go! (6:30 PM, Cartoon Network)
Starfire is allowed to join Beast Boy and Cyborg's revelry, if she avoids uncle jokes.
Steven Universe (7 PM, Cartoon Network)
Pearl tries to teach Steven the art of sword-fighting using a holographic version of himself.
The 100 (9 PM, The CW)
Exile on Earth is all fun and games until someone gets murdered:
After the shocking death of one of their own, Clarke (Eliza Taylor) and Finn (Thomas McDonnell) grow closer as they try to figure out a way to communicate with the Ark. Bellamy (Bob Morley) must keep the group from turning on one another as life on Earth takes a desperate turn. Meanwhile, Abby (Paige Turco) risks having herself floated in order to give Raven (Lindsay Morgan) the chance to stow-away in the escape pod bound for Earth.
Thursday

Community (8 PM, NBC)
Subway is apparently being good sports about that whole "Subway-sponsored person" plot, because they're playing the possible antagonist in another episode:
As Subway makes plans to purchase the Greendale campus for their own Subway University, the study group members contemplate the end of an era. Jeff (Joel McHale) considers a generous offer of employment he has received from Subway, while Britta (Gillian Jacobs) considers an offer she has received from Jeff. Meanwhile, Dean Pelton (Jim Rash) tells Annie (Alison Brie) and Abed (Danny Pudi) about Greendale's first Dean Russell Borchert, which leads to an interesting and potentially lucrative discovery in the walls of Greendale.

Vikings (10 PM, History)
This week's episode "Blood Eagle" is named for a particularly nasty form of execution, which doesn't bode well for someone:
Ragnar and King Horik clash over how to dispense justice to Jarl Borg. In Wessex, King Aelle arrives and Ecbert has an eye on a new alliance.
Friday

Grimm (9 PM, NBC)
We're in for some mother-son Grimm-ing:
Nick (David Giuntoli) and his mom, Kelly Burkhardt (guest star Mary Elizabeth Mastrantonio), join forces to protect Adalind's (Claire Coffee) baby. Meanwhile, Prince Viktor (guest star Alexis Denisof) activates a deadly stateside asset (guest star C. Thomas Howell) to find Adalind and her child.
Continuum (10 PM, Syfy)
Here's a mess for our time-traveling cop: Kiera must deal with her own murder, two Alecs in one timeline, and the mayor's kidnapping.
Saturday
Orphan Black: The Cloneversation (8 PM, BBC America)
We're still a week away from Orphan Black Season 2, but BBC America is holding a one-hour special gathering the cast of Orphan Black, plus Wil Wheaton, Patton Oswalt, and Orlando Jones to revisit the highlights of the first season and tease what's ahead. It's not quite new clone action, but perhaps it will tide us over for another week. Maybe.

Da Vinci's Demons (9 PM, Starz)
Leonardo is headed for the New World, but without maps, he struggles to navigate across the Atlantic. Meanwhile, Lucrezia is smuggled into the Vatican for an important encounter and en route to Naples, Lorenzo's identity is discovered.
Sunday

Once Upon a Time (8 PM, ABC)
"The Jolly Roger" focuses on Captain Hook, but it sounds like we'll be introduced to another pirate this episode: Blackbeard. Also, we'll be seeing more of Ariel and Prince Eric.

Game of Thrones (9 PM, HBO)
Joffrey and Margaery are the pair to watch in this week's episode, titled "The Lion and the Rose":
Tyrion lends Jaime (Nikolaj Coster-Waldau) a hand. Joffrey (Jack Gleeson) and Margaery (Natalie Dormer) host a breakfast. At Dragonstone, Stannis (Stephen Dillane) loses patience with Davos (Liam Cunningham). Ramsay (Iwan Rheon) finds a purpose for his pet. North of the Wall, Bran (Isaac Hempstead Wright) sees where they must go.
Believe (9 PM, NBC)
We'll learn more about Tate's backstory this week, but with Bo on his heels, he's less likely to find vengeance than to (implausibly) forgive and forget:
With Bo (Johnny Sequoyah), Winter (Delroy Lindo) and Channing (Jamie Chung) in pursuit, Tate (Jake McLaughlin) travels home to seek out the childhood friends who framed him for murder. Meanwhile at the Orchestra campus, Skouras (Kyle MacLachlan) focuses his attention on the potential of a young telepath (guest star Owen Campbell).

Resurrection (9 PM, ABC)
What happens when medical science takes a peek at Arcadia's returned residents?
Maggie turns to a man from her past, Dr. Eric Ward (guest star James Tupper), now working for the NIH, for answers to Arcadia's mystery. She insists Ward is there as a friend, but Bellamy is suspicious of any outsiders. Rachael's (guest star Kathleen Munroe) secret falls into the wrong hands. In the wake of recent events, Pastor Tom and Bellamy try to reassure Arcadians they have nothing to fear from the returned, but some residents have other ideas.