Two of our favorite shows are back this week to treat us to another season of suspicion and betrayal. Plus, Robot Chicken brings us a new DC special—all about the villains—and Community plays G.I. Joe. Check out the latest clips and details below!
Tonight
Bitten (8 PM, Syfy)
Elena embraces her inner killer in order to free Clay. She's disobeying orders, but then again, when isn't she?
Star-Crossed (8 PM, The CW)
Yep, Star-Crossed is keeping up that love triangle.
Grayson (Grey Damon) continues to seek solace from Emery (Aimee Teegarden) after the incident with his mother. Feeling guilty for her part in everything, Emery tells Julia (Malese Jow) she's going to support Grayson during this trying time with his family, putting her relationship with Roman (Matt Lanter) on hold. Zoe (guest star Dora Madison Burge) sets a trap for Taylor (Natalie Hall) using black cyper, but Lukas (Titus Malkin, Jr.) is the one affected and is rushed to the hospital. When Roman realizes black cyper is involved, he and Drake (Greg Finley) try to find a cure for the deadly poison before it kills Lukas. Meanwhile, Eva (guest star Stephanie Jacobson) gets closer to the truth about Julia's recovery.
Being Human (9 PM, Syfy)
It's moving day—and apparently the roommates aren't the only ones reluctant to leave.
The Tomorrow People (9 PM, The CW)
Jedikiah is out, but what does that really mean for Ultra?
Fed up with Jedikiah's (Mark Pellegrino) constant lies about his father, Stephen (Robbie Amell) makes a choice about his alliances. Trusting in Ultra and Hillary (guest star Alexa Vega), Stephen wants to bring in a break-out to Ultra to see if things have really changed, much to Cara's (Peyton List) dismay. Meanwhile, Stephen's brother (guest star Jacob Kogan) goes missing after Jedikiah forces Stephen to protect him.
G/O Media may get a commission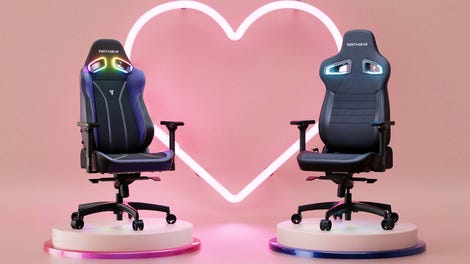 Up to $150 off
Vertagear Gaming Chairs
Archer (10 PM, FX)
Portlandia's Fred Armisen and The Walking Dead's Lauren Cohan guest star as Gustavo Calderon and his wife Juliana. Archer and the gang are the Calderon's guest and while Gustavo is a fan of Charlene, Juliana is a bigger fan of Archer.
Intelligence (10 PM, CBS)
On the season finale, sleeper agents will be revealed. Will it be more people that Gabriel trusts?
When Gabriel and Riley learn that sleeper agents are embedded in the U.S. government, they're shocked when their identities are revealed.
Lost Girl (10 PM, Syfy)
Bo is reluctant to play her part in a prophecy until a surprising source helps her make a difficult decision.
Tuesday
Agents of S.H.I.E.L.D. (8 PM, ABC)
S.H.I.E.L.D. is back again with more Bill Paxton:
Agents Garrett (Bill Paxton) and Triplett are back to help Coulson's team track down S.H.I.E.L.D.'S nefarious enemy - the Clairvoyant. But will Deathlok destroy them all to protect his master's identity?
From Dusk Till Dawn (9 PM, El Rey)
This week's episode is titled after Seth Gecko's quote, "Let's get rambling."
Jim Henson's Creature Shop Challenge (10 PM, Syfy)
This week's episode requires contestants to reimagine one of our favorite creatures: the Skeksis from The Dark Crystal.
Person of Interest (10 PM, CBS)
Reese and Shaw attend a high school reunion—just not their own.
Reese and Shaw pose as alumni at a high school reunion in order to keep eyes on the latest POI. Meanwhile, Finch and Fusco travel to Washington, D.C., to investigate the motivations behind Vigilance's latest attack.
Wednesday
Arrow (8 PM, The CW)
The name of the episode says it all: "Deathstroke."
Slade (Manu Bennett) makes his move against Oliver (Stephen Amell) and the repercussions are enormous. While Oliver scrambles to protect his family, a key player in his team starts to question Oliver's decisions. Meanwhile, Isabel (guest star Summer Glau) makes her move to take Queen Consolidated away from Oliver.
Thursday
Community (8 PM, NBC)
Go, Joe…er...Jeff! This week, Community pays homage to G.I. Joe.
Once Upon a Time in Wonderland (8 PM, ABC)
This week's season finale is also the series finale. Adieu, Wonderland. Perhaps some of your characters will find a home back on Once Upon a Time.
The all-powerful Jafar succeeds in making his father love him and forcing Anastasia into thinking she loves him. After Alice, Amara and Cyrus escape, Jafar imprisons the Jabberwocky and calls upon an army of dead soldiers to do his bidding. Meanwhile, Alice and the White Rabbit raise their own army to fight Jafar for the realm and a final confrontation between Alice and Jafar takes place at the Well of Wonders.
Vikings (10 PM, History)
King Horik returns to Kattegat with a surprising proposition for Ragnar. Lagertha runs into a less than enthusiastic homecoming from her new husband. Athelstan, struggling with his own inner demons, becomes confidant to King Ecbert.
Friday
Grimm (9 PM, NBC)
So who is Adalind's new mystery ally?
The Resistance's plan to keep Adalind (Claire Coffee) safe gets kicked into high gear when an unexpected ally arrives to ensure she and the baby make it out of Europe safely. In Portland, as Monroe (Silas Weir Mitchell) and Rosalee (Bree Turner) prepare for their upcoming wedding, Nick (David Giuntoli) and Juliette (Bitsie Tulloch) are reminded of their failed proposal.
Continuum (10 PM, Syfy)
In the third season premiere, Keira's alliances have shifted, but can she really trust Liber8?
Keira Cameron's world has disintegrated. Alec Sadler betrayed her chance of going back to 2077, using the time travel device in hope of saving his girlfriend. Now Kiera & Liber8, prisoners of the Freelancers scramble to escape their grasp.
Saturday
Da Vinci's Demons (9 PM, Starz)
Leonardo continues to seek the Book of Leaves. Pope Sixtus takes aggressive measures against Florence, forcing Lorenzo to make great sacrifices. Lucrezia travels to Rome to form new alliances.
Sunday
Once Upon a Time (8 PM, ABC)
It's a witch-on-witch showdown as Regina and the Wicked Witch draw wands.
Game of Thrones (9 PM, HBO)
The fourth season is almost here! Here's where we are in the wake of the Red Wedding and Daenerys' terrible crowdsurfing:
Tyrion (Peter Dinklage) welcomes a guest to King's Landing. At Castle Black, Jon Snow (Kit Harington) finds himself unwelcome. Dany (Emilia Clarke) is pointed to Meereen, the mother of all slave cities. Arya (Maisie Williams) runs into an old friend.
Believe (9 PM, NBC)
With Bo's face splashed across TV screens, how long can her powers really remain secret? Then again, she'll enact some heartwarming deed sure to swear the people she encounters to secrecy.
Bo (Johnny Sequoyah) and Tate (Jake McLaughlin) resurface in Philadelphia where Bo is drawn toward a young woman and her husband, a blogger whose unrelenting pursuit of a mysterious story is threatening to tear the couple apart. Meanwhile, Skouras (Kyle MacLachlan) takes forceful action to track down a traitor within Orchestra. Delroy Lindo and Jamie Chung also star.
Resurrection (9 PM, ABC)
And in Arcadia, we have a different group of supernatural folks in danger of discovery:
Bellamy struggles to keep Jacob safe from outside forces. But a tragic incident from his past as a cop continues to haunt him. Elaine is pressured to find out where dad Caleb hid the stolen bank money before the FBI comes to town and learns the truth about Arcadia. Maggie delivers shocking news to Rachael, and Caleb gives Bellamy a chilling warning.
Cosmos (9 PM, Fox)
Alfred Molina guest voices on our journey through the wonders of light:
The Ship of the Imagination travels back in time to reveal 11th century Europe and North Africa during the golden age of Islam, when brilliant physicist Ibn al-Haytham discovered the scientific method and first understood how we see, and how light travels. Later, William Herschel discovers the infrared and the signature hidden in the light of every star, eventually unlocking one of the keys to the cosmos.
Robot Chicken: DC Comics Special II: Villains In Paradise (11:30 PM, Adult Swim)
The toy-loving crew is back with more DC-lampooning hijinks, and this time the focus is on the villains.